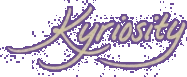 (KE'RE OS'I TE) N., A LONGING TO LOOK
INTO THE THINGS OF THE LORD [C.1996 < GK.
KYRIOS LORD + -ITY; IMIT. CURIOSITY]
Visit The Old Kyriosity Shop

Monday, January 31, 2005 AD

Let's See a Show of Hands
There's been talk of a get-together for the Prairie Muffins, Wannabees, Sympathizers, and Hangers-On Cybercommunity at the HSC conference April 15-16. We've obviously got a little time to plan this, but might as well at least get the ball rolling. Let's start with a head count. If you are planning to attend the conference, and would like to be part of such a gathering of ladies, leave me a note in the comments below. Since not everyone in the PMWS&HOC reads my blog, please pass this message along and direct folks here. And please don't construe this as "Valerie's taking charge of this thing." It's just, so far, a headcount, and then we can see where things progress from there.
Posted by Valerie (Kyriosity) at 1/31/2005 05:49:00 PM • • Permalink
Links to This Post
Sunday, January 30, 2005 AD

Flaky Providence
For the third Sunday in a row, I'm providentially hindred from attending worship -- once due to illness and twice due to weather. Oh the temptation to rebel sighs and whines is strong! So my sermon to myself today must be on giving thanks in all things, especially as the "if onlys" rear their ugly heads: If only it weren't three weeks in a row! If only I weren't alone and could at least enjoy a time of family worship this morning! If only it had waited 'til Monday so I could miss work rather than church! Is God aware of these things? Is He in control of them? Did He ordain them? Yes, of course. They are part of His perfect plan at this very moment. He will bring out of these circumstances glory for His name and the good for His people, including me. So I can smile rather than pout, saying, "This is God's very best for me at this moment. How good He is to have arranged it exactly thus...to care for me in such detail as to plan these events I never would have thought to plan!"

Next week, Lord willing, there will be no preponderance of flakes in the air or ice on the roads or germs in the body to hinder me from going to church. And I suspect the congregation, after two weeks of being hindered, will be all the more rejoiceful when we finally can gather again!
Posted by Valerie (Kyriosity) at 1/30/2005 09:48:00 AM • • Permalink
Links to This Post
Saturday, January 29, 2005 AD

Redressing a Fashion Faux Pas...and a Vice President
Paulo has retouched a photo of an underdressed Vice President Cheney at the ceremony marking the 60th anniversary of the liberation of Auschwitz.
Posted by Valerie (Kyriosity) at 1/29/2005 10:54:00 PM • • Permalink
Links to This Post

I'm Going to Have to Move Really Soon
I already want stuff that I sent to store at Joan's house!
Posted by Valerie (Kyriosity) at 1/29/2005 07:52:00 PM • • Permalink
Links to This Post

Terry B is The Man!
I ended up with five helpers today -- Terry (from CREC) and four women (from FCF) -- so I was doubly grateful for his assistance. Needless to say, the girl power was much appreciated, too. I played traffic director while they loaded up and took two or three trips to Goodwill, two to Joan's house, and one to the dump. They did an amazing amount of work. My back lasted about an hour and a half before I had to give up doing anything heavy. So I'm thanking God today for Terry, Lisa (fiancée of Carter the Wonderful), Leslie (owner of a much-appreciated purple pickup trick), Sharon (harsh taskmistress -- she really kept me moving today!) and Katie (packer extraordinaire). What a blessing to have such a brother and such sisters who are so generous with their time and energies!
Posted by Valerie (Kyriosity) at 1/29/2005 07:12:00 PM • • Permalink
Links to This Post
Friday, January 28, 2005 AD

Children Learn What They Live
What do we think of this poem?
If a child lives with criticism, He learns to condemn.
If a child lives with hostility, He learns to fight.
If a child lives with ridicule, He learns to be shy.
If a child lives with shame, He learns to feel guilty
If a child lives with tolerance, He learns to be patient.
If a child lives with encouragement, He learns to have confidence.
If a child lives with praise, He learns to appreciate.
If a child lives with fairness, He learns justice.
If a child lives with security, He learns to have faith.
If a child lives with approval, He learns to like himself.
If a child lives with acceptance, and friendship. He learns to find love in the world.
This is a short version of a longer piece by Dorothy Law Nolte -- and not her approved abridged version (note that her versions have been sanitized for feminist sensibilities). Is there enough truth in it to make it worthwhile, or is it sheer humanist nonsense? An aunt had this on a wall hanging when I was little, and I always liked it because I lived with the wrong set of things from the list. So about 12 or 15 years ago, I bought a piece of calligraphy with the poem. And now I've had it in and out of keep and get-rid-of boxes a dozen times. What are your thoughts?
Posted by Valerie (Kyriosity) at 1/28/2005 05:22:00 PM • • Permalink
Links to This Post

Running Progress Report for the Day
I've taken a personal day today, because I've just got to get things in order for tomorrow. For the sake of accountability and shameless begging for prayer and cheerleading, I'm going to keep a running commentary in this post re what I've gotten done.

9:30 a.m. -- absolutely nothing.
10:00 a.m. -- got dressed (navy mock turtle, denim skirt, outrageously clashing yellow and orange striped apron), made breakfast (scrambled eggs and toast...yes, I am highly succeptible to being influenced by suggestion...and apple sauce, which I am eating now)
11:00 -- CDs, most cassettes, and what few videos remain are packed. Stereo ready to go to Goodwill. I'm heading now to RadioShack to buy a new CD walkman (or maybe just headphones) because the one I've got in my apron pocket is no longer working.
11:40 -- headphones: check, swiftly affirmative prayer for mercy when car wouldn't start: check; tank of gas: check, overpriced gas station ice cream sandwich: chmmmm.
12:00 noon-- It wasn't the headphones...oh well.... (soundtrack amid the static)
12:15 -- bottom falls out of large box of small stuff to go to Goodwill; EGEATP; must go clean up porch
1:20 p.m. -- It wasn't the CD player either, it's DHP CDs. Oh well, at least now I have a CD player with accessories that will make it work in the car, 'cuz I'm too embarrassed to make two returns in one day.
2:30 -- Ate lunch; back hurting; little progress; frustrated; pouting; sang Psalms; much cheerier; back to work!
4:00 -- Got several Goodwill boxes moved to the front porch; a couple more almost filled; almost have a space clear enough to start piling "keeper" boxes; back is worse; Jennifer, your Christmas present microwavable heating pad pillow thingies are being appreciatively used
6:00 -- Back's a little better after quality time with heat; seeing progress, and keeping at it, but still feel a little overwhelmed. Three comments is some pretty lame cheerleading, people...you can do better than that, I know you can! Rah, rah, rah! ;-)
6:45 -- Ack. Nobody wants donated encyclopedias. I feel so guilty throwing away anything I know my mom sacrificed to give us! :-(
10:20 -- Boy, I really slacked off on my updates. There's still a lot to do, but my back is pretty bad again, so I'll probably go to bed soon and set the alarm for early. Thanks for your prayers and encouragement!!!
Posted by Valerie (Kyriosity) at 1/28/2005 09:29:00 AM • • Permalink
Links to This Post

G-Mail
I'll probably have more computer problems that prohibit accessing my account as soon as I post this, but for the moment, if anyone's interested I have 10 G-Mail accounts up for grabs. Send me a note -- kyriosity -at- gmail.com -- and I'll send one your way.
Posted by Valerie (Kyriosity) at 1/28/2005 09:02:00 AM • • Permalink
Links to This Post

I Won! I Won!
Samantha had a trivia contest for which the prizes will be some of her homemade journals. And I was one of the winners! I told her to surprise me with whatever theme she wants for my journal. I know whatever she chooses, it will be highly groovicacious.

I've kept journals of various sorts for over 20 years now. The earliest ones are the introspective ramblings of a 15-year-old. Yuck. Actually, the ones from my 20s are pretty much self-centered crap, too. But I keep them all to follow the progress of grace in my life. Volumes from recent years have been filled with sermon notes (though I chose to set aside that habit sevral months ago . . . and still miss it), personal Bible study reflections, and prayers with occasional self-evaluation (sometimes even after 10:30 p.m. . . . don't tell!) I'm reading Ezekiel now, so I'll probably save Samantha's slender journal for reflections on a briefer book. If I remember where I put it in three years or so when I finish Ezekiel at my current rate of progress. :-P

Thanks, Samantha!
Posted by Valerie (Kyriosity) at 1/28/2005 08:51:00 AM • • Permalink
Links to This Post
'GOD! CAT! RED! MOM! HAT! BED!'
Hooray for Abby!
Posted by Valerie (Kyriosity) at 1/28/2005 07:35:00 AM • • Permalink
Links to This Post
Thursday, January 27, 2005 AD

Beautimouser and Beautimouser!
My painter's finished all the upstairs plus the kitchen. Things have never looked so good around here. (Well...in those parts...the LR/DR is another matter altogether.) The only trouble is, when I see wide expanses of creamy whiteness, I practically have to sit on my hands to keep from filling them. There's one spot in particular in the hallway upstairs that keeps beckoning, tempting me to scrawl an exuberant "Gloria in Excelsis Deo!" in letters two feet high. Must. Restrain. Myself.
Posted by Valerie (Kyriosity) at 1/27/2005 11:14:00 PM • • Permalink
Links to This Post

Record Unbroken
In the 4+ years I've had control of the newsletter I edit, it has never been late. But the current issue looked like it would break my streak. What with Christmas holidays and a new VP, the whiners department responsible for the content of this issue got me to give them a week's extension on their copy deadline. (To be fair, since I was sick, the timing actually worked well for me.) Amazingly, everyone met the second deadline (my colleagues are a notorious bunch of deadline missers). Then I pinched the next few steps of the production schedule (copy review, layout, etc.). As a result, I expect to have back from the printer on February 2 -- just one day after the originally planned delivery date, and within my on-time range of the first three days of the month. I love that sense of satisfaction of meeting a deadline, especially under adverse circumstances.
Posted by Valerie (Kyriosity) at 1/27/2005 01:08:00 PM • • Permalink
Links to This Post
Tuesday, January 25, 2005 AD

Reaping the Benefits of My Own Clevericity
Years ago I discovered that if you want use cellophane tape to attach paper to something, but you want not to ruin the thing you are taping, first put down a strip of tape on the paper object, and then attach a strip or little roll of tape from that to the other surface. Hmmm...I'm not describing that very well. Here's a for instance: You know how you're supposed to reuse inter-office envelopes over and over again, but they often get quickly ripped up by repeated taping? (The little ones, not the big ones with the twisty string mechanism.) Well, put some tape flat on the surface under the flap, and then the tape you put on the flap will be readily removable from it. Got it? Well, it also works for taping stuff to walls (and similar surfaces). Put a strip of tape on the paper object, then stick a little roll of tape to that before attaching it to the wall. Then when you pull it off the wall, you can pull the little roll of tape off the paper without ruining the paper because it's had the lamination-in-miniature treatment of being protected by the strip of tape. Anyway, I took down a bunch of cards and notes from the shelf over my sink. I'd attached them years ago via the method above, so the tape came off easily and the backs of the cards are still legible and untorn. I am, as a result, delighting in my cleverness at having done it this way...and giving credit for it to the One who made me thus, but Who doesn't really need to be clever because He never needs to figure things out.
Posted by Valerie (Kyriosity) at 1/25/2005 12:45:00 AM • • Permalink
Links to This Post
Monday, January 24, 2005 AD

Anybody Know Anything About Blogger Profile?
I just noticed that my blogger profile currently lists posts from November as "recent posts." I find that rather odd, but can't find any settings that might make a difference. Any ideas?
Posted by Valerie (Kyriosity) at 1/24/2005 08:29:00 PM • • Permalink
Links to This Post

Pot Roast Recipe
I'm packing stuff from my kitchen, so just in case I can't put my hands on this when I need it for the roast in my freezer....

1 roast (3-4 lbs.)
2 c celery
2 c onion
1 13¼ can mushrooms, drained (or 2 small cans)
2 10¾-oz cans condensed cr of mushrm soup (or 1 lg can)
2 T vinegar
4 t beef bullion granules
4 t sage
1/2 t pepper
1/2 c cold water
1/3 c flour

1. Trim excess fat from roast and place in crockpot. Add celery, onion, mushrooms.
2. Mix in separate bowl: soup, vinegar, bullion, sage, pepper. Pour over roast and vegetables.
3. Cover and cook 4½-5 hours on high or 9-10 hours on low.
4. Mix flour and water 'til smooth, stir into liquid around roast. Cover and cook on high 20-30 minutes 'til thickened.
5. Meat will just fall apart at this point (well, it does this better if you do the 9-10 hours on low), so go ahead and break it up. Makes more of a stew than a roast.

Adapted from "Fix and Forget: 50 Slow Cooker Recipes," published by Current, 1989. My adaptations include adding the mushrooms, and doubling everything except the meat, the water and the flour. I think it's very yummy this way, and people tend to make agreeable comments when I take it to work and they smell it over the cubicle walls. :-)
Posted by Valerie (Kyriosity) at 1/24/2005 04:52:00 PM • • Permalink
Links to This Post
Sunday, January 23, 2005 AD

I Know Something Google Doesn't
And that doesn't happen very often, now does it? Anyway, I recently read about the theory being promoted by some sensationalist "historian" that Abraham Lincoln was a homosexual. The evidence? Lincoln shared a bed with another man. The "historian" is evidently too stupid to realize that in the 19th century this was not uncommon or taboo, and was certainly not a tell-tale sign of hanky-panky. Anyway, that bit of nonsense reminded me of a little ditty I learned from my mother when I was a wee lass, and which she probably learned from her mother, and which Google will hereby learn from me:
Three men in a boarding house bed
"Roll over, roll over, roll over!"
The one in the middle thought he'd play a joke.
He didn't roll over -- he got his neck broke!
Alas, I know not whether that was the extent of the song. And alas for the days when two men could touch without raising the specter of perversion.
Posted by Valerie (Kyriosity) at 1/23/2005 08:14:00 AM • • Permalink
Links to This Post
Thursday, January 20, 2005 AD

Progress Report
The laundry got done Tuesday -- seven loads washed, dried, folded as they came out of the drier, and put away in their various homes.

The dishes are getting done today -- I've lost count of how many times I've filled and emptied the drainer. I've been living on delivery Chinese food and pizza, and pre-fab meals for a week now, so I'm looking forward to having enough clean dishes to cook again. I've got beans soaking to be able to throw soup in the crockpot in the morning. This was a 15-variety package of dried beans. I love the colors and texture -- like a big bag of beads or buttons, only I'm gonna get to eat 'em!

I get to take a shower tomorrow morning! The bathtub/wall liner got installed today. I can't remember whether I'd posted here about all the tiles falling off when the plumber came to put in the new fixtures. The plaster underneath was water damaged, too, so he had to take out quite a bit and patch it with a bit of drywall. So I haven't been able to run the shower for about a month, and lemme tellya, washing 2+ feet of hair under the tub faucet is quite the adventure for someone who's not as young and flexible as she used to be!

The painters have been at it since Tuesday, and the second floor is starting to look really good. There were a lot of settlement cracks, and they've done a good job getting those filled and covered. The wallpaper in the master bedroom was particularly nasty to remove, and they ended up having to sand after they scraped. It was sad to see all the notes I'd jotted on the walls over the years covered up, but it's great to see the rooms looking bright and clean.

I'm in a bit of a quandry re my storage plans. I had sent out an "all hands on deck" e-mail asking for help to move things from my house to Joan's on Saturday, but a) it looks like there's going to be some significant snow on Saturday, and b) I've only gotten one definite "I'll be there unless it snows" response -- and that's from Carter, the same guy who helped me move everything on Monday! My options are as follows:
1) Move everything back upstairs so the painters can paint downstairs next week. I really don't like this option. It's regress rather than progress, and I think that'd be a Bad Thing, man.

2) Move everything on Monday or Tuesday night. I just think I'm going to have a hard time finding enough help to do that. I will not let Carter do the whole job by himself again!

3) Postpone the moving 'til the 29th and the rest of the painting for three weeks (he has a commitment February 2-11). I'm leaning toward this option. (OK, more than leaning -- I just e-mailed the painter to ask if we could do that.) I think I bit off more than I can chew, and I need more time logistically, physically and emotionally to be ready to move the bulk of my possessions out of the house.
Please pray that I'll have faith to let go of stuff. It's hard giving up so much that's precious not because of any great monetary value, or even any great sentimental value, but simply because of familiarity. I know theoretically that there's no security in such things, but I'm still feeling a lot of insecurity at the thought of relinquishing them. And please pray for diligence for me to work hard and get done what needs to get done. Speaking of which...back to the dishes!
Posted by Valerie (Kyriosity) at 1/20/2005 08:44:00 PM • • Permalink
Links to This Post
Tuesday, January 18, 2005 AD

Reason #5,892,256,688 Why I Love Google
When I've got a song stuck in my head that I want to get rid of, and I think of a song to replace it, but I can't find the words, it's Google to the rescue!
All peoples, clap your hands for joy; To God in triumph shout;
For awesome is the Lord Most High, Great King the earth throughout.
He brings the peoples under us In mastery complete;
And He it is Who nations all Subdues beneath our feet.

The land of our inheritance He chooses out for us,
And He to us the glory gives Of Jacob whom He loves.
God is ascended with a shout, The Lord with trumpeting.
Sing praises unto God! Sing praise! Sing praises to our King!

For God is King of all the earth; Sing praise with skillfulness.
God rules the nations; God sits on His throne of holiness.
Assemble, men of Abrah'm's God! Come, people, princes, nigh!
The shields of earth belong to God; He is exalted high.

(Psalm 47)
That's what I get for packing my Book of Psalms for Singing in an inaccessible box, and packing my Cantus Christi at the very bottom of the last box of I-need-this-but-have-to-get-it-out-of-my-bedroom-so-they-can-paint stuff from my bedroom.
Posted by Valerie (Kyriosity) at 1/18/2005 09:25:00 PM • • Permalink
Links to This Post

For Those Who Are Wondering...
...no, my middle name is not really And. For those who are not wondering, you just don't read the right magazines (or you do read the right magazines, but your copy hasn't arrived yet). For those whose wondering is now all cleared up, wasn't that cool cover art?

Riddle me this, riddle me that.
What could this strange post be hinting at?
Riddle me two, riddle me one.
I ain't gonna tell, 'cuz this way's more fun!
Posted by Valerie (Kyriosity) at 1/18/2005 04:48:00 PM • • Permalink
Links to This Post

Are You Sure I Can't Just Throw In a Match?
Thanks to the kind assistance of a friend las night, Almost everything that was upstairs (except for furniture) is now downstairs. My dining room is full to about the 5-foot level with boxes in various levels of array and disarray, sortedness and unsortedness. My kitchen is almost as full of dirty dishes, because every bit of what little physical energy I've had has gone into packing and moving stuff. The laundry situation is pretty bad, too. How do you moms do this? How do you keep up with a crowd when I can't even manage to take care of one of me?

The painter just drove up. It's back to work for me!
Posted by Valerie (Kyriosity) at 1/18/2005 09:18:00 AM • • Permalink
Links to This Post
Monday, January 17, 2005 AD

I've Been Asked for an Update
I've gotten a good bit of stuff moved from the second floor to the first. I've still got some more small stuff I want to move, and then a couple friends are coming this evening to help with some heavier stuff. (Did you know that boxes filled with volumes of encyclopedias are much heavier than boxes filled with other books?) Depending on what the first floor looks like at that point, we may move some furniture. Since I don't know yet where I'm going to land, I haven't gotten rid off any furniture yet, which is making things interesting. My friend Joan has offered the third floor of her house for storage, but I'm not sure what will fit up her windy (as in, having lots of turns, not as in having strong air currents) stairs, or if it'd be crazy to move stuff twice. I think I'll try to rent a truck or van next weekend and find a couple guys to help haul at least the more portable stuff over there. Your continued prayers will be appreciated as I figure this all out. I lay in bed last night in a bit of a panic, because I had planned so poorly. So I prayed for God to help me and cover my foolishness, posted to the FCF young adult yahoo group, and woke up this morning to an e-mail offering help. Thank You, Lord!
Posted by Valerie (Kyriosity) at 1/17/2005 02:57:00 PM • • Permalink
Links to This Post

Why Is There No Communication Between Dentists and M.D.s?
I just got off the phone with my dentist, and he agrees that the nasty malady with which I have been suffering for the better part of a week is probably the result of a dental issue. Every time this crown has come loose, I have gotten a terrible sinus infection. The first time it happened, several years ago, it took months to figure out what the deal was, because I didn't realize the crown was loose. I didn't have the cold-like symptoms I've got now, just an excruciating, unrelenting, weeks-long headache. I was seeing all kinds of medical specialists and getting all kinds of scans and tests for eye problems and tumors and who knows what all, when all I really needed was to go to the dentist. Why did no one think of that? Now the dentist has decided, after about 10 years and thousands of dollars of fighting with this crown, that the tooth is irredeemable -- that it's cracked and has to come out and be replaced with an implant. But how can anyone be sure that the implant won't continue to cause problems with that sinus? Is there some sort of specialist I can try that really knows both of the medical and dental angles?

EDIT: Heh...five minutes later I look up the implant specialist my dentist referred me to, and it turns out he's an M.D. as well as a D.D.S. Cool.
Posted by Valerie (Kyriosity) at 1/17/2005 10:08:00 AM • • Permalink
Links to This Post

Mystery Solved
It took me 20 years, but I finally figured out the title to Kit Williams's 1984 untitled book. Not with any cleverness of my own, of course, but with the kind assistance of Google. Here's the answer.
Posted by Valerie (Kyriosity) at 1/17/2005 08:50:00 AM • • Permalink
Links to This Post

And There's Nothing to Stop It from Happening Here
The Rwandan genocide of 1994 wasn't just Hutu on Tutsi, it was Christian on Christian. According to this reflection on a recent book, We Wish to Inform You That Tomorrow We Will Be Killed With our Families: Stories from Rwanda, it looks like it was nominal liberal Christian on nominal liberal Christian.

First, it reminds me of something RC says, that persecution comes not only from the world, but from that which is worldly in the Church. And one might add "but from that which calls itself the Church, but is really just the world in vestments." It has been my experience that supposedly peace-loving liberals, not to a man, but as a group, hate and fear conservatives far worse than the reverse. I think it would take very little for things in this country to snap and turn into overt violence against God's people.

Second, it makes me wonder about the state of the Church in general in the Third World. How much more of the fruit of the modern missions movement has ended up rotten like this? And that's not to dis missions. Remember that the most of the churches Paul planted didn't survive more than a century or two. But when we count the number of Christians in the world, are we counting the likes of the Hutus? Are we pointing proudly to the successes of Western missionary efforts in places where we ought to be like Paul, soundly scolding his church plants when they erred?

I know very little about the Rwandan massacre, I haven't read the book in question, and I'm not really equipped to evaluate things from a historical perspective, especially on the basis of those few paragraphs, but these are the thoughts and questions they brought to mind. And it never hurts to remind ourselves to eat, drink and be merrily worshipful and obedient to God in all things, for tomorrow we may die, and not necessarily of natural causes.
Posted by Valerie (Kyriosity) at 1/17/2005 08:30:00 AM • • Permalink
Links to This Post
Sunday, January 16, 2005 AD

The Beauty of the Spirit
In lieu of a sermon today, I've been listening to the last CD in RC's "All I Needed to Know I Learned in Genesis 1-3" series -- the lecture on the Holy Spirit. RC talks a lot in the lecture about the beauty of the Spirit and the Spirit as the source of beauty, and ends with this:
Friends, I'm convinced that we grow in grace, that we hasten the end, that we move towards that dance [the wedding dance of the Groom], that we beautify ourselves to the extent that we know God. And I'm convinced that our understanding of the Scripture, and our tradition tells us more about who God is than any other tradition by far. The Reformed faith tells the truth about who God is. But if we want to grow beyond being cranky TRs, we have to learn to see the beauty. That is what beautifies us: the more we behold His beauty, the more we are beautified in ourselves.
Wonderful, wonderful stuff, and just what I wanted today (not that it lets y'all off the hook re my previous post!) -- a reminder to fix my eyes on Him, to learn who He is, and so to become what He is making me.
Posted by Valerie (Kyriosity) at 1/16/2005 02:29:00 PM • • Permalink
Links to This Post

Thank You and More, Please
Thanks for the entertaining contributions to my "I'm Boring" post from last Wednesday. Even if laughter didn't prove to be such an effective medicine after all, y'all certainly did cheer and encourage me, for which I am most grateful. In fact, y'all did such a great job that I'll give you another assignment today:

Since I didn't get to go to church today, tell me one thing that happened at your church this morning in which you saw the beauty of God displayed. It could be a point your pastor made in his sermon, or a passage of scripture, or a verse of a hymn, or a prayer, or a meditative thought that passed through your head and the Lord's Table, or a conversation with a friend after the service....tell me something that will encourage me to glorify Him along with you!
Posted by Valerie (Kyriosity) at 1/16/2005 10:25:00 AM • • Permalink
Links to This Post
Saturday, January 15, 2005 AD

Sickerer Rather Than Betterer
You people need to work on your prayer technique. I feel worse this morning than I have so far, and my glands are so swollen (and sore!) I look like I have a goiter. I'm going to give the drugs I took (Tylenol, Sudafed, Robitussin DM...or rather the generic equivalents of all three) about half an hour to kick in, and then I don't have a choice but to start packing and hauling boxes. Looks like church tomorrow is going to be out of the question :-( waaaaahhhh!!! )-: so I don't spread my plague to any little ones. But aside from that, I'm at least in a cheerful disposition, so Hallelujah! let's get this show on the road!
Posted by Valerie (Kyriosity) at 1/15/2005 09:27:00 AM • • Permalink
Links to This Post

I Sold Two T-Shirts!
Woo-hoo, I'm rollin' in it now -- a whole $4 commission from The Old Kyriosity Shop! I think it would be rude to divulge the purchaser's name, so we'll call the purchaser PWSNBN (not to be confused with any other PWSNBN), but I'd sure love to see a picture of you modeling one if you choose to reveal yourself. And do tell what kind of reactions you get when you wear it. Thanks, PWSNBN!
Posted by Valerie (Kyriosity) at 1/15/2005 12:40:00 AM • • Permalink
Links to This Post
Friday, January 14, 2005 AD

I'm Glad He Explained This
Not that I understand it, still, but maybe when I'm healthier it'll make more sense.
Posted by Valerie (Kyriosity) at 1/14/2005 09:53:00 PM • • Permalink
Links to This Post

E-Mail Exchange With a Person Who Shall Not Be Named
PWSNBN: We [shouldn't] view folks as "perfect roll models"....

Me: It's role models, not roll models. Although RC does kinda look like the Pillsbury Doughboy, which I guess could make him a roll model. ;-D

(Waitaminnit, these PWSNBN exchanges I post are supposed to protect the PWSNBN, but in this case, I don't think the PWSNBN is the one who's at risk....)
Posted by Valerie (Kyriosity) at 1/14/2005 07:14:00 PM • • Permalink
Links to This Post

*Expellimucus!*
Where's Madam Pomfrey when you need her?
Posted by Valerie (Kyriosity) at 1/14/2005 06:57:00 PM • • Permalink
Links to This Post

Prayer Requests
1. Friends and family of Jack Arnold (funeral is today)
2. The Colvins (update)
3. The Barlows
4. Me (I'm still sick, but the painter starts Tuesday, so I must have my second floor mostly cleared out, which means a lot of hauling needs to happen before then.)
Posted by Valerie (Kyriosity) at 1/14/2005 01:16:00 PM • • Permalink
Links to This Post
Thursday, January 13, 2005 AD

'Identity, Anonymity, Pseudonymity: A Plea to Humanize the Internet'
Check out this post and comments over at Paul's blog. Good discussion (especially since he agrees with me).
Posted by Valerie (Kyriosity) at 1/13/2005 06:32:00 PM • • Permalink
Links to This Post

Site Feed Now Available
For those of you who have any idea what that means, at the request (and with the kind assistance) of Mr. Ordoveza, I have installed Atom XML.
Posted by Valerie (Kyriosity) at 1/13/2005 11:54:00 AM • • Permalink
Links to This Post
Wednesday, January 12, 2005 AD

Who Are You People?
I'd been averaging about 160 hits a day on weekdays. Last week I was up to an average of about 180 -- to be expected because of the link from The Dawn Patrol, which gets a lot of traffic. But now the past couple days I've gotten over 220 hits, and I can't see any trend to explain it. Where are all these new visitors coming from? Or is everybody just visiting twice as often?
Posted by Valerie (Kyriosity) at 1/12/2005 11:06:00 PM • • Permalink
Links to This Post

I'm Boring
Have you ever heard children say that when they mean, "I'm bored"? The proper response is, of course, "Yes, dear, you certainly are."

Well, I'm home sick today -- quite lethargic and useless and boring because my colds, you know, are always worse than anybody's -- and in need of the entertaining ministrations of my kind and faithful readers. (My unkind and faithless readers may also participate if they choose, but in doing so they'd surely be showing themselves kind, and we can't just go around breaking the law of noncontradiction willy-nilly, now can we?) Here are the rules:

I only demand from each of you either one thing very clever, be it prose or verse, original or repeated--or two things moderately clever-- or three things very dull indeed, and I engage to laugh heartily at them all. OK, maybe just smile weakly, and cough my lungs out.
Posted by Valerie (Kyriosity) at 1/12/2005 12:20:00 PM • • Permalink
Links to This Post
Prayer Request
Pray for Sora and Matt today.
Posted by Valerie (Kyriosity) at 1/12/2005 09:35:00 AM • • Permalink
Links to This Post
Tuesday, January 11, 2005 AD

Un. Be. Lievable.
Looks like the producers of "Wife Swap" actually contacted the ladies at LAF looking for referrals to women who practice biblical values to come on the show. As Jenny Chancey notes, "Where would I even begin to explain why a woman who 'embraces the concept of biblical womanhood and develops her husband's leadership role' would never swap husbands and children with someone else?"

But the truly scary thing is that they are going to find someone to do this. How do I know? Well, there are two things one should never underestimate: first, the deviancy of the American entertainment world, and second, the inability of American Evangelicals to discern their way out of a wet paper bag. Someone is genuinely going to think that this is a great opportunity to witness. Someone is going to get all excited about the possibility of using these inexcusably worldly means to promote biblical values. Someone is going to take the bait, thinking he's being a fool for Christ when he's being just a plain fool.
Posted by Valerie (Kyriosity) at 1/11/2005 07:32:00 PM • • Permalink
Links to This Post
Cool
PsalmCast
Posted by Valerie (Kyriosity) at 1/11/2005 07:02:00 PM • • Permalink
Links to This Post

My Great-Great-Grandmother the Illegal Alien
We're not entirely sure whether my great-great-grandmother's given name was Massalena or Marcelena, but we know she went by Mercy. And we're not sure how Indian (feathers not dots) she was, but from the photos below, I'd guess at least half. She was born in Canada, and her husband was French Canadian. When he decided to move to the States, immigration law forbade her entry because of her race. So he smuggled her across the border in the back of a wagon.

The first picture is of Mercy as a young woman. The second (which was kindly tweaked for me by The Green One, whom I'm actually starting to miss after a month's absence) is of an older Mercy with two of her granddaughters, my maternal grandmother's first cousins Addie and Agnes.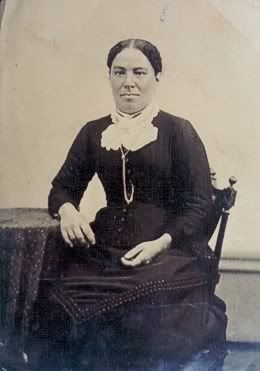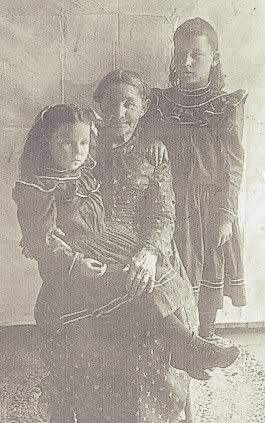 Photobucket is cool. I'm finally able to post all the stuff I've been wanting to post for months!
Posted by Valerie (Kyriosity) at 1/11/2005 02:24:00 PM • • Permalink
Links to This Post
Dumpster Diving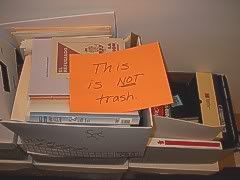 I had to rescue this stuff from the trash room this morning. All of our offices/cubes got moved over the holidays, and our files got moved last week. We unpacked most yesterday, but had a few things we didn't get to, and the cleaning staff mistook a few boxes for trash. Oops.

See, Richard? Your cleaning staff's "Is this trash?" note actually made a lot of sense!
Posted by Valerie (Kyriosity) at 1/11/2005 12:41:00 PM • • Permalink
Links to This Post

Practicing What He Preached
Jack Arnold, pastor emeritus of Covenant Presbyterian Church, Oviedo, Fla., died while preaching this past Sunday. According to this article, his last words were, "And when I go to heaven...." A friend in the congregation noted that Pastor Arnold was preaching on the glory of dying in Christ. And then he died gloriously in Christ. Or, as this item from Third Millennium Ministries put it, "providentially" and "poetically."

Precious in the sight of the Lord is the death of His saints. There is grieving among his family and the congregation, to be sure, but also great rejoicing that a godly man was given such a beautiful transition to his reward.

By the way, this is Kolbi's church, for those who know her. I'm sure the congregation and the family would appreciate everyone's prayers at this bittersweet time.

(Another, longer article from a local paper. Username: newspaperlogin, Password: 123456)
Posted by Valerie (Kyriosity) at 1/11/2005 09:03:00 AM • • Permalink
Links to This Post
Monday, January 10, 2005 AD

Sorry, MuffinMix!
Not sure which MuffinMix it was who attempted to chat with me at Higher Games, but I missed your message. Unfortunately, if one is off practicing, one cannot see incoming private chat messages. Also, I probably wasn't actively playing at the moment, but had the window open while I was getting some actual real work done. That happens, occasioanally, believe it or not!
Posted by Valerie (Kyriosity) at 1/10/2005 09:08:00 PM • • Permalink
Links to This Post

Very Rarely Do I Find Quiz Results That Actually Fit
(Well, except for that image they chose, which I don't much care for.)



You are a Concrete Random thinker. You are Quick, Curious, Innovative, Adventurous, Intuitive, and Instinctive. (Not only that, I know that one needn't capitalize all of those adjectives. And I'm not very adventurous, at least not with regard to anything involving physical danger...or bugs.)

What you do best is: Seeing many options and solutions, Contributing creative ideas, Visualizing the future, Accepting many kinds of people, Thinking fast on your feet, and Taking risks. (Or those verbs, and except, again, for the risk-taking bit.)

You do not do well when trying to: Write formal reports, Follow routines, Re-do anything once its already done, Keep detailed records, and Choose only one answer. (Or those, but man oh man, this part fits me to a T. These are my least favorite tasks.)

You prosper when: Using insight and instinct to solve problems, Working with general timelines rather than specific deadlines, Using real life experience to learn, Trying something yourself rather than taking other peoples word for it, Working for compelling reasons, and Motivated by being Inspired. (Again, what's with the superfluity of caps? And the colons, for that matter? I do like some rules, ye ken. And I actually like deadlines, because if I don't have them I never accomplish anything onerous.)

What style of thinking are you? Brought to you by Quizilla (which is being rather persnickety this evening, in case you can't get there, or the image doesn't show up here). Link via my abstract sequential friend, the BadgerMum.
Posted by Valerie (Kyriosity) at 1/10/2005 09:05:00 PM • • Permalink
Links to This Post

Need to Make Some Decisions TODAY!
1. I'm having everything done in off-white with white trim. Should the kitchen and bathroom be likewise, or all white?
2. Is it worth painting an unfinished basement? If so, off-white or all-white?
3. My kitchen faucet is irreplaceable. They just don't make 'em any more. Unfortunately, that means replacing the entire sink and the cabinets beneath. Should I leave the old stuff, or buy really, really cheap melamine new stuff?

Thanks for advice from any homesellers, homebuyers, or people who are just incurably opinionated. ;-)
Posted by Valerie (Kyriosity) at 1/10/2005 10:46:00 AM • • Permalink
Links to This Post
Sunday, January 09, 2005 AD
Another Great Limerick from Samantha
There once was a gal so depraved
Though she tried to appear well-behaved
One look into her heart, her facade falls apart
God's grace is the reason she's saved
Posted by Valerie (Kyriosity) at 1/09/2005 07:30:00 PM • • Permalink
Links to This Post
Saturday, January 08, 2005 AD

As Good As I Remember It
It's been two or three years since I last had a turkey carcass to make soup, and I made turkey chowder from a recipe I can no longer find online. Fortunately, I saved the printout so I could make it from the carcass I've had in my freezer since Thanksgiving (thanks, Mike and Christine!) to take to the fellowship dinner tomorrow. This is my favoritest soup ever. A look at the ingredients might tell you why:
4 slices bacon, cut up
1 c chopped onion
4 c pared, cubed potatoes (I use red potatoes since they look pretty and I'm too lazy to peel potatoes, anyway.)
2 c turkey broth (I just used the water I boiled the turkey carcass in. I didn't add anything to the water.)
2 10-oz packages frozen whole-kernel corn, thawed (I did not double the corn, and I think half as much worked just fine.)
¼ c butter
2½ t salt
¼ t pepper
2 c cooked turkey, cubed (well...shredded might be a better way to put it)
2 c milk
1 c heavy cream
2 T chopped parsley

In 5-qt pot, sauté bacon until crispy, remove and reserve. In bacon drippings, sauté onion, stirring until golden brown (about 5 minutes). Add potatoes and turkey broth. Bring to a boil, simmer uncovered about 30 minutes or just until potatoes are tender but not mushy.

In another saucepan, combine corn, butter, salt, pepper, turkey and milk. Simmer uncovered for 5 minutes, stirring occasionally. Add to potato mixture along with heavy cream. Cook, stirring occasionally, until hot, but do not boil. Turn into warm soup tureen, sprinkle with reserved bacon and chopped parsley. Serves 8-10.
I made a double batch since I had about 4 cups of turkey. Too bad it won't all fit in my crockpot. ;-) Also, I just went ahead and stirred in the bacon and the parsley.

Now if you'll excuse me, I need to finish my second bowl...and call my cardiologist.
Posted by Valerie (Kyriosity) at 1/08/2005 08:53:00 PM • • Permalink
Links to This Post

What's in the CD Player Today
Three more of my faves:

Chris Rice, "Run the Earth, Watch the Sky" -- This isn't my favorite Chris Rice recording, but I still like it a lot. If Rice were typical of CCM, rather than the exception, the genre would be in much better shape.

Nanci Griffith, "Other Voices, Other Rooms" -- I have one other Nanci Griffith recording around here somewhere (or had), but this is the one that's been a steady favorite for six or seven years now.

Bruce Cockburn, "Dancing in the Dragon's Jaws" -- This one's been a steady favorite for nigh unto 20 years now. I've picked up other Bruce Cockburn recordings over the years, but I don't know why I bother...this is the only one I've ever listened to consistently. I wouldn't mind having his Christmas album, though. I heard it once a decade or so ago and rather liked it.

The commonality among these three, and among most of my favorite music, is interesting lyrics, singability, and harmonizability. And when I've listened to something for years, and know it really well, there's a "comfort food" factor, too.
Posted by Valerie (Kyriosity) at 1/08/2005 03:29:00 PM • • Permalink
Links to This Post

Karen or Angie, If You Happen to Pop In Today....
I don't have anybody's e-mail address handy. Is there a fellowship dinner tomorrow? And I think I'm on the dessert end of the alphabet this month, but I wouldn't want to lay a wager on that.
Posted by Valerie (Kyriosity) at 1/08/2005 01:57:00 PM • • Permalink
Links to This Post

300 Free Truetype Fonts You Should Have
Great resource, via Paulo.
Posted by Valerie (Kyriosity) at 1/08/2005 07:24:00 AM • • Permalink
Links to This Post

Wouldn't This Be Cool?
I want to be able to click a button on the Google toolbar to take me to Google's cache of the page in my address bar. Wouldn't that be cool?
Posted by Valerie (Kyriosity) at 1/08/2005 07:20:00 AM • • Permalink
Links to This Post
Friday, January 07, 2005 AD

That Was Just Cruel
I got my best single-player score ever at Set, and the silly server disconnected me. I beat my previous personal high by 4 sets to get 69 in single-color play. I never expect to catch up to the #1 ranked player with his current high score of 1574, but it'd be fun to make it to the top-5 board. The fifth-ranked player made it there with a score of 135. I'm currently ranked 24, but that'd be higher if the silly thing hadn'ta disconnected me! I've seen myself improve over the few days I've played, learning to more quickly see types of sets that used to take me longer. Maybe eventually I'll graduate to three-color!

I know I've seen the daily puzzle link on some of the blogs I read...have any of you played at Higher Games? I've played a few 2-player games, but frankly they stress me out a bit.

UPDATE Jan 08: Made it to 69 again and am now ranked #17. Cool!
Posted by Valerie (Kyriosity) at 1/07/2005 09:53:00 PM • • Permalink
Links to This Post

Been Listening to Old Phil Keaggy Tapes...
...and find that the songs I like best are the ones he didn't write the lyrics for. Here's my favorite:

"Disappointment -- His appointment,"
Change one letter, then I see
That the Thwarting of my purpose
Is God's better choice for me.
His appointment must be blessing,
Though it may come in disguise,
For the end from the beginning
Open to His wisdom lies.

"Disappointment -- His appointment,"
Whose? The Lord's, Who loves me best
Understands and knows me fully,
Who my faith and love would test;
For, like loving earthly parent,
He rejoices when He knows
That His child accepts, unquestioned,
All that from His wisdom flows.

"Disappointment -- His appointment,"
"No good thing will He withhold,"
From denials oft we gather
Treasures of His love untold.
Well He knows each broken purpose
Leads to fuller, deeper trust,
And the end of all his dealings
Prove our God is wise and just.

The lyrics are by Edith Lillian Young and the tune is very upbeat and cheerful -- exactly fitting for a song about confidence in God's will.
Posted by Valerie (Kyriosity) at 1/07/2005 12:33:00 PM • • Permalink
Links to This Post

A Happy Little Factoid
(By which I mean that learning it made me happy, not that it was itself capable of emotional positivity...or negativity...or, for that matter, even neutrality.)

KataJohn reports on an interesting truth about something we all thought was a curse...and isn't. Makes much more sense than the other way, doesn't it?
Posted by Valerie (Kyriosity) at 1/07/2005 01:26:00 AM • • Permalink
Links to This Post
Thursday, January 06, 2005 AD

Blast From the Past
I only very occasionally pop into the Backwater Report, so it was good timing that I did so a couple days ago before this entry fell off the first page. In the summer of 1989 I worked with the woman mentioned therein. Sadly, her foolishness didn't surprise me at all.

I remember that summer getting a letter from a friend in which he told me he'd gotten saved. There was something about the tone of the letter and what I knew about my friend that made me a bit wary of taking his declaration at face value, so I was wrestling with some mixed emotions. I tried to talk about this with Amy, and her only response was a blank, uncomprehending look. The look, I knew, wasn't about my mixed feelings, but about this strange concept of "getting saved." She really hasn't ever understood it. Which raises the question (setting aside for the moment the issue of her being a woman) of why in the world she ever pursued seminary education and a pastoral career.

Another thing about Amy...she was very nice. Practiced "If you can't find something nice to say about someone, then don't say anything at all" better'n anyone else I've ever known. Unfortunately, aside from the Gospel (you know, that "Christ shed his blood for you"/"Jesus died for my sins" Gospel) that's a sure way to damnation for both yourself and the victim of your niceness. As I'm fond of noting, the word nice isn't in the Bible. Amy doesn't seem to have spent much time there, either.
Posted by Valerie (Kyriosity) at 1/06/2005 09:57:00 PM • • Permalink
Links to This Post

Thankful Thursday (Filling in for Kelly Again)
1) The woman at the McDonald's drive-through who always says, "Have a blessed day."
2) I got a dentist appointment tomorrow to replace my crown. The appointment's smack dab in the middle of the day, so there's no sense coming in to work.
3) Ezekiel chapter 1. (Will write more on that sometime....)
Posted by Valerie (Kyriosity) at 1/06/2005 03:53:00 PM • • Permalink
Links to This Post

My New Titus 2 Endeavor
Many Christian women on the Internet use the medium to engage in ministry to other women a la Titus 2:3-5. I've decided to join this effort by creating an online ministry dedicated to teaching women how to think and live scripturally, specifically during those times when we are tempted to let our hormotions rule the day. I'll let you all know more when it's up and running. By the way, it will be called the Moody Bible Institute.
Posted by Valerie (Kyriosity) at 1/06/2005 02:32:00 PM • • Permalink
Links to This Post
Wednesday, January 05, 2005 AD

The Tsunami in Perspective (Last Paragraph Edited)
The following disaster facts were shamelessly stolen from Dr. G's Blog; I just put them in chronological order:
856: Multiple historical records indicate that more than 200,000 people were killed in central Persia (modern Iran) in one of the deadliest earthquakes on record.
1138: A deadly earthquake in Aleppo, Syria claimed the lives of at least 230,000 people.
1228: More than 100,000 people drowned in Friesland, when a North Sea storm surge flooded much of Holland's lowlands.
1556: In the Chinese province of Shensi the most deadly earthquake in history resulted in an astonishing 830,000 deaths.
1642: Chinese provincial rebels destroyed the Kaifeng seawall; as a result more than 300,000 people drowned in the coastal floodwaters.
1755: An earthquake leveled much of the city of Lisbon and was felt as far away as southern France and North Africa. More than 70,000 were killed.
1908: The city of Messina was almost totally destroyed by an earthquake. The death toll ranged anywhere from 70,000 to 100,000 throughout Sicily and southern Italy. A tidal wave followed, causing even more devastation to the town of Reggio across the straits.
1920: In Jiangsu Province, China, an earthquake measuring 8.6 in magnitude killed more than 200,000 people.
1923: The Great Kanto Earthquake, estimated at 7.9 in magnitude, destroyed one third of Tokyo and most of Yokohama, leaving 2.5 million people homeless. The quake resulted in the Great Tokyo Fire. Floods followed as the rivers Fukuro Chiyo and Takimi burst their banks. At least 143,000 people were killed, although unofficial estimates say as many as 300,000 may have died.
1927: A magnitude 7.9 earthquake claimed approximately 200,000 victims in and around Xining, China.
1948: An earthquake measuring 7.3 in magnitude killed at least 110,000 people in Ashgabat, Turkmenistan.
1970: Some 200,000 people in eastern Pakistan were swept away to their deaths by a cyclone-driven tidal wave from the Bay of Bengal.
1970: An earthquake measuring 7.8 magnitude destroyed the northern Peruvian towns of Casma, Huaraz and Chimbote. A quake-induced rock and snow avalanche on Mt. Huascaran buried the towns of Yungay and Ranrahirca. There were some 66,794 people killed and more than 400,000 were left homeless.
1976: Tangshan, China suffered an earthquake measuring 7.5 on the Richter Scale. Twenty square miles of the vast city was utterly devastated. Three years later, the New China News Agency released figures following the inaugural Congress of the Chinese Seismological Society which claimed 242,000 dead and 164,000 injured. But, the U.S. Geological Society estimated that the actual death toll was probably nearer 655,000.
1976: A 7.5 magnitude quake and the resulting mudslides caused horrific destruction just north of Guatemala City, leaving over 23,000 dead, 80,000 people injured, and 1.5 million homeless.
1985: An earthquake registering 8.1 in magnitude struck central and southwest regions of Mexico, devastating part of the capital city and three coastal states. Somewhere between 12,000 and 25,000 were killed and another 40,000 were injured.
1991: A cyclone killed over 131,000 and left as many as 9 million homeless in southeast Bangladesh. But thousands more died from hunger and water-borne diseases in the weeks and months afterward.
1993: Up to 22,000 people were killed and 36 villages were destroyed after a series of powerful earthquakes rocked western and southern India. The first of the five tremors measured 6.4 in magnitude.
1999: Heavy rains caused catastrophic flooding and mudslides, killing an estimated 5,000 to 20,000 people, in Venezuela's worst modern-day natural disaster.
2003: An earthquake measuring 6.3 on the Richter Scale left more than 41,000 confirmed dead as the entire ancient city of Bam, Iran collapsed into a heap of rubble.
Dr. Grant notes,
We are all too quick to forget. The fact is, we live in a world of woe. Sin has ravaged God's good creation in horrific ways. The stunning destruction of life in the tsunami disaster this past week only highlights the fact that history is often little more than a mind-boggling, bone-jarring, and soul-wrenching litany of sorrows—making the very real and substantial hope of the Gospel all the more remarkable.

The historical evidence is simply that our fallen world is a dangerous world. This is nothing new--despite what the harum-scarum prophecy "experts" may contend. "The whole creation groans for the day of redemption." It always has. And until Christ's triumphant return, it always will.
This is not to belittle the tragedy of the recent tsunami, but it is to put it into perspective...not just the perspective of a brief span of human history, but the perspective of eternity and infinity. The tsunami was the end for many, but not the end of all. The tsunami was enormous, but God is that than which nothing is greater. The tsunami was powerful, but God is almighty over all. The tsunami was terrifying, but God a consuming fire who alone is worthy of our ultimate fear...a fear from which alone comes peace.
As we consider the enormity of the recent tragedy, it is tempting to let it eclipse all else from view like a penny held close to the eye can seem to block out the sun. (Heck, if we're honest with ourselves, we're tempted to let our every hangnail to do the same thing.) We tend to say that such a disaster puts things in perspective, but we shouldn't. The tsunami (or the hangnail) is not to be treated as the point of reference for all other reality; God is. To maintain the proper frame of reference, which is to give God the glory He is due, we must keep our eyes on Him and keep close to Him. In fact, we need to be in Him, in which case we'll never see anything without seeing Him, because He will be the view in all directions.
Posted by Valerie (Kyriosity) at 1/05/2005 10:21:00 PM • • Permalink
Links to This Post

This Just in from the "It's a Small World After All" Department
Over the holidays, our office space was rearranged and now almost everyone is in a new cubicle or office. I'm slowly getting things unpacked, and arranging things a little differently than they were before, including a plethora of items that were pinned to my walls. One of those items is the printed program from Arlette's father's funeral, which has his picture on the front. Wouldn't you know it -- a co-worker spots it and says, "He looks familiar." Sho' 'nuff, my colleague was in Mr. Lindsay's confirmation class 30-some years ago, and his father was a good friend of Mr. Lindsay. Amazing, innit, the connections one stumbles upon!
Posted by Valerie (Kyriosity) at 1/05/2005 03:29:00 PM • • Permalink
Links to This Post

Howdy to Dawn's Readers
Sorry there's not much interesting here to look at right now...I've been very dull the past couple weeks....
Posted by Valerie (Kyriosity) at 1/05/2005 09:25:00 AM • • Permalink
Links to This Post
Tuesday, January 04, 2005 AD

Play Set Online!
Including 2-player games. Cool.
Posted by Valerie (Kyriosity) at 1/04/2005 05:54:00 PM • • Permalink
Links to This Post
Monday, January 03, 2005 AD

Wellspring
In comments on a post below, I mentioned Wellspring, the Christian folk group I was part of in the late '80s and early '90s. I happened to know where my Wellspring T-shirt was, so I took a picture of it for your viewing pleasure.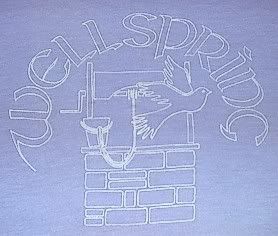 Joe and Jane came up with the concept, and I did the drawing. I'd intended the design to be filled in -- we had a miscommunication about that -- but I ended up liking the outline look anyway. I just wish they'd chosen all dark colors to print on -- the white really doesn't show up well on lavender.
Posted by Valerie (Kyriosity) at 1/03/2005 05:48:00 PM • • Permalink
Links to This Post

Thanks, Pau!
The reason Paulo called me from the Philippines last week was to ask for my mailing address so he could have a Christmas present sent to me: Bible Bars! What a hoot. I feel much more sanctified each time I eat one! And best of all, as the box proclaims, "Helps Regulate Appetite." Um, yeah...isn't that rather the point of eating? Well, one of them, anyway. Another is enjoying the taste of the food. Happily, Bible Bars taste pretty good, too.

By the way, Pau, your comments closed rather early on your recent entries, so I can't leave my guess re the photo. I think you're in front in the middle. And I must say I've never seen a completely underwater family portrait before...cool!
Posted by Valerie (Kyriosity) at 1/03/2005 09:18:00 AM • • Permalink
Links to This Post
Saturday, January 01, 2005 AD

Yankee Tales
My Yankee mother is of an age that telephone conversations with her usually include a report of who is ill and who has died. Tonight she told me about the folks in this article -- a brother and sister who died last week in her small New Hampshire town. Hazel Meader's cause of death was confirmed as hypothermia, but Paul's autopsy was sealed. Any ideas why they would do that?

The woman quoted in the last paragraph of the article played the piano for me when I sang at my grandmother's funeral. Note what she says about Yankees.

Also in the local news is this story. A friend of my mom's wrote to Christopher Reeve's widow asking for a contribution to a fund to get a van for a local quadriplegic boy. Instead of sending money, Dana Reeve sent Christopher's van. Pretty cool, huh?

My mom volunteers twice a week with the Friendly Meals program mentioned in the article, serving, cleaning up, and taking extra meals to shut-ins. The Meaders were one of her regular deliveries.

These stories (including bits that aren't in the paper) paint a picture of the kind of Yankees I know -- hard-working, independent (if a bit too stubborn for their own good), community-minded. Just a reminder to my friends who use the Y-word as a pejorative. ;-)
Posted by Valerie (Kyriosity) at 1/01/2005 08:27:00 PM • • Permalink
Links to This Post

Another Giving Option
Following is an e-mail sent out by my friend Ananda, a Sri Lankan member of FCF. Ananda in turn quotes an e-mail from the Sri Lankan NGO director. I thought it was helpful to see exactly what these folks planned to do with the money they received.
Dear Friends

Faith Christian Fellowship (PCA), my local church in Baltimore, has created a relief fund to help the victims of the Tsunami disaster that hit Sri Lanka and many other countries last Sunday. The donations will be sent to a Sri Lankan Christian NGO called LEADS (relief and development arm of NCEASL) that works with evangelical churches in relief efforts. I have personal contact and confidence in their work of this local Christian NGO, which is also the local partner of World Relief in Sri Lanka. (check World Relief website: http://www.wr.org/featurestories/view.asp?id=30000119)

Please consider sending your donations to help the relief efforts in Sri Lanka. You can write your checks to : Faith Christian Fellowship--deacons relief fund.

Mail it to:

Faith Christian Fellowship
505 East 42nd Street
Baltimore
MD 21218

Below you will see an email I received from Roshan Mendis, who is the director of LEADS in Sri Lanka. Also un update on the situation in Sri Lanka.

Please contact me, if you need further information on this.

thank you for your support

May God bless you with a joyous new year

ananda

==============================
UPDATE :
The death toll of the Tsunami that hit Southeast Asian nations last Sunday has risen to epic proportions of at least 135,000 (latest CNN report). In this same report, 41,000 are mentioned dead in Sri Lanka (14,000 in the Tamil rebel held areas and 27000 in the government controlled areas). The aftermath situations there is dealing with more than 2 million people who have lost their homes and livelihoods. Many of these survivors in Sri Lanka, are severely wounded with lacerations and broken bones, needing immediate medical attention. The out break of disease such as - diarrhea, cholera, dengue, and malaria, is on the verge. In the event of such a situation, the out come would be more devastating a humanitarian crisis than what has happened already.

According to my fiancé, Sahayini, who is working with a group of medical doctors in Batticaloa (in the eastern Sri Lanka), there is shortage of supply of food and drinking water. To reach many of the hardest hit areas is still a challenge due to impassable road conditions.

see report by a Christian Aid (UK NGO) in a village in Batticaloa
http://www.guardian.co.uk/tsunami/story/0,15671,1381360,00.html

------------------------------------------------------------------------------------------------------------------

Appeal from LEADS:

Hello Ananda kumar,
Thank you for the mail. and we at LEADS are coordinating relief programmes to help the affected people.LEADS is really receiving much local support in terms of volunteers, the 4wheel drive club, a local volunteer disaster manager with 9 years experience from Africa (?!) and equally high number of requests. I think this has to do with our credibility in the last flood relief. We are running a 24 hr 7X5 collection centre and coordination office. We have extended the carpark with temporary sheds for packaging and receiving food. All Colombo based staff have cancellled their holidays and are here 24hrs. The way the Lord is working and providing is great. Just keep the funds rolling as the needs are increasing as they are changing. We have identified the requirements of those affected as follows:

IMMEDIATE: Food, drinking water,medical, water pumps, clothing, candles, blankets, paracetemol,etc.
2nd Phase: Dry rations, other needs, temporary shelter
3rd Phase: Reconstruction.
We would appreciate if any of you could assist us in raising the funds required for these planned relief interventions for 10,000 families. The work will follow the pattern flood relief operation as before though on a greater magnitude. Total cost estimate based on the last flood relief intervention is at minimum 225,000 US $ - 125,000 STP. We have managed to raise 125,000 but need more!

While this is a high intensity disaster PLEASE do not forget that much of the biggest load of work is going to be in about a 3 weeks when people start returning to their localities and discover that they have o shelter. WE NEED FUNDS FOR SHELTER equally urgently.

An informal group of 7 Christian relief agencies calling ourselves as CNet have been meeting for prayer and as an initiative towards Christian cooperation and networking. At our meeting this morning (27th) we have agreed to come together on a joint shelter initiative as this is the next GREATEST need. We have targeted building 100,000 shelters at 200 US $ each.

Awaiting word,

Roshan Mendis
Director
LEADS
25, Hospital Road, Dehiwela, Sri Lanka
Telephone: +94 (0)1 724793, Fax: +94 (0)1 735674
Email: roshan@stmail.lk
Posted by Valerie (Kyriosity) at 1/01/2005 06:31:00 PM • • Permalink
Links to This Post

20 Questions
1. Pillow - Down or Polyester or Foam
I have five pillows currently in use -- I think at least one of each.
2. Facial or Manicure or Pedicure
Manicure. Don't like the idea of strangers touching my face or feet.
3. Journal - Lined or Blank (offline of course!)
Unruled, for my unruly thoughts!
4. Sleep - Side (which?) or Back or Stomach
Prefer back, but then I'm awakened by my own snores, so side.
5. Summer - Hammock or Raft in Swimming Pool
Hammock at my mommy's house.
6. Winter - Slippers or Socks
Socks.
7. Sleep - Heater On or Off
55° at night. Lots of blankets.
8. Shower or Bath (bubbles?) …and… Hot or Warm
Shower. Hot as I can stand it. But haven't been able to take one in a week since the tiles are ripped up and awaiting attention.
9. Tea - black or herbal (name favorite blend)
Herbal. Something fruity. With lots of honey. And pretty much only when I'm sick.
10. Massage - neck or foot
Neck, and scratch my back, too…a little to the left, ahh. (I done stole Carmon's answer outright!)
11. Comforter - Down or Polyester (or?)
Prolly poly, since it's easier to take care of. (I done did it again!)
12. Aromatherapy - Lavender or Jasmine or Rose
I'm not much into smelly stuff, but was recently given some rose geranium lotion I rather like.
13. Box of Chocolates or Bowl of Popcorn
That's just about the dumbest question anyone's ever asked me.
14. Music - Classical or Jazz or Folk
Folk, hands down.
15. Candles - scented or not
No! No more candles! I emptied dining room furniture last week and ended up with a 13-lb. box of candles. And those were just the unburned ones...and just the tapers!
16. Fireplace or Woodstove or Pellet Stove
Never lived with any of the above, but I enjoy fireplaces at other peoples' houses.
17. Outside - Gentle Rain or Crashing Storm
If I'm outside, gentle rain. If I'm inside, crashing storm. So long as the lights don't go out, but if they do, I've got lots of candles.
18. Reading - Pile of Magazines or Novel
Depends on the magazines and the novels.
19. Classic Film - Romance or Suspense or Musical
Romance. I don't like being scared, and musicals are only good on rare occasion.
20. Cat in your lap or Dog on your feet
Heeeere, kittty, kitty!
Posted by Valerie (Kyriosity) at 1/01/2005 02:52:00 AM • • Permalink
Links to This Post