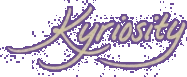 (KE'RE OS'I TE) N., A LONGING TO LOOK
INTO THE THINGS OF THE LORD [C.1996 < GK.
KYRIOS LORD + -ITY; IMIT. CURIOSITY]
Visit The Old Kyriosity Shop

Tuesday, January 18, 2005 AD

For Those Who Are Wondering...
...no, my middle name is not really And. For those who are not wondering, you just don't read the right magazines (or you do read the right magazines, but your copy hasn't arrived yet). For those whose wondering is now all cleared up, wasn't that cool cover art?

Riddle me this, riddle me that.
What could this strange post be hinting at?
Riddle me two, riddle me one.
I ain't gonna tell, 'cuz this way's more fun!
Posted by Valerie (Kyriosity) at 1/18/2005 04:48:00 PM • • Permalink
---
Links to this post:
---
Home