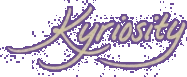 (KE'RE OS'I TE) N., A LONGING TO LOOK
INTO THE THINGS OF THE LORD [C.1996 < GK.
KYRIOS LORD + -ITY; IMIT. CURIOSITY]
Visit The Old Kyriosity Shop

Monday, January 10, 2005 AD

Very Rarely Do I Find Quiz Results That Actually Fit
(Well, except for that image they chose, which I don't much care for.)



You are a Concrete Random thinker. You are Quick, Curious, Innovative, Adventurous, Intuitive, and Instinctive. (Not only that, I know that one needn't capitalize all of those adjectives. And I'm not very adventurous, at least not with regard to anything involving physical danger...or bugs.)

What you do best is: Seeing many options and solutions, Contributing creative ideas, Visualizing the future, Accepting many kinds of people, Thinking fast on your feet, and Taking risks. (Or those verbs, and except, again, for the risk-taking bit.)

You do not do well when trying to: Write formal reports, Follow routines, Re-do anything once its already done, Keep detailed records, and Choose only one answer. (Or those, but man oh man, this part fits me to a T. These are my least favorite tasks.)

You prosper when: Using insight and instinct to solve problems, Working with general timelines rather than specific deadlines, Using real life experience to learn, Trying something yourself rather than taking other peoples word for it, Working for compelling reasons, and Motivated by being Inspired. (Again, what's with the superfluity of caps? And the colons, for that matter? I do like some rules, ye ken. And I actually like deadlines, because if I don't have them I never accomplish anything onerous.)

What style of thinking are you? Brought to you by Quizilla (which is being rather persnickety this evening, in case you can't get there, or the image doesn't show up here). Link via my abstract sequential friend, the BadgerMum.
Posted by Valerie (Kyriosity) at 1/10/2005 09:05:00 PM • • Permalink
---
Links to this post:
---
Home