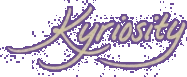 (KE'RE OS'I TE) N., A LONGING TO LOOK
INTO THE THINGS OF THE LORD [C.1996 < GK.
KYRIOS LORD + -ITY; IMIT. CURIOSITY]
Visit The Old Kyriosity Shop

Friday, January 07, 2005 AD

A Happy Little Factoid
(By which I mean that learning it made me happy, not that it was itself capable of emotional positivity...or negativity...or, for that matter, even neutrality.)

KataJohn reports on an interesting truth about something we all thought was a curse...and isn't. Makes much more sense than the other way, doesn't it?
Posted by Valerie (Kyriosity) at 1/07/2005 01:26:00 AM • • Permalink
---
Links to this post:
---
Home