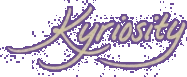 (KE'RE OS'I TE) N., A LONGING TO LOOK
INTO THE THINGS OF THE LORD [C.1996 < GK.
KYRIOS LORD + -ITY; IMIT. CURIOSITY]
Visit The Old Kyriosity Shop

Tuesday, January 18, 2005 AD

Reason #5,892,256,688 Why I Love Google
When I've got a song stuck in my head that I want to get rid of, and I think of a song to replace it, but I can't find the words, it's Google to the rescue!
All peoples, clap your hands for joy; To God in triumph shout;
For awesome is the Lord Most High, Great King the earth throughout.
He brings the peoples under us In mastery complete;
And He it is Who nations all Subdues beneath our feet.

The land of our inheritance He chooses out for us,
And He to us the glory gives Of Jacob whom He loves.
God is ascended with a shout, The Lord with trumpeting.
Sing praises unto God! Sing praise! Sing praises to our King!

For God is King of all the earth; Sing praise with skillfulness.
God rules the nations; God sits on His throne of holiness.
Assemble, men of Abrah'm's God! Come, people, princes, nigh!
The shields of earth belong to God; He is exalted high.

(Psalm 47)
That's what I get for packing my Book of Psalms for Singing in an inaccessible box, and packing my Cantus Christi at the very bottom of the last box of I-need-this-but-have-to-get-it-out-of-my-bedroom-so-they-can-paint stuff from my bedroom.
Posted by Valerie (Kyriosity) at 1/18/2005 09:25:00 PM • • Permalink
---
Links to this post:
---
Home