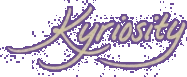 (KE'RE OS'I TE) N., A LONGING TO LOOK
INTO THE THINGS OF THE LORD [C.1996 < GK.
KYRIOS LORD + -ITY; IMIT. CURIOSITY]
Visit The Old Kyriosity Shop

Tuesday, January 11, 2005 AD

My Great-Great-Grandmother the Illegal Alien
We're not entirely sure whether my great-great-grandmother's given name was Massalena or Marcelena, but we know she went by Mercy. And we're not sure how Indian (feathers not dots) she was, but from the photos below, I'd guess at least half. She was born in Canada, and her husband was French Canadian. When he decided to move to the States, immigration law forbade her entry because of her race. So he smuggled her across the border in the back of a wagon.

The first picture is of Mercy as a young woman. The second (which was kindly tweaked for me by The Green One, whom I'm actually starting to miss after a month's absence) is of an older Mercy with two of her granddaughters, my maternal grandmother's first cousins Addie and Agnes.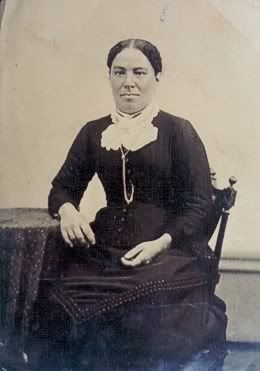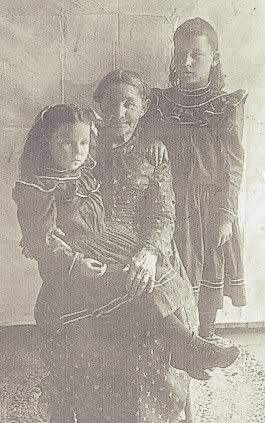 Photobucket is cool. I'm finally able to post all the stuff I've been wanting to post for months!
Posted by Valerie (Kyriosity) at 1/11/2005 02:24:00 PM • • Permalink
---
Links to this post:
---
Home