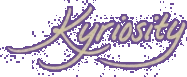 (KE'RE OS'I TE) N., A LONGING TO LOOK
INTO THE THINGS OF THE LORD [C.1996 < GK.
KYRIOS LORD + -ITY; IMIT. CURIOSITY]
Visit The Old Kyriosity Shop

Friday, January 07, 2005 AD

That Was Just Cruel
I got my best single-player score ever at Set, and the silly server disconnected me. I beat my previous personal high by 4 sets to get 69 in single-color play. I never expect to catch up to the #1 ranked player with his current high score of 1574, but it'd be fun to make it to the top-5 board. The fifth-ranked player made it there with a score of 135. I'm currently ranked 24, but that'd be higher if the silly thing hadn'ta disconnected me! I've seen myself improve over the few days I've played, learning to more quickly see types of sets that used to take me longer. Maybe eventually I'll graduate to three-color!

I know I've seen the daily puzzle link on some of the blogs I read...have any of you played at Higher Games? I've played a few 2-player games, but frankly they stress me out a bit.

UPDATE Jan 08: Made it to 69 again and am now ranked #17. Cool!
Posted by Valerie (Kyriosity) at 1/07/2005 09:53:00 PM • • Permalink
---
Links to this post:
---
Home