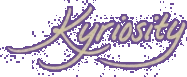 (KE'RE OS'I TE) N., A LONGING TO LOOK
INTO THE THINGS OF THE LORD [C.1996 < GK.
KYRIOS LORD + -ITY; IMIT. CURIOSITY]
Visit The Old Kyriosity Shop

Friday, January 28, 2005 AD

Running Progress Report for the Day
I've taken a personal day today, because I've just got to get things in order for tomorrow. For the sake of accountability and shameless begging for prayer and cheerleading, I'm going to keep a running commentary in this post re what I've gotten done.

9:30 a.m. -- absolutely nothing.
10:00 a.m. -- got dressed (navy mock turtle, denim skirt, outrageously clashing yellow and orange striped apron), made breakfast (scrambled eggs and toast...yes, I am highly succeptible to being influenced by suggestion...and apple sauce, which I am eating now)
11:00 -- CDs, most cassettes, and what few videos remain are packed. Stereo ready to go to Goodwill. I'm heading now to RadioShack to buy a new CD walkman (or maybe just headphones) because the one I've got in my apron pocket is no longer working.
11:40 -- headphones: check, swiftly affirmative prayer for mercy when car wouldn't start: check; tank of gas: check, overpriced gas station ice cream sandwich: chmmmm.
12:00 noon-- It wasn't the headphones...oh well.... (soundtrack amid the static)
12:15 -- bottom falls out of large box of small stuff to go to Goodwill; EGEATP; must go clean up porch
1:20 p.m. -- It wasn't the CD player either, it's DHP CDs. Oh well, at least now I have a CD player with accessories that will make it work in the car, 'cuz I'm too embarrassed to make two returns in one day.
2:30 -- Ate lunch; back hurting; little progress; frustrated; pouting; sang Psalms; much cheerier; back to work!
4:00 -- Got several Goodwill boxes moved to the front porch; a couple more almost filled; almost have a space clear enough to start piling "keeper" boxes; back is worse; Jennifer, your Christmas present microwavable heating pad pillow thingies are being appreciatively used
6:00 -- Back's a little better after quality time with heat; seeing progress, and keeping at it, but still feel a little overwhelmed. Three comments is some pretty lame cheerleading, people...you can do better than that, I know you can! Rah, rah, rah! ;-)
6:45 -- Ack. Nobody wants donated encyclopedias. I feel so guilty throwing away anything I know my mom sacrificed to give us! :-(
10:20 -- Boy, I really slacked off on my updates. There's still a lot to do, but my back is pretty bad again, so I'll probably go to bed soon and set the alarm for early. Thanks for your prayers and encouragement!!!
Posted by Valerie (Kyriosity) at 1/28/2005 09:29:00 AM • • Permalink
---
Links to this post:
---
Home