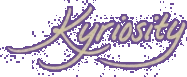 (KE'RE OS'I TE) N., A LONGING TO LOOK
INTO THE THINGS OF THE LORD [C.1996 < GK.
KYRIOS LORD + -ITY; IMIT. CURIOSITY]
Visit The Old Kyriosity Shop

Sunday, January 16, 2005 AD

The Beauty of the Spirit
In lieu of a sermon today, I've been listening to the last CD in RC's "All I Needed to Know I Learned in Genesis 1-3" series -- the lecture on the Holy Spirit. RC talks a lot in the lecture about the beauty of the Spirit and the Spirit as the source of beauty, and ends with this:
Friends, I'm convinced that we grow in grace, that we hasten the end, that we move towards that dance [the wedding dance of the Groom], that we beautify ourselves to the extent that we know God. And I'm convinced that our understanding of the Scripture, and our tradition tells us more about who God is than any other tradition by far. The Reformed faith tells the truth about who God is. But if we want to grow beyond being cranky TRs, we have to learn to see the beauty. That is what beautifies us: the more we behold His beauty, the more we are beautified in ourselves.
Wonderful, wonderful stuff, and just what I wanted today (not that it lets y'all off the hook re my previous post!) -- a reminder to fix my eyes on Him, to learn who He is, and so to become what He is making me.
Posted by Valerie (Kyriosity) at 1/16/2005 02:29:00 PM • • Permalink
---
Links to this post:
---
Home