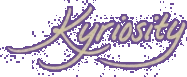 (KE'RE OS'I TE) N., A LONGING TO LOOK
INTO THE THINGS OF THE LORD [C.1996 < GK.
KYRIOS LORD + -ITY; IMIT. CURIOSITY]
Visit The Old Kyriosity Shop

Saturday, January 08, 2005 AD

As Good As I Remember It
It's been two or three years since I last had a turkey carcass to make soup, and I made turkey chowder from a recipe I can no longer find online. Fortunately, I saved the printout so I could make it from the carcass I've had in my freezer since Thanksgiving (thanks, Mike and Christine!) to take to the fellowship dinner tomorrow. This is my favoritest soup ever. A look at the ingredients might tell you why:
4 slices bacon, cut up
1 c chopped onion
4 c pared, cubed potatoes (I use red potatoes since they look pretty and I'm too lazy to peel potatoes, anyway.)
2 c turkey broth (I just used the water I boiled the turkey carcass in. I didn't add anything to the water.)
2 10-oz packages frozen whole-kernel corn, thawed (I did not double the corn, and I think half as much worked just fine.)
¼ c butter
2½ t salt
¼ t pepper
2 c cooked turkey, cubed (well...shredded might be a better way to put it)
2 c milk
1 c heavy cream
2 T chopped parsley

In 5-qt pot, sauté bacon until crispy, remove and reserve. In bacon drippings, sauté onion, stirring until golden brown (about 5 minutes). Add potatoes and turkey broth. Bring to a boil, simmer uncovered about 30 minutes or just until potatoes are tender but not mushy.

In another saucepan, combine corn, butter, salt, pepper, turkey and milk. Simmer uncovered for 5 minutes, stirring occasionally. Add to potato mixture along with heavy cream. Cook, stirring occasionally, until hot, but do not boil. Turn into warm soup tureen, sprinkle with reserved bacon and chopped parsley. Serves 8-10.
I made a double batch since I had about 4 cups of turkey. Too bad it won't all fit in my crockpot. ;-) Also, I just went ahead and stirred in the bacon and the parsley.

Now if you'll excuse me, I need to finish my second bowl...and call my cardiologist.
Posted by Valerie (Kyriosity) at 1/08/2005 08:53:00 PM • • Permalink
---
Links to this post:
---
Home