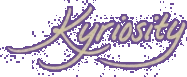 (KE'RE OS'I TE) N., A LONGING TO LOOK
INTO THE THINGS OF THE LORD [C.1996 < GK.
KYRIOS LORD + -ITY; IMIT. CURIOSITY]
Visit The Old Kyriosity Shop

Saturday, January 08, 2005 AD

What's in the CD Player Today
Three more of my faves:

Chris Rice, "Run the Earth, Watch the Sky" -- This isn't my favorite Chris Rice recording, but I still like it a lot. If Rice were typical of CCM, rather than the exception, the genre would be in much better shape.

Nanci Griffith, "Other Voices, Other Rooms" -- I have one other Nanci Griffith recording around here somewhere (or had), but this is the one that's been a steady favorite for six or seven years now.

Bruce Cockburn, "Dancing in the Dragon's Jaws" -- This one's been a steady favorite for nigh unto 20 years now. I've picked up other Bruce Cockburn recordings over the years, but I don't know why I bother...this is the only one I've ever listened to consistently. I wouldn't mind having his Christmas album, though. I heard it once a decade or so ago and rather liked it.

The commonality among these three, and among most of my favorite music, is interesting lyrics, singability, and harmonizability. And when I've listened to something for years, and know it really well, there's a "comfort food" factor, too.
Posted by Valerie (Kyriosity) at 1/08/2005 03:29:00 PM • • Permalink
---
Links to this post:
---
Home