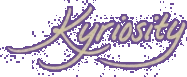 (KE'RE OS'I TE) N., A LONGING TO LOOK
INTO THE THINGS OF THE LORD [C.1996 < GK.
KYRIOS LORD + -ITY; IMIT. CURIOSITY]
Bio: Verily Valerie

Valerie is a 42-year-old, single, Reformed Christian lady who lives in Baltimore. She doesn't remember a time before she knew and loved Jesus, but she does remember accepting John Calvin into her heart in March of 2000. Valerie is a member of Christ Reformed Evangelical Church in Annapolis.

Though her career aspiration is to be a housewife, Valerie has not yet found anyone suitable who wishes to hire her for employment in that field (or, more properly, anyone suitable has not found her), so in the meantime she earns her daily bread working in communications -- editing, writing, print design and website management.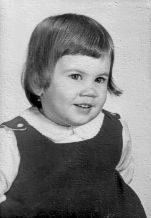 E-Mail
valerie [at] kyriosity [dot] com

AIM/YM
valkyriosity

My TTLB Ecosystem Details
Visit The Old Kyriosity Shop

Sunday, September 30, 2007 AD
More Cake Pix

I never got around to posting this one. The bottom tier of this cake got redecorated and taken to church a couple days later: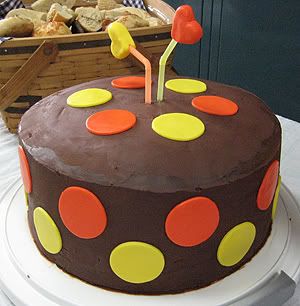 I did this cake for a baptism party last night. I was running short on time, so I cheated and bought Wilton icing. Yuck! The decorating is messy also because of my rush, but I did enjoy getting to play with the gold and silver dusting powders.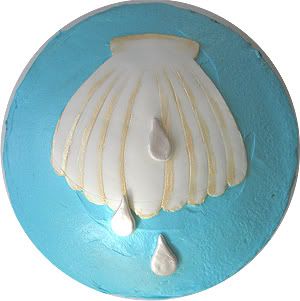 Posted by Valerie (Kyriosity) at 9:00 AM • Permalink
• • 3 comments
Saturday, September 29, 2007 AD
A Sniglet

(Inspired by Sora.)

Youbiquity: the belief that everything everywhere is all about you
Posted by Valerie (Kyriosity) at 10:59 AM • Permalink
• • 2 comments
Friday, September 28, 2007 AD
A Favorite Poem
If thou couldst empty all thyself of self,
Like to a shell dishabited,
Then might He find thee on the Ocean shelf,
And say -- "This is not dead," --
And fill thee with Himself instead.

But thou art all replete with very

thou

,
And hast such shrewd activity,
That, when He comes, He says -- "This is enow
Unto itself -- 'Twere better let it be:
It is so small and full, there is no room for Me."

"Indwelling," by T.E. Brown
What does my sin say about my goals, my hopes, my aspirations, my expectations, my purposes? It fairly screams,

I will be in control. I will be God. I will bend all the world to my will.

"All replete with very thou," indeed.

Of course, all things will bend to me, in a way: "all things must be subservient to my salvation." And of course, I will rule someday. But not by my own will...only as I am in Christ who rules all things, completely submitted to Him. And not by anger or self-serving or insistence on my own pleasure, but by love and sacrifice and endurance with joy.



Lord Jesus, I can't empty myself of self. I don't have the strength. I can't get the leverage. Here...You do it. You rip the flesh out of its shell and fill it with Thyself, instead. Don't just let me be; make room for Thee.
Posted by Valerie (Kyriosity) at 4:51 AM • Permalink
• • 1 comments
Thursday, September 27, 2007 AD
Striking Photo

Iran, July 23, 2007 -- A woman wearing a red coat and patterned pink headscarf is taken into custody by a woman wearing a chador. The original photo was cropped and edited by a Flickr user.
Posted by Valerie (Kyriosity) at 6:00 PM • Permalink
• • 8 comments
Wednesday, September 26, 2007 AD
You Say That As If It's a Good Thing

I joined a new Bible study yesterday. One of our memory verses for the first couple weeks is 2 Corinthians 5:15, "and He died for all, that those who live should live no longer for themselves, but for Him who died for them and rose again." That sneaky St. Paul...he slips in the phrase "should live no longer" as if we're not supposed to notice that he's saying, "You have to die." Well, I'm a pretty clever girl, and it didn't slip past me. My self hears the death knell and is making it quite clear that it has no intention of going "gentle into that good night." It's like Kris Lundgaard wrote in The Enemy Within -- killing sin is like trying to dissect a live wolverine, "red in tooth and claw," raging, raging "against the coming of the night."

But wait. It's not night that's coming. It's dawn. It's light. It's freedom and hope and joy. It's JESUS. Granted, it's Jesus with a great big two-edged sword coming to kill His enemies, which is, indeed, very bad news from the perspective of my self. But for me, for Him, for His beloved bride, the Church, it's very good news. It's "life and health and peace." It's the hope of finding a tender, skinless Valerie, "smooth and soft as a peeled switch," beneath the dragon scales. It's the hope of new skin that is so very "flesh of His flesh" that it makes me look just like Him.

The question is, am I brave enough to want that more? Am I brave enough to endure the hurting like billy-oh and smarting like anything (and you can't tell me that "but only for a moment" isn't going to feel like a darn sight longer) to get to the perfect deliciousness?

I can't answer that yet....
Posted by Valerie (Kyriosity) at 11:40 AM • Permalink
• • 4 comments
Thursday, September 20, 2007 AD
It's Audience Participation Time!

Bosch v. KitchenAid. Discuss.
Posted by Valerie (Kyriosity) at 8:35 PM • Permalink
• • 20 comments
Lectionaries

As noted previously, I try to read through the coming Sunday's lectionary selections during the week before. (Our congregation uses the BCP lectionary, but lately we've been subbing in the sermon text for one reading -- OT, NT or Gospel.) But weeks like this make me bristle. The reading in 1 Timothy 2 stops suspiciously before St. Paul's instructions regarding women in worship. A selection from Mark 9 last year skipped verses 44 and 46, both of which say, "where 'Their worm does not die And the fire is not quenched.'" These passages do not appear elsewhere in the 3-year cycle. What other politically correctifying and nice-ifying is going on, me wonders? I love the idea of a lectionary, of God's people systematically hearing His whole counsel over the course of a few years, but is there one that actually includes every inspired word of the Bible? (And leaves out the apocryphal ones, for that matter. A couple weeks ago Ecclesiasticus mysteriously became Ecclesiastes in our worship service, with the selection beginning and ending in odd places.) If anyone is aware of other options besides the Book of Common Prayer Lectionary and the Revised Common Lectionary, I'd be very keen on hearing about them.
Posted by Valerie (Kyriosity) at 3:49 PM • Permalink
• • 12 comments
Yesterday Was Arrrrrrrrrr; Last Night Was Arggggggggh; Today Is Ahhhhhhhhhh.

Woke up at 3:30 this morning with my back and knee hurting badly enough that I couldn't sleep. After tossing and turning and moving to the couch, I gave up and decided to assemble my new office chair:



By about 7, after a couple hours of wrestling and a few moments when I rather despaired of succcess, I finally had it together and, more importantly, the ibuprofen had kicked in, so I was able to get a couple hours more sleep. Now I'm sitting in my new chair, and I think it is the comfiest office chair I've ever owned. Of course we'll have to see if I still feel that way after a day of sitting in it, but for now I'm cautiously optimistic, with less emphasis on the

cautiously

than on the

optimistic

.

The desk arrived this morning, but from the heft of the box getting it into the house, I may need to wait for another pair of hands...or perhaps just another bout of insomnia...before I attempt to assemble that.
Posted by Valerie (Kyriosity) at 9:41 AM • Permalink
• • 5 comments
Wednesday, September 19, 2007 AD
Happy TLAP Day!
Posted by Valerie (Kyriosity) at 11:33 AM • Permalink
• • 1 comments
Tuesday, September 18, 2007 AD
[In My Best AR's Mom's Voice] Ann Rachel!

It took me two and a half weeks to notice (yes, I'm slow!) but I finally discovered your little reorganization in my kitchen window.

Folks, this is what happens when your kindhearted friends come to help you move boxes to the attic. One of them decides to wash the dishes, instead, and plays a little practical joke by rearranging your colored glass bottles.

I love you, you silly girl! And I'm very grateful for your dear family's help!
Posted by Valerie (Kyriosity) at 3:06 PM • Permalink
• • 3 comments
Before I Clear Off My Answering Machine...

...here was my bestest birthday present.
Posted by Valerie (Kyriosity) at 11:14 AM • Permalink
• • 0 comments
Monday, September 17, 2007 AD
More Wisdom from My Elders

This was our exhortation before the call to worship on Sunday:
How often have you been offended by someone, been critical of a brother or sister, been thinking about what someone's motives are without ever talking with him? Does this affect our worship? I believe it does.

In true community, we should think the best of one another, place each other in the best possible light. We all too often think the worst of one another, distancing ourselves from fellowship that we so desperately need as a body.

We are one body, and we get frustrated with those close to us more than anyone else.
We are in community -- one body, Christ Reformed Evangelical Church. Some of us have been together for years and others are just getting to know one another.

As we get to know one another, we get to know the warts, pimples, and messes in each others' lives. How do we handle this? What do we do? We love one another as Christ loved us. Colossians 3:12 says, "As the elect of God, holy and beloved, put on tender mercies, kindness, humility, meekness, patience; bearing with one another, and forgiving one another, if anyone has a complaint against another; even as Christ forgave you, so you also must do. But above all these things put on love, which is the bond of perfection."

We are commanded to put on love for one another. We are commanded to forgive one another.

Community can be very messy, like our homes. If we did not pick up around our homes they would be a mess. All of us take time to clean our homes. When we don't, our homes are not nice places to be. Just like community, we either have to cover over the offenses, the sin, the awkwardness of bumping in to one another...OR...confront one another.

We need to use wisdom to decide what is best. Sometimes we just forgive and forget, but if this turns to bitterness, we have to do house cleaning in our own homes. And then sometimes we are called, using wisdom, to confront one another, and bring the matter to one another and work things out. Our duty before God is to either forget it or confront it, but not let it affect community, how we love one another.

Just like in our homes we need to keep picking things up, in community we also need to keep picking things up. If we do so, we will grow closer to one another in Christ, and our community will be one in which the aroma is beautiful. If we don't our community will smell like a dump.

So today we are called before God to worship him. Let's do so. And as this week rolls on, love one another, forgive and forget OR get to work cleaning up. Clean up your own stuff first, and then go to one another and work on community with the saints. When we do this we honor the Name of God, we bless our personal relationships, we bless the body at large, we are more joyful for the family -- the church body that God has given us, and we worship God better.

So come before God today, and may this body of believers encourage one another, bear with one another, be patient with one another, and love one another.

Let us worship God in the beauty of His holiness!
In the past couple years I have learned to love better than I ever have before. Perhaps even for the first time ever. I'm still very much in progress, but I'm learning to fight the selfishness and laziness that hinder love. It is wonderful! It is glorious! And it is also sometimes quite painful. There's a part of me that wants to be bitter about the pain: "Hmph. I've learned to love like I'm s'posed to, and

this

is what it gets me...a broken heart." But I know the good far outweighs the bad. I know it's worth the risk to keep on loving, and to keep striving to love better. These are the saints in the land...the glorious ones in whom is all my delight (Psalm 16:3). Lord, make me a delight to them, too!
Posted by Valerie (Kyriosity) at 10:59 PM • Permalink
• • 2 comments
Do You Use a Ready-Made Grocery List?

This weekend I put together a grocery list template based on this one. I deleted stuff I never buy, and added lots of stuff I do buy. I keep thinking of more stuff to put on the list, but at 7.5-point type in six columns on a landscape-oriented page, I'm running out of room. Wow...I can walk into the Giant or Safeway and purchase any of these hundreds of items. I could probably even walk in and buy all of them on a given day without complete financial ruin (even if it wouldn't be particularly wise), and I bet most of you could, too. We are blessed, blessed, blessed with an overwhelming abundance of God's good gifts!
Posted by Valerie (Kyriosity) at 9:14 PM • Permalink
• • 0 comments
Saturday, September 15, 2007 AD
You Might Be Getting Old If...

...technology is so overwhelming you want to curl up in a ball and cry.

I need to get a cell phone. The possibilities are endless. If they weren't, it wouldn't be so overwhelming. Six bazillion plans to choose from. Nine bazillion phones to choose from. Forty-three bazillion options and features and small-print considerations to wade through. *whimper*
Posted by Valerie (Kyriosity) at 7:01 PM • Permalink
• • 7 comments
More Motivation

Jamie Soles has kindly agreed to give me some feedback on my songs. I baited him by saying I'd only recorded four of them, but the potential for some good feedback has motivated me to record three more today. And I'd have done more, but I haven't played this much in a long time, and my poow widdle fingewtips awe huwting, which is motivating me to quit.
Posted by Valerie (Kyriosity) at 3:00 PM • Permalink
• • 0 comments
Motivation

I've been needing a new desk chair for ages now. I've looked, dawdled, bought and returned something, researched some more, still hadn't resolved the problem. Then this morning one of the arms just fell off my chair. Amazing how quickly I was able to decide what I wanted and place an order! Ordered a new desk, too, while I was at it -- one I'd been eyeing for a couple years now. I hate purchasing expensive items, but there comes a time when you have to just do it.
Posted by Valerie (Kyriosity) at 11:24 AM • Permalink
• • 2 comments
Friday, September 14, 2007 AD
Keith Green's Recording Archives to Be Released

Keith died 25 years ago...before I ever heard of him, in fact. Now Sparrow Records has gotten hold of his unpublished recordings and will be releasing them later this year. Part of me's all like, "Yeah, I'm sure it's real high-quality stuff, considering he didn't release it himself. They're just trying to capitalize off their dead recording artist, whether the music's worth hearing or not." And another part of me's all like, "Woo-hoo! New Keith tunes!" Will the cynic or the fan-girl win out? Stay tuned for further developments!

Also, as I've written before, Keith's theology leaves much to be desired, but the man was "bananas for Jesus," and I can't help but love him for that.
Posted by Valerie (Kyriosity) at 8:41 PM • Permalink
• • 2 comments
'Nuther Cake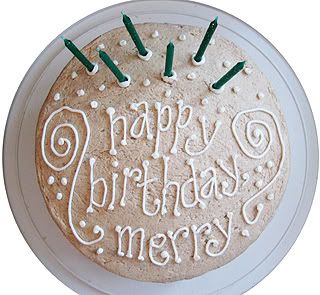 This one was just a simple 2-layer snickerdoodle cake (snickerdoodles being

cinnamon

, not

curry

flavored!) on which I piped some simple decorations. Or so I thought. I was using one of those store-bought icing tubes, and boy was it hard to get that stuff to come out! It required much more muscle power than it seems cake decorating should. And I biffed the spirals...should have been mirrored. And the layers kind of sank in transport, squeezing out some of the frosting between them so the cake ended up looking like it had a spare tire! But Merry was not displeased, nor was the rest of her crew. And I timed the delivery just right...got invited to join them for dinner out! A delightful evening with a delightful family. (-:
Posted by Valerie (Kyriosity) at 8:21 PM • Permalink
• • 3 comments
Getting Brazen in My Old Age

I don't know exactly why, but turning 40 seems to have made me both addlepated and audacious. As for the former, add to my last post the fact that I managed to leave my laptop at home this morning when I set off for the office. As for the latter, I present the following evidence:


Posted by Valerie (Kyriosity) at 1:51 PM • Permalink
• • 4 comments
Wednesday, September 12, 2007 AD
I Need to Stop Cooking in My Sleep

Saturday night, I was sitting at my dining room table making meatballs when I noticed a jar of ginger on the table.

That's odd

, I thought,

I wonder why I had ginger out here, since this recipe doesn't call for ginger

. Well, it did call for

garlic

, which is the same color in the same size jar. Oh well...the ginger didn't seem to hurt them. This morning I did notice that the "cinnamon" was not the right color

before

I put curry in the buttercream frosting, as that would definitely have been more painful.
Posted by Valerie (Kyriosity) at 3:15 PM • Permalink
• • 3 comments
Nifty Info on Isaac Watts...

...from this little item on "When I Survey."

I thought this bit was pretty funny:
Watts possessed an exceptional intellect--mastering Latin, Greek, French, and Hebrew all by the time he was thirteen--which even in his earliest years turned a special interest toward poetry. Evidently his constant rhyming so annoyed his father that the younger Watts was warned to stop or get whipped. But he didn't listen very well, and when his father took to giving him the promised whipping young Isaac blurted out--

O father, do some pity take,
And I will no more verses make!

Watts reports that his father--either from amusement or frustration--finally gave in, and the poetry continued.
It's sad that he found the Psalms so ponderous (perhaps they were in the incarnation of the day), but I'm very grateful for his contributions to English hymnody. "Prepare new honors for His Name, And songs before unknown," indeed!
Posted by Valerie (Kyriosity) at 12:48 PM • Permalink
• • 0 comments
Tuesday, September 11, 2007 AD
From Generation to Generation

"When God saved

me

He was pursuing

you

, even before you were born."

So sez Carol's pastor to his kids. Share it with yours, if you've got 'em!
Posted by Valerie (Kyriosity) at 10:34 PM • Permalink
• • 0 comments
Gateway Drugs

Before the bedspread project, I had made my mom these doilies for her end tables. But they just left her craving bigger and better crochet.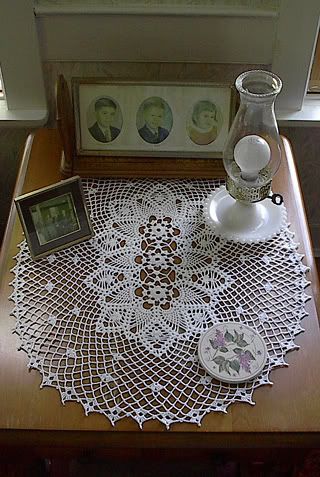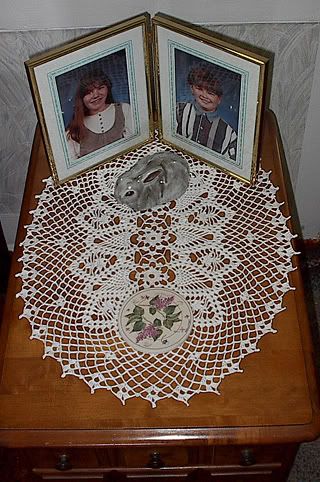 I used the same pattern for both of these, but the tables were two different sizes, so I adapted one of of the doilies.

Of course the whole crocheting thing started with making snoods. You know that

crochet

literally means

hook

, right? So you know what that makes me, right? See what travesties headcovering leads to?
Posted by Valerie (Kyriosity) at 7:40 PM • Permalink
• • 8 comments
Monday, September 10, 2007 AD
Another Corollary

My latest corollary to The Nancy Rule is "Don't try to discuss anything important with a woman about herself late at night." After spending a lovely afternoon and evening at the home of one of my elders and his wife, I was spent. I was the last guest to leave (and would, at my hosts' gracious invitation, have just stayed the night but for the lack of the necessary accouterments for such an endeavor), and I think it was past 10 when the three of us were standing by my car chatting, with me leaning heavily on the vehicle to maintain something resembling an upright posture. It was at this moment of weariness that he began to discuss my job, living arrangements and marital state -- changes needed and steps to be taken. Not surprisingly, I was a whining negatron. I want a daylight do-over of that conversation! But attitudinal lapse or not, it's rather nice to be loved and cared about. (-:
Posted by Valerie (Kyriosity) at 10:31 PM • Permalink
• • 5 comments
My Latest Confection Creation

I called this one "gâteau de joie d'amande (ooh la la!)" because I wanted something sillier than "almond joy cake." It's a chocolatey, coconutty, almondy concoction with which I was well pleased.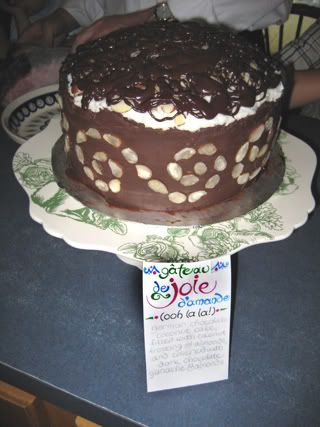 Posted by Valerie (Kyriosity) at 5:38 PM • Permalink
• • 4 comments
My Communion Bread Recipe

The choice of bread recipe in my congregation is left up to whomever is doing communion prep. Here's the one I've developed over the past couple years (dough made in a bread machine):



Smaller Loaf


1/2 cup water
3 Tbsp. light olive oil
2 large eggs (beaten)
1/3 cup honey
1 tsp. salt
3 cups bread flour
2 tsp. active dry yeast



Larger Loaf


3/4-1 scant cup water
5 Tbsp. light olive oil
3 large eggs (beaten)
1/2 cup honey
1 tsp. salt
5 cups bread flour
3 tsp. active dry yeast



Directions
Place ingredients in pan in order recommended by your manufacturer.
Run machine on dough setting. Scrape down sides early in the kneading process -- especially important if you're making the larger loaf. Watch the consistency, adding a little more liquid or a little more flour as necessary.
Shake dough out of bread pan into your hand. (You may want to flour your hands, as this dough is very sticky with all of that honey. If you can remove the handle from the pan, do so, as it tends to get in the way of the shaking-out process; it takes a little force to shake out the dough, so don't be afraid of being a little violent with it), pull out kneading blade as quickly as possible, and flip the dough over onto a greased and very well-floured baking sheet.
The dough blob should be fairly round, but you may need to reshape a bit. Just don't mess with it too much, or you'll knead all the air out of it. I usually cover it with a towel and let it rise for 20-30 minutes.
Score dough with very sharp knife or razor blade.
Bake at 350 degrees for ~25 minutes.
Hints
Since I don't like to get up before the crack of dawn, I find 7 p.m. on Saturday ideal for starting this recipe. Of course I usually end up not starting it 'til 9, and then I'm up 'til the wee hours and tired and cranky for worship the next morning. Be wiser than I am! ;-)
I find it best to start a little scant with the water, and then add more if the dough seems too dry.
Since I'm lazy and don't like to dirty extra dishes, I usually break my eggs right into the bread pan and beat them with a plastic fork (not metal...don't want to scratch the pan).
I highly recommend using a silicone baking sheet (on top of a regular one) because all the honey pretty much glues the bread to anything else! No need to flour or grease the silicone.
Posted by Valerie (Kyriosity) at 5:10 PM • Permalink
• • 0 comments
Sunday, September 9, 2007 AD
A Metaphor

The bread is the body; the body is the bread. Sometimes the body of Christ isn't pretty, but it's still what Christ uses to feed us. Or, to put it another way, it is past midnight, and there is no way I'm getting up at the crack of dawn to bake a prettier loaf of communion bread.
Posted by Valerie (Kyriosity) at 12:11 AM • Permalink
• • 12 comments
Saturday, September 8, 2007 AD
This One's for Ben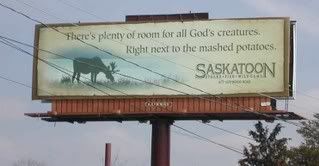 Posted by Valerie (Kyriosity) at 11:46 AM • Permalink
• • 7 comments
Friday, September 7, 2007 AD
You Know You're Getting Old When...

...writing a to-do list makes you so tired you have to take a nap.
Posted by Valerie (Kyriosity) at 9:05 PM • Permalink
• • 2 comments
Editorial Obsession

I'm told that my blog feed does not republish a post every time I edit it. Those of you who use feed readers should be grateful, as I am an obsessive editor. Especially when I particularly like a post I've written, I will go over it again and again, tweaking and retweaking. Case in point, the following sentence has gone through four revisions:
I can only demand the renouncement of my own anger.
I can demand only the renouncement of my own anger.
I can demand the renouncement only of my own anger.
I can demand the renouncement of only my own anger.
I just had to get that

only

in exactly the right spot, and it took me a while to find it. I think I'm satisfied with the sentence now, but I suppose it's not the last time I'll reread and repoke and reprod the post.
Posted by Valerie (Kyriosity) at 2:55 PM • Permalink
• • 12 comments
Thursday, September 6, 2007 AD
An Arrested Nosedive

"...there is not a temper, a look, a word, a movement, the most important action of the day, the smallest relative duty, in which we do not either deface or adorn the image of our Lord, and the profession of his name." (Charles Bridges in his Commentary on Proverbs)

Reading this on Nancy Wilson's blog near the end of a particularly trying work day, one in which there seemed to be inordinately more defacing than adorning going on in my attitude, I was on the brink of plunging into an introspective slough when it occurred to me, "Aha! this is another moment of minute obligation when I can choose His way or mine!" So I backed off the diving board, repented my way down the ladder, and rather instantly found myself in a better frame of mind than I'd been in all day.
Posted by Valerie (Kyriosity) at 5:13 PM • Permalink
• • 3 comments
Headcovering Discussion

Pastor Mike Lawyer has posted an article on headcoverings by Ben Merkle, who's agin' it. I'm not persuaded, but it's a good article, and a good discussion has ensued in the comments.
Posted by Valerie (Kyriosity) at 11:22 AM • Permalink
• • 0 comments
Philemon and Onesimus

St. Paul's letter to Philemon is one of the lectionary readings for this coming Sunday, so I read it this morning. The more often I read this brief epistle, the more vivid the story becomes to me. The tension is palpable. The strongest of emotions are depicted: fear and pride and love and courage. Paul's plea is a mixture of humble entreaty, confident expectation, authoritative urging, and the sort of powerful emotional manipulation that any Madison Avenue executive would envy (yet tempered by the sort of integrity that would be incomprehensible to many modern advertisers). How Philemon must have struggled with the temptation to bitterness and vengeance! How Onesimus must have struggled with the temptation to flee, or at least to make excuses! But they are called to exhibit the highest degree of love, to effect the most challenging of reconciliations. Most of this appears between the lines of the text, which, in the end, doesn't tell us the end. We're left to imagine their meeting -- the conversation, the body language, the facial expressions. It must have ended well. These verses are Holy Writ, which can't have been unfulfilled! But how did it go, exactly? How quickly did the tension leave their bodies to be replaced by tears of repentance, embraces of welcome, expressions of grace, gales of joyful laughter? What did they eat when they sat down for their first meal as brothers?

There is a conflict that is tearing my heart apart. I am not St. Paul. I cannot write pleading yet authoritative letters to bring about reconciliation. I can only wait and watch and hope and pray and love. I can demand the renouncement of only my own anger. But with God, all things are possible. He has perfect plans for this situation, plans to bless and not to curse, plans to work all things together for good for His called ones. He will, with inexorable gentleness, get His way. And I, with perfect peace, can cast my cares on Him and trust absolutely in His far greater care for me and for those I love.
Posted by Valerie (Kyriosity) at 9:05 AM • Permalink
• • 1 comments
Tuesday, September 4, 2007 AD
The Fruit of Her Hands

Let's get one thing straight right off the bat: my mommy's better than your mommy. Nope! Don't even be tempted to argue, because I have irrefutable evidence: she's put up with a daughter like me for lo these forty years. Moses' leading the recalcitrant Israelites through the wilderness for as much time was a comparative cakewalk.

Now that we've got that clear, let me show you some of what she did for me while she was visiting last month: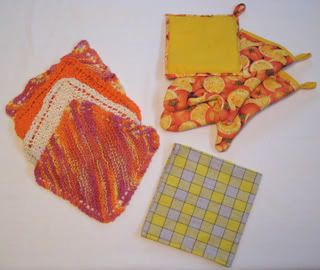 On the left we have four knitted dishcloths. She took another skein of yarn with her on the train, to make me another one or two.

On the bottom we have one of two napkins that, along with a smaller tablecloth, were salvaged from a larger tablecloth. Just right for a card table for two, which happened to be the number we were while she was here. And since the dining room table was covered with sewing projects for most of the week, a card table in the living room suited us just fine.

On the top right we have a potholder and two oven mitts. More of these fabrics went back to NH with Mom to be converted into more potholders. I think I bought enough fabric to make about ten. It is my personal belief that U.S. Americans can't have too many potholders. Since I usually eat alone, I find my desk or the couch a more convenient dining spot than the DR table, so I often carry a hot dish thence with a potholder. These periodically need to be rounded up and returned to the kitchen, and in the meantime I don't care to be stuck there in need of one, so plenty of spares are called for. The fabric of course matches...




...my kitchen curtains! They're finally complete after starting them a year and a half ago. My mom is a much more competent seamstress than I am, and even she was having trouble sewing through all the layers on those tabs, so it's no wonder I gave up after the one I attempted.

I did help with some cutting and pressing on some of these projects, and orange theme is my choice, as well, but Mommy did all the hard stuff. Yay! Mommy! Yay!

Of course this is only a fraction of all her kindnesses while she was visiting. She also created order in my garden, washed countless dishes, prepared several meals, and helped me clean off some basement shelves, among other things. And of course the weight of these projects is a mere trifle on the scales with her 40 years of sacrificial labors on my behalf. How could I begin to calculate the worth of the meals prepared, the garments sewn, the laundry washed, the sleep lost, the tears shed, the burdens borne, the sins forgiven for my benefit?

Mom and I have extraordinarily different personalities, and I'm afraid I inherited few of her virtues. The one I'd give the most for is her fruitful and diligent servanthood. When my hands grow up, I want them to be just like my mommy's.

The bedspread project is one of my efforts so far toward that end. It was my goal to get to the halfway point while Mom was visiting, but I didn't quite make it. Almost finished square #65 before I put her on the train, but I didn't finish #66 'til a week or two ago. (Dummy me...I forgot to note the exact date!) Here they all are -- six beribboned* bundles of ten, plus six additional squares: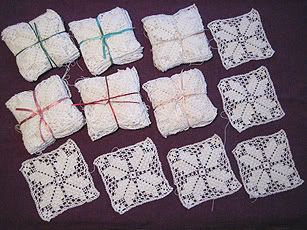 I've really got to pick up the pace on this project if I'm going to have it completed for Mom's 80th birthday. The first half took me two years and four months, which leaves me just a year and eight months to do the second half...including joining all the squares and crocheting the border. Think I can make it? I'm a little dubious, myself.

*This word included for The BadgerMum's particular pleasure, for reasons known to her. ;-)
Posted by Valerie (Kyriosity) at 7:38 PM • Permalink
• • 5 comments
The Challies.com Giveaway Returns!

Enter here to win some commentaries. Tell 'em referral #10162 sent you.
Posted by Valerie (Kyriosity) at 1:37 PM • Permalink
• • 0 comments
Monday, September 3, 2007 AD
Do You Ever Buy Yourself Birthday Presents?

I just did. I had a credit on my amazon.com credit card, plus a rewards certificate, so I just splurged and bought myself a whole bunch of stuff from my wish list -- books, DVDs, CDs, a computer keyboard (mine's been doing wonky things lately) and even a theologically correct cake pan. I feel decadent. I'll get over it.
Posted by Valerie (Kyriosity) at 6:59 PM • Permalink
• • 2 comments
Back to School

It's been a long time since a new school year had much impact on me, personally, but the ado amongst those close to me is infectious. We sent two sophomores back to NSA a few weeks ago, along with a freshman. I miss those guys! Another young man started at the University of Maryland. Tomorrow classes start at Rockbridge for many in our congregation, including three excited little girls who are going for their first time ever. I'm excited with them! The homeschooling contingent has been abuzz with discussions of plans and curriculum. I'm eager to follow their continuing adventures! I've already marked my calendar for all the major Rockbridge events of the year: concerts, the spring musical, senior thesis night, graduation. These have become the social and cultural highlights of my year. I'm looking forward to helping edit papers again, even if it does make thesis presentation night as nerve-wracking as it was for me last year.

These are my people now. I have a community. I have a home. Back-to-school time is just one of the many things that highlights that truth for me. With community comes the messiness of "Living with Actual People," but it is so worth the effort in order to see the glory unfold. I have an amazing church family -- a wise and mature pastor, faithful and godly elders, strong men, beautiful women, and delightful children. And on top of all that, they're gracious enough to put up with me. What a wondrous thing the Lord has done to bring me here. "Out of Zion, the perfection of beauty, God will shine forth" (Psalm 50:2)!
Posted by Valerie (Kyriosity) at 10:54 AM • Permalink
• • 1 comments
---