Tuesday, September 11, 2007 AD
Gateway Drugs

Before the bedspread project, I had made my mom these doilies for her end tables. But they just left her craving bigger and better crochet.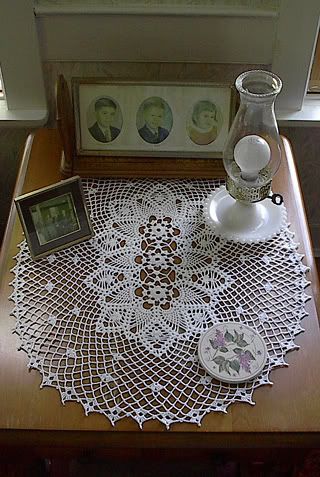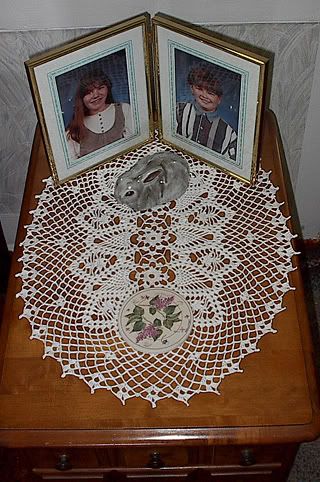 I used the same pattern for both of these, but the tables were two different sizes, so I adapted one of of the doilies.

Of course the whole crocheting thing started with making snoods. You know that

crochet

literally means

hook

, right? So you know what that makes me, right? See what travesties headcovering leads to?
Posted by Valerie (Kyriosity) at 7:40 PM • Permalink
• • 8 comments
---
8 Comments:
On September 11, 2007 9:55 PM

Anonymous wrote...
I like those Valerie. Now I know what I want for Christmas!!!!!AR

On September 11, 2007 10:17 PM

Valerie (Kyriosity) wrote...
Sure...the Christmas after I finish the bedspread!

On September 12, 2007 1:05 AM

Carol in Oregon wrote...
You make me laugh! Travesties, headcoverings, hooks...

I love 'em.

Did you starch them?

On September 12, 2007 6:15 AM

Valerie (Kyriosity) wrote...
No, I've only ever starched snowflake Christmas ornaments. These were just blocked with water.

On September 12, 2007 8:57 AM

pentamom wrote...
I'm so confused. I thought that the only reason to wear a snood was to make sure everyone would know you weren't a...crocheter. It doesn't make sense!

On September 12, 2007 9:00 AM

Valerie (Kyriosity) wrote...
'Tis a paradox, no? ;-P

On September 12, 2007 1:49 PM

Anonymous wrote...
Valerie's becoming crochety!~EleaNOR

On September 12, 2007 2:18 PM

Valerie (Kyriosity) wrote...
Thanks! I think my crocheting is very becoming, too! ;-P

---