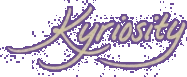 (KE'RE OS'I TE) N., A LONGING TO LOOK
INTO THE THINGS OF THE LORD [C.1996 < GK.
KYRIOS LORD + -ITY; IMIT. CURIOSITY]
Bio: Verily Valerie

Valerie is a 42-year-old, single, Reformed Christian lady who lives in Baltimore. She doesn't remember a time before she knew and loved Jesus, but she does remember accepting John Calvin into her heart in March of 2000. Valerie is a member of Christ Reformed Evangelical Church in Annapolis.

Though her career aspiration is to be a housewife, Valerie has not yet found anyone suitable who wishes to hire her for employment in that field (or, more properly, anyone suitable has not found her), so in the meantime she earns her daily bread working in communications -- editing, writing, print design and website management.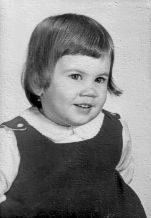 E-Mail
valerie [at] kyriosity [dot] com

AIM/YM
valkyriosity

My TTLB Ecosystem Details
Visit The Old Kyriosity Shop

Monday, September 3, 2007 AD
Back to School

It's been a long time since a new school year had much impact on me, personally, but the ado amongst those close to me is infectious. We sent two sophomores back to NSA a few weeks ago, along with a freshman. I miss those guys! Another young man started at the University of Maryland. Tomorrow classes start at Rockbridge for many in our congregation, including three excited little girls who are going for their first time ever. I'm excited with them! The homeschooling contingent has been abuzz with discussions of plans and curriculum. I'm eager to follow their continuing adventures! I've already marked my calendar for all the major Rockbridge events of the year: concerts, the spring musical, senior thesis night, graduation. These have become the social and cultural highlights of my year. I'm looking forward to helping edit papers again, even if it does make thesis presentation night as nerve-wracking as it was for me last year.

These are my people now. I have a community. I have a home. Back-to-school time is just one of the many things that highlights that truth for me. With community comes the messiness of "Living with Actual People," but it is so worth the effort in order to see the glory unfold. I have an amazing church family -- a wise and mature pastor, faithful and godly elders, strong men, beautiful women, and delightful children. And on top of all that, they're gracious enough to put up with me. What a wondrous thing the Lord has done to bring me here. "Out of Zion, the perfection of beauty, God will shine forth" (Psalm 50:2)!
Posted by Valerie (Kyriosity) at 10:54 AM • Permalink
• • 1 comments
---
1 Comments:
On September 4, 2007 1:53 PM

JFC wrote...
Our responsive reading this past Lord's Day included the verse: "As for the saints who are in the land, they are the excellent ones in whom is all my delight."

I hear you ... and heartily affirm the same thoughts concerning the congregation of which I am a part.

---
---