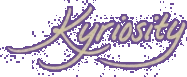 (KE'RE OS'I TE) N., A LONGING TO LOOK
INTO THE THINGS OF THE LORD [C.1996 < GK.
KYRIOS LORD + -ITY; IMIT. CURIOSITY]
Visit The Old Kyriosity Shop

Thursday, April 14, 2005 AD

Back to Square One
The first square of my mommy's bedspread: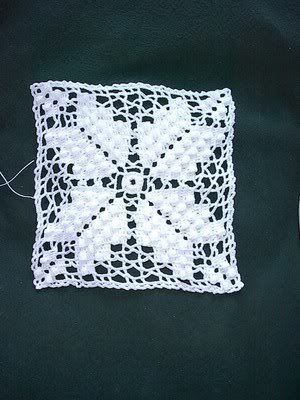 The pattern calls for 182 squares (13x14), but my square actually turned out bigger than the 5.5 inches it was supposed to be (Heidi will understand what a shocking thing that is!) so I think I'm going to keep going at this size and refigure the dimensions. (Yeah...it'll take 132 squares.) The design is from a 1934 pattern book.

Here are a couple embroidery projects I did in years gone by. The Bible cover was started back in my PCUSA days to fit the NRSV I was carrying then. Happily, it fits my NASB, too. ;-) I don't know if you'll be able to see the stitching, but it's all teeny-tiny satin stitches -- about a millimeter wide -- to create the over/under effect of the knotwork. The design is pieced together from a few different historical sources -- I have notes somewhere, but can't remember them off the top of my head -- plus a few of my own modifications.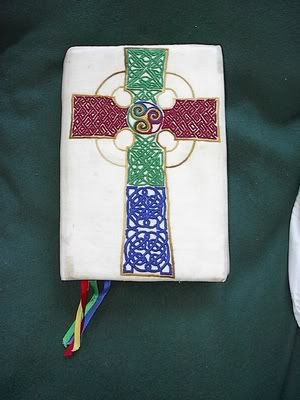 This cover was originally made for my Greek New Testament -- hence the alpha and omega design (no...it's not a rootbeer advertisement!) Of course by the time I finished the embroidery, I'd forgotten all the Greek and the NT was no longer in regular use. So I now use it on my 1928 Book of Common Prayer. I did the design. The fabric was left over from a dress. The sewing on the dress and both covers was done by my mom. I've never had much of a relationship with sewing machines...I seem to prefer my needlework freehand.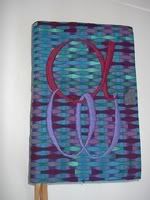 And as long as I was taking pictures, I thought I'd post this one of the journal Samantha made. Does anyone recognize the painting? i'd love to know more about it. I plan to take the journal this weekend for conference notes. I hope Mrs. Sammycakes approves of employing it in that fashion.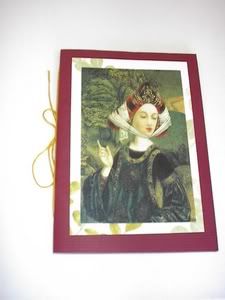 Posted by Valerie (Kyriosity) at 4/14/2005 10:34:00 AM • • Permalink
---
Links to this post:
---
Home