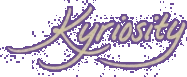 (KE'RE OS'I TE) N., A LONGING TO LOOK
INTO THE THINGS OF THE LORD [C.1996 < GK.
KYRIOS LORD + -ITY; IMIT. CURIOSITY]
Visit The Old Kyriosity Shop

Wednesday, May 30, 2007 AD



My Dinner with History


Last night AR's family had our new pastor and his wife over for dinner. I came, too (and then crashed on their couch for the night). During our conversation over honey mustard chicken, brown rice, broccoli and homemade bread, I learned that it was Pastor Knecht himself who had asked Mansfield Kaseman, "Do you believe that Jesus Christ is God?" during his examination to transfer from the UCC to the UPCUSA. When Kaseman answered in the negative, but was admitted anyway, Pastor Knecht was among those to press charges against the presbytery. Wow...here I was passing the butter to a man who had been in the faithful vanguard at one of the defining moments of 20th century church history.

That was almost as impressive as the fact that Glen knew all 10 kids' names by the end of the evening, and had clearly won their hearts with hugs and songs and stories. As he prayed for them each before leaving, I sat and wept.

It's a good thing to be a defender of the faith on ecclesiastical battlefields. And it's a good thing to be a grandfatherly figure to a mob of small fry. But to be both at once is a very good thing, indeed. And a pastor like that is a very good gift from a very good God!
Posted by Valerie (Kyriosity) at 5/30/2007 11:16:00 AM • • Permalink
Links to This Post
Tuesday, May 29, 2007 AD



Fa-ti-gyoo


That's how I used to think

fatigue

was pronounced -- short

a

and short

i

and long

ooo

sounds -- when I read it as a child. Now I not only know how to pronounce it, I am intimately acquainted with the thing itself. So, after spending a good bit of the past three days lying down (I actually had to take a sick day today because I was just too exhausted to go to work), I think I'm going to try again to get my doctor to find something wrong with me. So...what all should I have her check for? What are all the obvious and obscure possible causes for this level of persistent fatigue? I want to go armed with a list of things to check for.

I've struggled with some level of fatigue for some time now, and part of the reason I haven't really dealt with it aggressively is that I've never quite been sure that it wasn't just laziness. But in the past several months, as my desire to be diligent has increased more and more, my ability to do so has decreased to the point where I know it's not just sin...that there's got to be some physical explanation. My consciences (my internal one and the various Jiminy Crickets in my life) are asking more and more of me in terms of service and domestic diligence, and the spirit is more willing than it's ever been, but the flesh is literally weak right now.

I'm also bummed about having to miss so many things. I skipped the HSC conference earlier this month, I've had to bow out of attending Paulo's wedding this coming Saturday, I probably won't be able to make it down to see Carmon when she's in Virginia in a couple weeks, and the thought of visiting my friends in Holland seems about as far-fetched as a trip to the moon. So far I haven't had to bail on anything more local, but I'm having to be very careful to expend energy only where I owe it most.

Whatever it is, I trust God is going to use this malady as a means to deliver good things to me!
Posted by Valerie (Kyriosity) at 5/29/2007 01:01:00 PM • • Permalink
Links to This Post
Saturday, May 26, 2007 AD



Sabbath Feast 2.0


Well the house got clean presentable in the nick of time...after I threw all the clutter in bins and hid it in my room. Next month my goal will be to have the house clean enough so that I only have to do cooking on Saturday. This makes twice that I've been so exhausted by the time everybody arrived that I could hardly function. I'm thinking that's not so good...definitely puts a damper on the hostessing skillz.

One family cancelled this morning, so I called my brother and SIL, and they came. Made for an interesting mix of folks. I was worried there for a while that the conversation just wouldn't get going, but by the end of the evening I think everyone had found the groove and were chatting away.

The kids were an interesting mix, too. One family with four girls and the other with two boys, and an odd mix of ages. They didn't really know each other, but they seemed to survive OK.

I wish I could have one big table, though. The kids were separated from the adults (not by design, but that's the way it worked out), so I didn't get to spend much time with the younger set, which was a bummer. Not that I didn't enjoy their parents immensely, but I'm greedy...I want it

all

!

I added a small liturgy to the occasion -- I welcomed everyone and made a simple toast, then one of my guests prayed and we sang the Doxology. I was nervous on top of being incoherent, so I almost forgot the Doxology. It was kinda funny, 'cuz all us staid Reformed folk raised our hands and my Assemblies of God bro and SIL didn't.

The menu, for those interested in such things, was curried chicken and apple stew from The Dinner Doctor, basmati rice, cucumber and tomato salad in garlic yogurt dressing, and a fruit salad. I was going to do green beans, too, but I ran out of time. Happily I did not run out of food! One family brought dessert -- ice cream sundaes...mmmmmm. I'd already done all the shopping when the other family asked, so I asked them to bring Chinet plates. I'm glad there's that much less to wash, because the kitchen is scary! And my bro & SIL brought the all-important bag of ice. That's one thing I just can't manage -- having enough ice for a crowd in my little freezer. Er...having enough ice in my freezer for a crowd.

Yep...I definitely need sleep.

Have a blessed Lord's Day, dear readers...I know I have much for which to give thanks tomorrow!
Posted by Valerie (Kyriosity) at 5/26/2007 09:04:00 PM • • Permalink
Links to This Post



Gravity Levity


So I was just throwing an armload of laundry down the stairs and thinking, "Gravity is our friend!" as my sheets and blankets wafted cheerfully down and landed with a light and satisfying *flump* at the bottom of the stairs...and just at that moment the words "Gravity pulling us down" wafted woefully from the CD I'm listening to. I guess it's all in the light and satisfying *flump*, which we rarely make when we hit bottom!
Posted by Valerie (Kyriosity) at 5/26/2007 07:30:00 AM • • Permalink
Links to This Post
Friday, May 25, 2007 AD



Whine, Whine, Whine...


Er, I mean,

wine, wine, wine

!

So I got as far as hunting down the variety that should be served with chicken curry (dry Reisling or Gewurztraminer or Sauvignon Blanc, in case anyone's wondering), and I bought some Reisling (but I forgot to find out whether or not it was dry, so I hope it's OK), and I looked up whether or not it should be chilled (yes, it should), but I realized I have no idea how

much

wine to buy. Is there a standard guest:bottle ratio one should employ?

We'll be 14 tomorrow evening for Sabbath Feast, Edition 2. I've got all the shopping done, but my house is a disaster. I think there will be a lot of scooping up clutter and shutting it behind bedroom doors tomorrow. But lest that sound like I'm back to whine-with-an-aitch, I've decided not to stress about it. I'm learning and growing and not letting the enemy talk me into being unfaithful just because I can't be perfectly faithful. I trust that our God will be merciful, letting me to get enough done even if not everything's done. And I trust my friends will be merciful, letting love cover a multitude of dust bunnies!
Posted by Valerie (Kyriosity) at 5/25/2007 10:39:00 PM • • Permalink
Links to This Post
Thursday, May 24, 2007 AD



Kyriosity's Quotes on Domesticity and Diligence


I've added a new page to the site. Please chime in with other recommendations for the list!

And Angie suggested that I add this image to the page:



Feel free to steal that for your own site, just please host it someplace else rather than filching my bandwidth. Thanks!
Posted by Valerie (Kyriosity) at 5/24/2007 12:43:00 PM • • Permalink
Links to This Post
Tuesday, May 22, 2007 AD



Getting Even...or Not


On Sunday, our congregation honored our elders and their wives for their service to our body over the past year+ that we have been without a pastor. There was a cake, and a really cool bouquet of "flowers" made out of fruit, and gift certificates for a B&B, and a speech -- all to express our gratitude to Jeff and Ken for bearing the burden of shepherding our flock and to Karen and Jana for bearing the burden of their husbands' burden-bearing.

I also made a calligraphy for each couple with John 12:26 ("If anyone serves me, him my father will honor"). This poem (HT Abigail), though written about a mother, conveys the same sense of imbalance between what I've received and what I've given in return:
The Lanyard




by Billy Collins



The other day I was ricocheting slowly
off the blue walls of this room,
moving as if underwater from typewriter to piano,
from bookshelf to an envelope lying on the floor,
when I found myself in the L section of the dictionary
where my eyes fell upon the word lanyard.

No cookie nibbled by a French novelist
could send one into the past more suddenly—
a past where I sat at a workbench at a camp
by a deep Adirondack lake
learning how to braid long thin plastic strips
into a lanyard, a gift for my mother.

I had never seen anyone use a lanyard
or wear one, if that's what you did with them,
but that did not keep me from crossing
strand over strand again and again
until I had made a boxy
red and white lanyard for my mother.

She gave me life and milk from her breasts,
and I gave her a lanyard.
She nursed me in many a sick room,
lifted spoons of medicine to my lips,
laid cold face-cloths on my forehead,
and then led me out into the airy light

and taught me to walk and swim,
and I, in turn, presented her with a lanyard.
Here are thousands of meals, she said,
and here is clothing and a good education.
And here is your lanyard, I replied,
which I made with a little help from a counselor.

Here is a breathing body and a beating heart,
strong legs, bones and teeth,
and two clear eyes to read the world, she whispered,
and here, I said, is the lanyard I made at camp.
And here, I wish to say to her now,
is a smaller gift—not the worn truth
that you can never repay your mother,
but the rueful admission that when she took
the two-tone lanyard from my hand,
I was as sure as a boy could be
that this useless, worthless thing I wove
out of boredom would be enough to make us even.
Posted by Valerie (Kyriosity) at 5/22/2007 12:46:00 PM • • Permalink
Links to This Post
Monday, May 21, 2007 AD
Time for This Image Again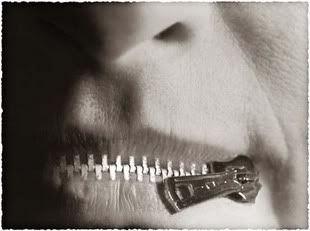 Set a guard, O LORD, over my mouth;
Keep watch over the door of my lips. (Psalm 141:3, NKJV)
Posted by Valerie (Kyriosity) at 5/21/2007 03:01:00 PM • • Permalink
Links to This Post
Saturday, May 19, 2007 AD



The Perspicacious Pastor and the Pretentious Posers


A wise Anglican priest gives hypocrites in his congregation a metaphorical spanking. (HT Jon)
Posted by Valerie (Kyriosity) at 5/19/2007 08:37:00 PM • • Permalink
Links to This Post



Meeting an Old Friend


So I'm wandering through the art display at the Rockbridge Fine Arts Night, when I see a familiar face. I haven't seen her in four years, and had really only met her twice before -- at conferences in 2001 and 2003 -- yet she's someone the thought of whom delights my mind. We caught up briefly, and I told her about joining CREC. She and her husband had actually thought about visiting, and in fact did come one Sunday a few months ago, but felt they'd arrived too late to come into the service. I of course encouraged them to try again, and told them all about our new pastor, and I have hope that they'll give us a try. She said the coolest thing: "I can tell it must be a good church because I can see how happy you are." And that, dear readers, is an encouraging word if there ever was one.
Posted by Valerie (Kyriosity) at 5/19/2007 12:24:00 AM • • Permalink
Links to This Post
Friday, May 18, 2007 AD



Meeting the Enemy


The board of the agency I work for was in town for a meeting this week. The directors took some time to wander around and chat with staff today. The one person who stopped to chat with me works for a prominent national baby-killing organization. It creeped me out just to have her in my cube. I have tons of pictures of my friends' kids on my cubicle wall (because people who

love

me send me pictures of their families), and felt the urge to move between her and the photos to protect all my precious little ones -- especially the younger ones in the larger families, whose very existence she would disapprove. I shouldn't have been creeped out. I should have been serenely confident in the knowledge that I am on the winning side, and that one day, when the glory of the Lord manifestly covers the face of the earth, "Yay! Babies! Yay" will be unanimously exclaimed.
Posted by Valerie (Kyriosity) at 5/18/2007 11:59:00 PM • • Permalink
Links to This Post
Thursday, May 17, 2007 AD



A Couple Sniglets


oafficial: n., a stupid, clumsy bureaucrat
flossalalia: n, the ability to speak while cleaning one's teeth
Posted by Valerie (Kyriosity) at 5/17/2007 07:36:00 PM • • Permalink
Links to This Post



Excellent!


This may be my favorite thing Angie has ever written.

And someday I'll get around to reading this...just as soon as I'm done raining rhetorical fire and brimstone on a few heretics. Look out, doremi5SOLAStido...here I come!
Posted by Valerie (Kyriosity) at 5/17/2007 06:29:00 PM • • Permalink
Links to This Post
Tuesday, May 15, 2007 AD



Me So Silly


My

very

pregnant boss and I were just down in the mail room to sort out what parts of a botched printer's shipment had to be returned, and which should be delivered to us. I snagged a "Fragile: Handle with Care" label, stuck it on her belly, and dared her to wear it all day.
Posted by Valerie (Kyriosity) at 5/15/2007 12:37:00 PM • • Permalink
Links to This Post
Monday, May 14, 2007 AD



Wisdom Versus Cleverness


Wisdom, upon gleaning an insight from the second chapter of Joel, turns to the Lord; grieves its sins; truly repents; and worships, obeys and glorifies God.

Cleverness, upon gleaning an insight from the second chapter of Joel, just blogs about it.
The fear of the LORD is the beginning of wisdom;
A good understanding have all those who

do

His commandments. (Psalm 111:10)

Teach me Your way, O LORD;
I will walk in Your truth;
Unite my heart to fear Your name. (Psalm 86:11)
Posted by Valerie (Kyriosity) at 5/14/2007 09:31:00 PM • • Permalink
Links to This Post



True Repentance


When I was reading Joel 2 last week, this section struck me, especially verse 14:
12 "Now, therefore," says the LORD,
"Turn to Me with all your heart,
With fasting, with weeping, and with mourning."
13 So rend your heart, and not your garments;
Return to the LORD your God,
For He is gracious and merciful,
Slow to anger, and of great kindness;
And He relents from doing harm.
14 Who knows if He will turn and relent,
And leave a blessing behind Him—
A grain offering and a drink offering
For the LORD your God?
The people have been suffering from famine — they are starving and broken — but how does Joel express what will be the foremost blessing if God refrains from giving them the punishment they deserve? That He would give them something to offer back to Him. True repentance is shown in a desire not just to avoid painful consequences for oneself, but in a desire to worship God rightly.

Sir Alexander Patterson got it right, too:
Make us masters of ourselves that we may be the servants of others.
If all obedience can be summed up in the two greatest commandments — love God with all your being and love your neighbor as yourself — then all disobedience can be summed up as a failure to love God and neighbor, and all true repentance must be rooted in a desire to love God and neighbor. "We have followed too much the devices and desires of our own hearts," we acknowledge in a great penitential prayer. Loving God means following the devices and desires of

His

heart — obeying His Word, pursuing His glory, and laying down our lives for His people.
Posted by Valerie (Kyriosity) at 5/14/2007 06:52:00 AM • • Permalink
Links to This Post
Sunday, May 13, 2007 AD



Them's Good Preachin'


Did you ever hear a sermon and think, "If I listened to that sermon every day for ten years,

maybe

that would be sufficient enough for it to glean all of its good effects"? Well, I've listened to two such sermons this week:

The first, by Doug Wilson, was on complaining (the third message in this set). I kept turning it off after listening for just a few minutes, because I had to stop and pray and repent. The CD spent most of last week in my car CD player, and I haven't even finished it yet. (I still won't finish it for a while yet, as I loaned that set and another of Pastor Wilson's to friends who are heading out on a long road trip.) Near as I can figure, the sermons in this series are about 20 years old. Who knew Doug Wilson used to be so smart?

The second was from our worship service this morning. One of our recurring pulpit suppliers -- a ruling elder from a local PCA congregation -- has preached several messages over the past few months based on the writings of John Owen. Today's message was on the mortification of sin. Alas, I couldn't put a live sermon on pause, so I've asked him to e-mail his notes, if he could. Perhaps someday I'll read Owen, too, but my too-tall and too-numerous to-read stacks make me hesitant to tackle anything that intensive for the time being.

The gospel is so precious. And I'm grateful for men who preach it faithfully!
Posted by Valerie (Kyriosity) at 5/13/2007 09:48:00 PM • • Permalink
Links to This Post
Thursday, May 10, 2007 AD



The Hymn with the Grammatical Error


I'll have to brace myself on Sunday for singing #271. The rules may have been different in the 18th century when Isaac Watts penned "Each of us cry with thankful tongues" (and really, who am I to criticize Isaac Watts, anyway?) but it ought to be "Each [singular!] of us

cries

with thankful

tongue

." I confess, I edit it when I sing it.

Evidently I'm not the only one to be bothered by this. Google is tied at 85 instances of each rendering of the line, so others have also changed it over the years. I found one reference that said such a change would ruin the poetry, but it was already an assonance ("'Don't ask him what an assy-thingummy is,' said Edmund.") so dropping the

s

really doesn't botch the aesthetics as much as the grammar does.

But changing the rhyme does botch the last line of Psalm 17A, which we're also singing this Sunday. Consider this a public service announcement:

erred

rhymes with

word

. It is not pronounced

aired

. I confess I hit the

ur

sound a little louder than the rest of the notes in a vain hope of sharing this truth with those around me. Since this has had absolutely no effect, I've put in a plea with the powers that be (and the substitute powers that be) to share this little tidbit in our Psalm instruction.

We sang 45C last Sunday, and I confess I also still do this.

So there you have it...my rebellious spirit in action, egged on by my various neuroses. And you can see why I love worshiping at my church so much if these are my greatest complaints! Of course there are also a few things I'd do differently in our liturgy, but just enough to give me the opportunity to go along cheerfully. ;-)
Posted by Valerie (Kyriosity) at 5/10/2007 07:58:00 AM • • Permalink
Links to This Post
Wednesday, May 09, 2007 AD



Seven Things About Me, Part 2


Well, I guess everybody already knows most everything they want to know about me, since only Margaret and Angie had questions, so I'll just answer theirs:



1) What is your favorite hymn?


This question is impossible to answer. There are many, many, many!



2) What is your favorite book of the Bible?


This question is easy to answer: Psalms. RCJR in some teaching series noted that having a favorite implied that you might have a least favorite, which no one seems to be willing to admit. But I'll admit my shallow, unspiritual boredom with 1 and 2 Chronicles. Didn't we just read all of that stuff in 1 and 2 Kings? Why the remake? And I can't say I'm gaga over a lot of the apocalyptic literature -- Revelation, the weird bits of Daniel, etc. Maybe I've just never heard them taught/preached well, but I find myself quite stupidly impervious to much benefit from them.



3) Which Jane Austen novel is the greatest?


Well, that's not really a question about

me

, but I can tell you that I waffle between

Mansfield Park

and

Pride and Prejudice

when asked to choose my favorite.



4) Who is your favorite composer?


I'm too ignorant and low-brow to have a favorite composer, but whoever it is, he's more likely to have written choral music than just instrumental. I can't remembe a Mozart piece I didn't enjoy singing, Bach's "Jesu, Joy of Man's Desiring" is perhaps my favorite musical composition, I would dearly love to be able to sing the Agnus Dei set to Barber's "Adagio for Strings" some day, and given the choice between Handel's

Messiah

and "Honky Tonk Badonkadonk" I would very much prefer the former. Didja catch that, AR? ;-)



5) Which of the domestic arts do you think is the most important to master?


Probably the one that is hardest for you. ;-) I know the most important one for me to learn is keeping up with housework, because that's my biggest struggle. For a married woman I suspect it will vary depending on the needs of her household and the direction of her husband's leadership. But if a woman of any station focuses on mastering the art of joyful diligence, she'll surely be able to do anything else God calls her to do.



6) Howzat?


Just dandy. Oh...that wasn't supposed to be one of the questions, was it? ;-)



7) If you could travel anywhere in the world on a week-long vacation, where would you go?


Can I just stay home, instead? ;-) I actually don't mind travel all

that

much, but for me the

who

has more interest than the

where

. I'd love to go to visit our friends in Holland, but I'm not thrilled about the length of the journey. And that would definitely be too much jet-lag for a mere one-week stay. I'd love to make the hadj to Moscow for Trinity Fest some year, but I wouldn't want to go alone. I'd love to visit Mark and Sarah in Dayton (and of course I'd save time for Barb, too, while I'm out there). So all things considered, I'd probably just go to NH. Nine hours of crochet/audiobook time on the train each way, free lodging, free lazing, and

mommy

!



8) Will you bring a strawberry cake to my house in a couple of weeks?


Maaaaaaaybe. Just be sure to assign (accidentally, if necessary) the first half of the alphabet to bring desserts, and we'll see what transpires! ;-)

OK, some of those questions were a stretch to fit the "about me" factor, so if anybody else has any good ones, ask away!
Posted by Valerie (Kyriosity) at 5/09/2007 07:52:00 PM • • Permalink
Links to This Post



Good Gospelly Message


"For those who know it best are hungering and thirsting to hear it like the rest." Doug Wilson's April 22 sermon is a goodun.
Posted by Valerie (Kyriosity) at 5/09/2007 03:14:00 PM • • Permalink
Links to This Post
Monday, May 07, 2007 AD



For They Shall Be Filled


Looking at my ecclesiastical history, some might reckon me a church hopper. I've been a member of 5 congregations in my 39 years...4 in about the past 16 years. But although I mightn't have made every transfer of membership with the greatest of wisdom or finesse, I think I can honestly say that each move was motivated by hunger for righteousness. In some cases it was a desire to see God's name more hallowed, in others to grow in my sanctification, and usually some combination of both.

The last move I made was the hardest because I had come to take church membership very seriously, and because I had developed close friendships in the congregation that I knew would probably not long survive my departure. I was starving and I was frustrated and I knew nothing was going to change as long as I stayed, but I knew leaving was a weighty matter. I remember one night I ended up on my hands and knees on the floor, sobbing and praying that if God wanted me to stay, even at the expense of my sanctification, I would stay. Not long after, I had the opportunity to speak with one of my pastors about my issues. Pastor Wy was the only one of the three who'd never been regaled with tales of my frustrations, and he was exactly the one who needed to hear them. "You need to go," he kindly, relievingly said, and I went.

CREC was supposed to be a stopping point on my way to St. Peter, but the longer I stopped, the more I realized that there was no need to move 400 miles away to find what I wanted. What have I found? Liturgy that points Godward, music that doesn't sound like commercial jingles, preaching that reveals the text rather than the preacher, communion that unifies...every Sunday, people to serve, children to love, women to emulate, men to respect, shepherds to follow.

That last item has been a particularly revolutionary blessing. As a woman who has never had a father or husband to lead her, being led by faithful shepherds has had a transforming effect on my life. For the first time in my life I am under godly male authorities who effectively "watch out for [my soul], as those who must give account." And for the first time in my life, I feel secure. I know that ultimately I must look to the Great Shepherd for my security, and that objectively I have always been perfectly secure in His care, but in these under-shepherds, whose role He ordained, He has given me a much clearer picture of what being secure looks and feels like. My elders aren't perfect men, but I do worship the water they walk on. ;-)

And in just two more weeks there'll be another water-walker in our midst. It was announced yesterday that the ballots are in and the congregation has unanimously voted to call Dr. Glen Knecht to be our new teaching elder. When Pastor Knecht candidated on Easter Sunday, the congregation was able to dialogue with him a bit after the service. As I wrote to Pastor and Mrs. Knecht later that week, "I didn't realize there was going to be a Q&A time, so I didn't have a chance to work up the courage to ask any questions, but I could only think of a rhetorical one, anyway: Why does God love us so much that He would send you to us?" Other area pastors keep saying things to our REs like "You've won the pastor lottery" and "How in the world did you manage to get Glen Knecht?"

I'm getting fuller every day as I feast on bread and wine and the Word in the green pastures of my beloved church. I'm finally making progress in dealing with sin patterns that have just defeated me for decades. I'm finding great joy in learning to serve and love others. I am liking this new experience of contentment. God is good!
Posted by Valerie (Kyriosity) at 5/07/2007 06:15:00 PM • • Permalink
Links to This Post
Sunday, May 06, 2007 AD



A Culinary Success


This is the best cake recipe I've concocted yet. I want to write it down before I forget it!
Two Chocolate-Banana Cakes


This recipe is based on the banana cake recipe on pp. 72-73 of Anne Byrn's excellent book

The Cake Mix Doctor

, and makes 2 cakes.

1 package (18.25 oz) banana cake mix (I think it was a Duncan Hines mix)
1 package (18.25 oz) dark chocolate fudge cake mix
1 c packed light brown sugar
4 ripe bananas
8 oz banana cream yogurt
~1.5 c water
1 c vegetable oil
6 large eggs
1 c. chopped walnuts
1 c. dark chocolate chips (I used Ghirardelli 60% cacao)
1 c. white chips

Preheat oven to 325. Grease and flour 2 Bundt or tube pans or one of each. (I haven't gotten the knack of doing this well enough so that I don't have to fight to get the cake out of the pan. I welcome suggestions!)

Place each cake mix in a separate large mixing bowl. Mash the bananas and divide in half, add half of the yogurt to each half of the bananas, add enough water to each banana-yogurt mixture to equal 2 2-cup measures (in my case, I had about 3/4 c. mashed banana + 1/2 c. yogurt + 3/4 c. = 2 c.), and add one 2-cup measure to each cake mix. Add half of the oil and 3 eggs to each mix. Blend the lighter mix for 1 minute on low speed, scrape sides, and then 2 minutes on medium speed. Fold in half the walnuts and the dark chips. Then likewise blend the chocolate mix, and fold in half the walnuts and the dark

white

chips. Pour half of the banana cake mix in each pan, and then pour half of the chocolate cake mix on top of each.

Bake for at least an hour. Test with a piece of dry spaghetti -- should come out clean. Let cool for a good long while (I wrecked the one in the tube pan by removing it too quickly), run a long thin knife around the edge of each, and then wrestle out of pans (unless you know the secret of getting them to just pop out). Let cool completely and enjoy. The cakes came out so moist that I decided they didn't need any kind of frosting.
I ate a slice of the messed-up one last night...and another slice for breakfast. Scrumptious, if I do say so myself!
Posted by Valerie (Kyriosity) at 5/06/2007 08:06:00 AM • • Permalink
Links to This Post



Seven Things About Me


Angie has tagged me to share seven things about myself that my readers might not know. Trouble is, I can't think of anything to share. So ask me questions about me: when there are seven questions in the comments that I'm willing and able to answer, I will post my responses. How's that for being lazy and making y'all do my work for me? ;-)
Posted by Valerie (Kyriosity) at 5/06/2007 07:54:00 AM • • Permalink
Links to This Post
Thursday, May 03, 2007 AD



Life Is Good


Cucumber and tomato with mayo and salt on whole wheat bread that came out of the machine an hour ago. God is kind.
Posted by Valerie (Kyriosity) at 5/03/2007 02:24:00 PM • • Permalink
Links to This Post
Tuesday, May 01, 2007 AD



Self-Talk in Three Acts


We here at kyriosity.com consider it our duty to keep our readership apprised of the latest in The Nancy Rule research. Right here on this website in past years we have been the first to inform you of such corollaries as "No self-evaluation when ill," and Jane Dunsworth's breakthrough discovery, "never, ever, EVER use the words of Lady Catherine de Burgh in self-assessment," happened live in the comments section of this very blog.

Well, once again, our cutting-edge research has brought a new corollary to light: "No self-evaluation when you are thinking like a nutty, neurotic, noodleheaded nincompoop." We made this discovery yesterday through the following internal monologue, condensed from several hours of disordered cogitation:
Act 1


[Enter, stage right.]
I haven't done anything wrong.
I've been behaving myself.
I haven't done anything wrong.
Have I?



Act 2


Well, maybe I shouldn't have done that.
And perhaps I was wrong to do the other thing.
I did everything wrong!
I didn't do anything right!



Act 3


I NEVER DO ANYTHING RIGHT!!!
MY LIFE IS A DISASTER!!!
I AM A DISASTER!!!
Oh, shut up.
OK.
...
*snork*
*giggle*
Hahahahahahahahahaha!!!
[ROSL.]
That final direction of course means, "Roll off stage laughing."

Small print: The research arm of kyriosity.com is privately funded. No tax dollars were expended in the pursuit of this lofty knowledge.
Posted by Valerie (Kyriosity) at 5/01/2007 05:27:00 PM • • Permalink



Who Knew These Guys Were Still Around?


The Prohibition Party is still functioning and putting forth candidates. I'm tempted to buy a Joshua Levering button (third row, second item), as he was one of the founders of the church where I grew up.
Posted by Valerie (Kyriosity) at 5/01/2007 01:50:00 PM • • Permalink
Links to This Post