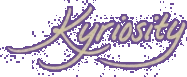 (KE'RE OS'I TE) N., A LONGING TO LOOK
INTO THE THINGS OF THE LORD [C.1996 < GK.
KYRIOS LORD + -ITY; IMIT. CURIOSITY]
Visit The Old Kyriosity Shop

Tuesday, May 01, 2007 AD



Self-Talk in Three Acts


We here at kyriosity.com consider it our duty to keep our readership apprised of the latest in The Nancy Rule research. Right here on this website in past years we have been the first to inform you of such corollaries as "No self-evaluation when ill," and Jane Dunsworth's breakthrough discovery, "never, ever, EVER use the words of Lady Catherine de Burgh in self-assessment," happened live in the comments section of this very blog.

Well, once again, our cutting-edge research has brought a new corollary to light: "No self-evaluation when you are thinking like a nutty, neurotic, noodleheaded nincompoop." We made this discovery yesterday through the following internal monologue, condensed from several hours of disordered cogitation:
Act 1


[Enter, stage right.]
I haven't done anything wrong.
I've been behaving myself.
I haven't done anything wrong.
Have I?



Act 2


Well, maybe I shouldn't have done that.
And perhaps I was wrong to do the other thing.
I did everything wrong!
I didn't do anything right!



Act 3


I NEVER DO ANYTHING RIGHT!!!
MY LIFE IS A DISASTER!!!
I AM A DISASTER!!!
Oh, shut up.
OK.
...
*snork*
*giggle*
Hahahahahahahahahaha!!!
[ROSL.]
That final direction of course means, "Roll off stage laughing."

Small print: The research arm of kyriosity.com is privately funded. No tax dollars were expended in the pursuit of this lofty knowledge.
Posted by Valerie (Kyriosity) at 5/01/2007 05:27:00 PM • • Permalink
---