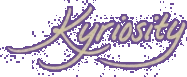 (KE'RE OS'I TE) N., A LONGING TO LOOK
INTO THE THINGS OF THE LORD [C.1996 < GK.
KYRIOS LORD + -ITY; IMIT. CURIOSITY]
Visit The Old Kyriosity Shop

Saturday, May 26, 2007 AD



Sabbath Feast 2.0


Well the house got clean presentable in the nick of time...after I threw all the clutter in bins and hid it in my room. Next month my goal will be to have the house clean enough so that I only have to do cooking on Saturday. This makes twice that I've been so exhausted by the time everybody arrived that I could hardly function. I'm thinking that's not so good...definitely puts a damper on the hostessing skillz.

One family cancelled this morning, so I called my brother and SIL, and they came. Made for an interesting mix of folks. I was worried there for a while that the conversation just wouldn't get going, but by the end of the evening I think everyone had found the groove and were chatting away.

The kids were an interesting mix, too. One family with four girls and the other with two boys, and an odd mix of ages. They didn't really know each other, but they seemed to survive OK.

I wish I could have one big table, though. The kids were separated from the adults (not by design, but that's the way it worked out), so I didn't get to spend much time with the younger set, which was a bummer. Not that I didn't enjoy their parents immensely, but I'm greedy...I want it

all

!

I added a small liturgy to the occasion -- I welcomed everyone and made a simple toast, then one of my guests prayed and we sang the Doxology. I was nervous on top of being incoherent, so I almost forgot the Doxology. It was kinda funny, 'cuz all us staid Reformed folk raised our hands and my Assemblies of God bro and SIL didn't.

The menu, for those interested in such things, was curried chicken and apple stew from The Dinner Doctor, basmati rice, cucumber and tomato salad in garlic yogurt dressing, and a fruit salad. I was going to do green beans, too, but I ran out of time. Happily I did not run out of food! One family brought dessert -- ice cream sundaes...mmmmmm. I'd already done all the shopping when the other family asked, so I asked them to bring Chinet plates. I'm glad there's that much less to wash, because the kitchen is scary! And my bro & SIL brought the all-important bag of ice. That's one thing I just can't manage -- having enough ice for a crowd in my little freezer. Er...having enough ice in my freezer for a crowd.

Yep...I definitely need sleep.

Have a blessed Lord's Day, dear readers...I know I have much for which to give thanks tomorrow!
Posted by Valerie (Kyriosity) at 5/26/2007 09:04:00 PM • • Permalink
---
Links to this post:
---
Home