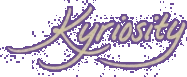 (KE'RE OS'I TE) N., A LONGING TO LOOK
INTO THE THINGS OF THE LORD [C.1996 < GK.
KYRIOS LORD + -ITY; IMIT. CURIOSITY]
Visit The Old Kyriosity Shop

Sunday, May 13, 2007 AD



Them's Good Preachin'


Did you ever hear a sermon and think, "If I listened to that sermon every day for ten years,

maybe

that would be sufficient enough for it to glean all of its good effects"? Well, I've listened to two such sermons this week:

The first, by Doug Wilson, was on complaining (the third message in this set). I kept turning it off after listening for just a few minutes, because I had to stop and pray and repent. The CD spent most of last week in my car CD player, and I haven't even finished it yet. (I still won't finish it for a while yet, as I loaned that set and another of Pastor Wilson's to friends who are heading out on a long road trip.) Near as I can figure, the sermons in this series are about 20 years old. Who knew Doug Wilson used to be so smart?

The second was from our worship service this morning. One of our recurring pulpit suppliers -- a ruling elder from a local PCA congregation -- has preached several messages over the past few months based on the writings of John Owen. Today's message was on the mortification of sin. Alas, I couldn't put a live sermon on pause, so I've asked him to e-mail his notes, if he could. Perhaps someday I'll read Owen, too, but my too-tall and too-numerous to-read stacks make me hesitant to tackle anything that intensive for the time being.

The gospel is so precious. And I'm grateful for men who preach it faithfully!
Posted by Valerie (Kyriosity) at 5/13/2007 09:48:00 PM • • Permalink
---
Links to this post:
---
Home