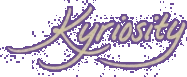 (KE'RE OS'I TE) N., A LONGING TO LOOK
INTO THE THINGS OF THE LORD [C.1996 < GK.
KYRIOS LORD + -ITY; IMIT. CURIOSITY]
Visit The Old Kyriosity Shop

Tuesday, May 29, 2007 AD



Fa-ti-gyoo


That's how I used to think

fatigue

was pronounced -- short

a

and short

i

and long

ooo

sounds -- when I read it as a child. Now I not only know how to pronounce it, I am intimately acquainted with the thing itself. So, after spending a good bit of the past three days lying down (I actually had to take a sick day today because I was just too exhausted to go to work), I think I'm going to try again to get my doctor to find something wrong with me. So...what all should I have her check for? What are all the obvious and obscure possible causes for this level of persistent fatigue? I want to go armed with a list of things to check for.

I've struggled with some level of fatigue for some time now, and part of the reason I haven't really dealt with it aggressively is that I've never quite been sure that it wasn't just laziness. But in the past several months, as my desire to be diligent has increased more and more, my ability to do so has decreased to the point where I know it's not just sin...that there's got to be some physical explanation. My consciences (my internal one and the various Jiminy Crickets in my life) are asking more and more of me in terms of service and domestic diligence, and the spirit is more willing than it's ever been, but the flesh is literally weak right now.

I'm also bummed about having to miss so many things. I skipped the HSC conference earlier this month, I've had to bow out of attending Paulo's wedding this coming Saturday, I probably won't be able to make it down to see Carmon when she's in Virginia in a couple weeks, and the thought of visiting my friends in Holland seems about as far-fetched as a trip to the moon. So far I haven't had to bail on anything more local, but I'm having to be very careful to expend energy only where I owe it most.

Whatever it is, I trust God is going to use this malady as a means to deliver good things to me!
Posted by Valerie (Kyriosity) at 5/29/2007 01:01:00 PM • • Permalink
---
Links to this post:
---
Home