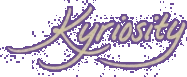 (KE'RE OS'I TE) N., A LONGING TO LOOK
INTO THE THINGS OF THE LORD [C.1996 < GK.
KYRIOS LORD + -ITY; IMIT. CURIOSITY]
Visit The Old Kyriosity Shop

Thursday, May 24, 2007 AD



Kyriosity's Quotes on Domesticity and Diligence


I've added a new page to the site. Please chime in with other recommendations for the list!

And Angie suggested that I add this image to the page:



Feel free to steal that for your own site, just please host it someplace else rather than filching my bandwidth. Thanks!
Posted by Valerie (Kyriosity) at 5/24/2007 12:43:00 PM • • Permalink
---
Links to this post:
---
Home