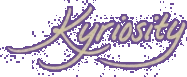 (KE'RE OS'I TE) N., A LONGING TO LOOK
INTO THE THINGS OF THE LORD [C.1996 < GK.
KYRIOS LORD + -ITY; IMIT. CURIOSITY]
Visit The Old Kyriosity Shop

Wednesday, May 30, 2007 AD



My Dinner with History


Last night AR's family had our new pastor and his wife over for dinner. I came, too (and then crashed on their couch for the night). During our conversation over honey mustard chicken, brown rice, broccoli and homemade bread, I learned that it was Pastor Knecht himself who had asked Mansfield Kaseman, "Do you believe that Jesus Christ is God?" during his examination to transfer from the UCC to the UPCUSA. When Kaseman answered in the negative, but was admitted anyway, Pastor Knecht was among those to press charges against the presbytery. Wow...here I was passing the butter to a man who had been in the faithful vanguard at one of the defining moments of 20th century church history.

That was almost as impressive as the fact that Glen knew all 10 kids' names by the end of the evening, and had clearly won their hearts with hugs and songs and stories. As he prayed for them each before leaving, I sat and wept.

It's a good thing to be a defender of the faith on ecclesiastical battlefields. And it's a good thing to be a grandfatherly figure to a mob of small fry. But to be both at once is a very good thing, indeed. And a pastor like that is a very good gift from a very good God!
Posted by Valerie (Kyriosity) at 5/30/2007 11:16:00 AM • • Permalink
---
Links to this post:
---
Home