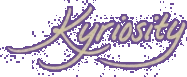 (KE'RE OS'I TE) N., A LONGING TO LOOK
INTO THE THINGS OF THE LORD [C.1996 < GK.
KYRIOS LORD + -ITY; IMIT. CURIOSITY]
Bio: Verily Valerie

Valerie is a 42-year-old, single, Reformed Christian lady who lives in Baltimore. She doesn't remember a time before she knew and loved Jesus, but she does remember accepting John Calvin into her heart in March of 2000. Valerie is a member of Christ Reformed Evangelical Church in Annapolis.

Though her career aspiration is to be a housewife, Valerie has not yet found anyone suitable who wishes to hire her for employment in that field (or, more properly, anyone suitable has not found her), so in the meantime she earns her daily bread working in communications -- editing, writing, print design and website management.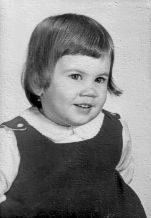 E-Mail
valerie [at] kyriosity [dot] com

AIM/YM
valkyriosity

My TTLB Ecosystem Details
Visit The Old Kyriosity Shop

Saturday, October 24, 2009 AD
Poem for a Rainy Saturday

Once upon a weekend dreary
I determined to be cheery:
Opened up the curtains wide
To let the tepid light inside,
On the iPod played some tunes,
And scrubbed away the afternoon.
First the dishes got a washing,
Counter messes got kiboshing,
And anyone who cares to hark'll
See the floor now has a sparkle.
And as my kitchen got its shine,
Though skies did weep, I did not whine!
Posted by Valerie (Kyriosity) at 5:50 PM • Permalink
• • 1 comments
Friday, October 23, 2009 AD
From the Department of It's Nice to Be Appreciated

Angie's younger son produced the following for a school assignment on Laura Ingalls Wilder's

Farmer Boy

: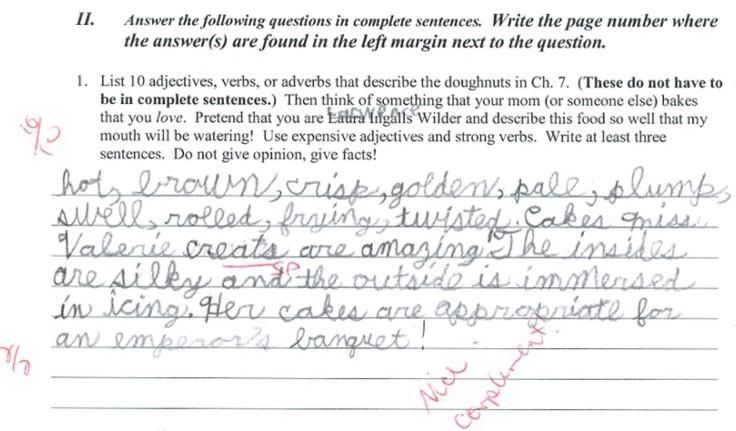 Posted by Valerie (Kyriosity) at 12:08 PM • Permalink
• • 5 comments
Wednesday, October 14, 2009 AD
A Favorite from Lewis

Nancy Wilson posted this today. It was on my mind when I wrote the poem I posted this morning:
It may be possible for each to think too much of his own potential glory hereafter; it is hardly possible for him to think too often or too deeply about that of his neighbour. The load, or weight, or burden of my neighbour's glory should be laid daily on my back, a load so heavy that only humility can carry it, and the backs of the proud will be broken. It is a serious thing to live in a society of possible gods and goddesses, to remember that the dullest and most uninteresting person you talk to may one day be a creature which, if you saw it now, you would be strongly tempted to worship, or else a horror and a corruption such as you now meet, if at all, only in a nightmare. All day long we are, in some degree, helping each other to one or other of these destinations. It is in the light of these overwhelming possibilities, it is with the awe and the circumspection proper to them, that we should conduct all our dealings with one another, all friendships, all loves, all play, all politics. There are no ordinary people. You have never talked to a mere mortal. Nations, cultures, arts, civilization -- these are mortal, and their life is to ours as the life of a gnat. But it is immortals whom we joke with, work with, marry, snub, and exploit -- immortal horrors or everlasting splendours. This does not mean that we are to be perpetually solemn. We must play. But our merriment must be of that kind (and it is, in fact, the merriest kind) which exists between people who have, from the outset, taken each other seriously -- no flippancy, no superiority, no presumption. And our charity must be a real and costly love, with deep feeling for the sins in spite of which we love the sinner -- no mere tolerance or indulgence which parodies love as flippancy parodies merriment. Next to the Blessed Sacrament itself, your neighbour is the holiest object presented to your senses. If he is your Christian neighbour he is holy in almost the same way, for in him also Christ vere latitat -- the glorifier and the glorified, Glory Himself, is truly hidden.
Posted by Valerie (Kyriosity) at 5:44 PM • Permalink
• • 1 comments
Repost from 2003

I've been cleaning up my archives over the past week or so, and reading through many of the nearly 2,000 posts on my blog. This one from 2003 was a happy memory -- a post with which I was then and still am particularly pleased. It's been on my mind all morning, so I figured I'd go ahead and post it so it'll stop distracting me:
A Little Ditty


I wrote this a few days ago when I was thinking about somebody or other (can't now recall who) that's a little flaky and pondering that such things didn't really matter in the long run and should be borne with much more patience and grace than I usually manage...especially since I'm flaky enough to keep Kellogg's in business for the forseeable future.

We're all a little broken,
We're all a little odd,
But the foolishest among us
May be blest and used by God,
So be patient with each brother,
with each foible, with each flaw --
If you could see what he's becoming
You would look at him with awe.
Believe in the beauty of the bride --
Though it may not seem so now,
She will soon be glorified.
Posted by Valerie (Kyriosity) at 11:00 AM • Permalink
• • 3 comments
Monday, October 12, 2009 AD
Blessed Are the Hungry

"A satisfied soul loathes the honeycomb, But to a hungry soul every bitter thing is sweet" (Proverbs 27:7).

The self-sufficient disdain even the sweetest blessings. But those who know their desperate need of God and trust in His kindness and wisdom to supply that need are free to receive hard providences as sweet gifts. In doing so, they do not have to pretend that wormwood is a Snickers bar -- they are free to suffer pains and grieve losses -- but they have a "second sight," or perhaps "second taste" would be more accurate, to perceive a greater, more intense pleasure beyond the bitter circumstance.
Posted by Valerie (Kyriosity) at 4:34 PM • Permalink
• • 1 comments
---