Friday, October 23, 2009 AD
From the Department of It's Nice to Be Appreciated

Angie's younger son produced the following for a school assignment on Laura Ingalls Wilder's

Farmer Boy

: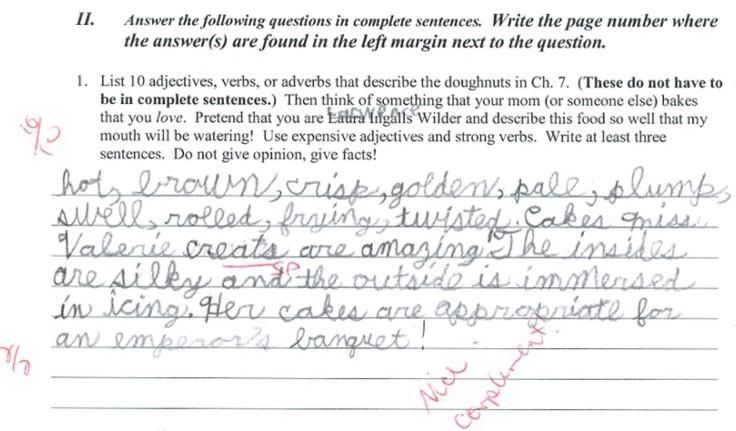 Posted by Valerie (Kyriosity) at 12:08 PM • Permalink
• • 5 comments
---
5 Comments:
On October 23, 2009 4:56 PM

John Dekker wrote...
Am I reading this correctly? Is this "creats" corrected to "creatse"?? ;)

On October 23, 2009 5:12 PM

Valerie (Kyriosity) wrote...
He wrote "creats" and the teacher just noted the spelling error. No correction was made.

On October 23, 2009 5:19 PM

Kamilla wrote...
AWwww!

Kamilla

On October 26, 2009 12:47 PM

pentamom wrote...
John, the letters under "creats" are "sp", the proofreader's mark for spelling error.

Valerie, that was priceless. It just gives you a feeling like fresh, warm doughnuts, dunnit?

On December 8, 2009 9:39 PM

hgb3 wrote...
I (really) did read "Farmer Boy" and the rest of the Ingalls series when I was younger (many years ago) and greatly enjoyed it.

I always remember the "infinite loop" which was created whenever Laura or Mary asked their 'pa' for lemonade when at a county fair or gathering of some sort, etc.:

Laura: Oh, there's lemonade, Pa; can we have some?

Pa: Well, half-pint, you better go ask your Ma.

Laura: Can we, Ma?

Ma: You better go ask your Pa.

Laura: Can we, Pa?

Pa: You better go ask.....(well, you get the idea!)

---