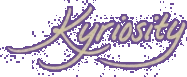 (KE'RE OS'I TE) N., A LONGING TO LOOK
INTO THE THINGS OF THE LORD [C.1996 < GK.
KYRIOS LORD + -ITY; IMIT. CURIOSITY]
Bio: Verily Valerie

Valerie is a 42-year-old, single, Reformed Christian lady who lives in Baltimore. She doesn't remember a time before she knew and loved Jesus, but she does remember accepting John Calvin into her heart in March of 2000. Valerie is a member of Christ Reformed Evangelical Church in Annapolis.

Though her career aspiration is to be a housewife, Valerie has not yet found anyone suitable who wishes to hire her for employment in that field (or, more properly, anyone suitable has not found her), so in the meantime she earns her daily bread working in communications -- editing, writing, print design and website management.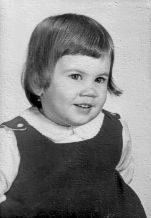 E-Mail
valerie [at] kyriosity [dot] com

AIM/YM
valkyriosity

My TTLB Ecosystem Details
Visit The Old Kyriosity Shop

Saturday, October 24, 2009 AD
Poem for a Rainy Saturday

Once upon a weekend dreary
I determined to be cheery:
Opened up the curtains wide
To let the tepid light inside,
On the iPod played some tunes,
And scrubbed away the afternoon.
First the dishes got a washing,
Counter messes got kiboshing,
And anyone who cares to hark'll
See the floor now has a sparkle.
And as my kitchen got its shine,
Though skies did weep, I did not whine!
Posted by Valerie (Kyriosity) at 5:50 PM • Permalink
• • 1 comments
---
1 Comments:
On November 13, 2009 4:34 PM

Deborah wrote...
Lovely!

---
---