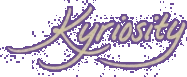 (KE'RE OS'I TE) N., A LONGING TO LOOK
INTO THE THINGS OF THE LORD [C.1996 < GK.
KYRIOS LORD + -ITY; IMIT. CURIOSITY]
Bio: Verily Valerie

Valerie is a 42-year-old, single, Reformed Christian lady who lives in Baltimore. She doesn't remember a time before she knew and loved Jesus, but she does remember accepting John Calvin into her heart in March of 2000. Valerie is a member of Christ Reformed Evangelical Church in Annapolis.

Though her career aspiration is to be a housewife, Valerie has not yet found anyone suitable who wishes to hire her for employment in that field (or, more properly, anyone suitable has not found her), so in the meantime she earns her daily bread working in communications -- editing, writing, print design and website management.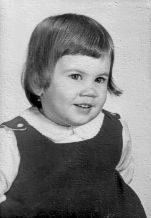 E-Mail
valerie [at] kyriosity [dot] com

AIM/YM
valkyriosity

My TTLB Ecosystem Details
Visit The Old Kyriosity Shop

Monday, October 12, 2009 AD
Blessed Are the Hungry

"A satisfied soul loathes the honeycomb, But to a hungry soul every bitter thing is sweet" (Proverbs 27:7).

The self-sufficient disdain even the sweetest blessings. But those who know their desperate need of God and trust in His kindness and wisdom to supply that need are free to receive hard providences as sweet gifts. In doing so, they do not have to pretend that wormwood is a Snickers bar -- they are free to suffer pains and grieve losses -- but they have a "second sight," or perhaps "second taste" would be more accurate, to perceive a greater, more intense pleasure beyond the bitter circumstance.
Posted by Valerie (Kyriosity) at 4:34 PM • Permalink
• • 1 comments
---
1 Comments:
On October 13, 2009 11:56 PM

Emily wrote...
I keep wanting to pick out parts of this to tell you how aptly spoken I think this is, but from the first word to the last it's all beautifully fitting.

Thank you for sharing your wisdom.

---
---