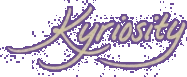 (KE'RE OS'I TE) N., A LONGING TO LOOK
INTO THE THINGS OF THE LORD [C.1996 < GK.
KYRIOS LORD + -ITY; IMIT. CURIOSITY]
Bio: Verily Valerie

Valerie is a 42-year-old, single, Reformed Christian lady who lives in Baltimore. She doesn't remember a time before she knew and loved Jesus, but she does remember accepting John Calvin into her heart in March of 2000. Valerie is a member of Christ Reformed Evangelical Church in Annapolis.

Though her career aspiration is to be a housewife, Valerie has not yet found anyone suitable who wishes to hire her for employment in that field (or, more properly, anyone suitable has not found her), so in the meantime she earns her daily bread working in communications -- editing, writing, print design and website management.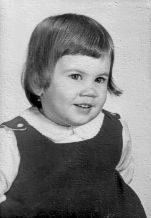 E-Mail
valerie [at] kyriosity [dot] com

AIM/YM
valkyriosity

My TTLB Ecosystem Details
Visit The Old Kyriosity Shop

Monday, September 29, 2008 AD
I've Almost Used Up All My Old First-Class Stamps

I had to put postage on 32 envelopes, and I didn't have a single current-rate first-class stamp. So I used 41-, 37-, 34-, 33-, 32- and 29-cent stamps plus 1-, 2-, 3-, 4- and 5-centers to make up the difference. Unfortunately, I didn't plan very well ahead, so I ended up having to put a bunch of 1-centers on some. The winner: nine stamps on my credit card bill. The grand total: 135 stamps.

No, as a matter of fact, I don't get out much. ;-)
Posted by Valerie (Kyriosity) at 11:31 PM • Permalink
• • 4 comments
Sunday, September 28, 2008 AD
Change of Address

When do you think it's proper for a young person to make the switch from Mr./Mrs./Miss/etc. to a first-name basis when addressing an adult? I'm assuming, with this question, a cultural milieu in which its generally agreed that children don't address their parents' peers by just their first names. The options that come to mind are a) after high school graduation, b) after college graduation, c) after becoming independent, d) after getting married, e) only when invited by the older person, or f) never--we should all go back to being highly formal in this arena. Your thoughts are of interest, so chime in!
Posted by Valerie (Kyriosity) at 10:12 PM • Permalink
• • 5 comments
A Truly Useful Church Sign

My housemate was commenting on the aromas emanating from the kitchen, so I reminded her where she could worship tomorrow to do more than smell that bread, and the ensuing conversation inspired this: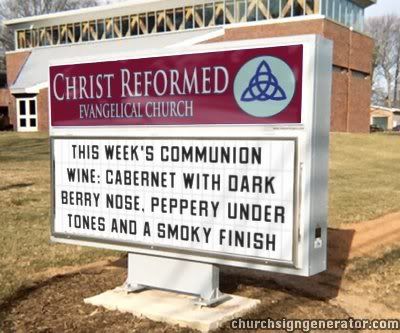 Posted by Valerie (Kyriosity) at 12:19 AM • Permalink
• • 7 comments
Thursday, September 25, 2008 AD
A Katie-ism

When asked what color would be good for a birthday cake, the turning-6 celebrant replied, "Red would be good...if my favorite color was red. But red is only my third-favorite color, so I would like pink and purple." And pink and purple my little subjunctive friend shall have!
Posted by Valerie (Kyriosity) at 4:59 PM • Permalink
• • 6 comments
Wednesday, September 24, 2008 AD
What's the Final Countdown about, Anyway?

For inquiring minds, the image at the top of my blog represents the squares I still need to finish for my mom's bedspread. When I started crocheting again a few years ago, I made her a few doilies, and she started dropping hints: "I've always wanted a popcorn-stitch bedspread...," "I started a popcorn-stitch bedspread once from a pattern I got from Aunt [Pauline? I can't remember.]...," "I think I still have that around somewhere...want to see it?" etc.

So we checked out the one square she'd started probably fifty years ago -- it was yellow with age. We looked at that pattern and thumbed through a pattern book, she made her choice, and a few months later, away I went! Three and a half years later, the end is in sight. 116 of 132 squares are done. My goal is to finish the squares this year, and then have the first few months of next year to join them and crochet the border in time for Mom's 80th birthday at the end of April.

When asked if I'd ever make another one, my response is that I'll make one for anybody who gave birth to me. And even that is with the awareness that it's just a bigger, fancier lanyand.
Posted by Valerie (Kyriosity) at 8:17 AM • Permalink
• • 3 comments
Monday, September 22, 2008 AD
Has Anybody Seen 'The Mayor of Casterbridge'?

I'm rather fond of Ciarán Hinds, but not so much of Thomas Hardy. I confess I only encountered Hardy in high school, but he left me undesirous of pursuing the acquaintance. Should I risk it? I suppose I could always just turn off the sounds and FF through the scenes he's not in.... ;->
Posted by Valerie (Kyriosity) at 8:46 PM • Permalink
• • 1 comments
My New Motto

Nancy Wilson's post on indecision and insecurity has kept me thinkin' all week. For the long version of my thoughts, see this comment on that post. Here's the short version, distilled into a succinct little motto I think I'm going to brand myself with: "Be cheerful, not fearful."
Posted by Valerie (Kyriosity) at 7:46 PM • Permalink
• • 5 comments
Sunday, September 21, 2008 AD
Time to Swallow My Pride

At the ripe old age of 41, I've decided it's time to try using a cane. I can no longer stand on my own two feet painlessly enough to function. The other night I was in a long line at a store and was about in tears when someone ahead of me needed a price check or something. I was desperate for something to lean on, but just had to wait. Pitiful. When I finally got out of there, I went to the grocery store and leaned on the blessed cart for dear life. I decided to skip an item on my list because it would have meant walking farther. Several items I bought are still in my car because bringing them in would have meant extra trips. Pitiful, pitiful. Today I sat like a lump during almost the entire worship service. Not only pitiful, but a hindrance to my worship. Later I was attempting to chat with some friends, but that again required standing with no support. I tried to take one step backward to lean on a window sill, and everybody thought I was leaving the conversation. Pitiful and giving the impression of uninterested rudeness. This time I gave vent to the tears as I drove home. And now I'm giving vent to the blogosphere. Please excuse my public boo-hooing. And if you have any ideas as to how I should deal with my knee problem, please forbear unless you know me in person and can speak to me in person. I'm jus' lookin' for a little sympathy here, not medical advice. ;-)
Posted by Valerie (Kyriosity) at 7:49 PM • Permalink
• • 6 comments
Friday, September 19, 2008 AD
It's That Time of the Year Arrrrrrgain
Happy Talk Like a Pirate Day!
Posted by Valerie (Kyriosity) at 7:15 AM • Permalink
• • 2 comments
Thursday, September 18, 2008 AD
More Cakes

Brandon's groom's cake, made for the rehearsal dinner. One and a half 16" x 16" x 2" cakes -- three French vanilla mixes plus 3/4 pound cake mix to make it a little firmer. Filled and frosted with decorator buttercream (2.5 bottles of red gel coloring!). Outlines of doors and trunk are piped black buttercream; windows are blue fondant with white buttercream clouds; bumpers, grill and tires are fondant brushed with silver powder + black buttercream; truck bed is fondant brushed with gold powder and piped with black buttercream ("A Truckload of Blessings"); headlights are fondant with white sparkle flakes; grass is piped green buttercream.

I was very pleased with how this turned out. My only blunder was in transferring it to the board -- since I was lifting it from either end, it sort of bent in the middle, which caused some cracking in the frosting and decoration, especially at the intersections of the cab and the truck body. But overall I was still quite happy with the results. A truck's about as complex as I want to get in the sculpted cake department -- two rectangles with a piece of a rectangle on top. It's not to scale, but Ash did send me a photo of a truck just like Bran's, so I did try to go by that as much as possible. Probably the most fun I've had making a cake.



I made this one for my Uncle Vann and Aunt Geneva's 60th wedding anniversary celebration yesterday. It's the same design I made for Bran and Ash's wedding, and it looks better than theirs turned out, but I'm still very disappointed with the shape of the thing and the quality of the buttercream. I want straight lines and sharp corners! The bottom tier came closest...'til I managed to bash in two corners. :-(

Bottom tier is chocolate pound cake; top two are yellow pound cake (Cake Mix Doctor recipes).



By the way, my "buttercream" isn't really buttercream...it's a decorator icing with shortening.
Posted by Valerie (Kyriosity) at 8:27 PM • Permalink
• • 1 comments
A Palpable Hit

Nancy Wilson hit the Valerie bullseye with this post.
Posted by Valerie (Kyriosity) at 3:26 PM • Permalink
• • 0 comments
Stinky Dish Cloths

Being possessed only of the dishwashers God gave me (the ones at the ends of my arms), dish cloths can pose a problem. They tend to absorb odors from their work and then sta damp for quite a while. And they get stinky. Even after normal laundering, I will often reject a supposedly clean dish cloth because it smells bad. Any ideas for getting that kind of smell out and keeping it out? I hate to just toss the dish cloths, especially since most of the ones I have my mom made, but they're just so icky!
Posted by Valerie (Kyriosity) at 12:35 AM • Permalink
• • 5 comments
Wednesday, September 17, 2008 AD
Wow...If I Lived Near Greensboro
The Replacements, Ltd. Yard Sale
Posted by Valerie (Kyriosity) at 10:21 PM • Permalink
• • 0 comments
Almost Tempted

I typically have no interest in video games beyond Set and Pyramids, but thisalmost tempts me. I tellya...if you ever want to see the effects of father hunger and sinful ways of dealing with it, watch that guy's shows.
Posted by Valerie (Kyriosity) at 10:30 AM • Permalink
• • 0 comments
Tuesday, September 16, 2008 AD
DeGarvered!

The Colvins are back!
Posted by Valerie (Kyriosity) at 8:46 PM • Permalink
• • 0 comments
The 'Ladder of Faith'

Our message on Sunday was on 2 Peter 1:5-11. That's long been a favorite passage of mine, but Pastor Knecht gave an explanation of the qualities listed there that really helped my understanding of it. Here's what I captured in my notes:
Faith -- God's foundational gift on which we are to make every effort to build
Virtue -- moral excellence/moral energy/the whole character of service/integrity
Knowledge -- discernment/knowledge of good and evil -- comes with maturity -- a practical set of techniques for living the Christian life
Self-Control -- the bridling of human passions and abilities and talents so life is not spoiled by emotional or physical impulse
Perseverance or Endurance -- bearing up under fatigue and adversity; not growing weary in doing good
Godliness -- an awareness of God in every aspect of life/a piety in everything I do; the visible expression of invisible commitment to God
Brotherly Kindness -- a priority on loving the brethren with kind affection

because

they are believers
Love -- the queen of virtues -- love for

all

-- being a fountain of loving words and acts

As you climb this "ladder," you gain a more Christlike perspective. Growing/abounding/increasing in these qualities will make you more fruitful as you become more Christlike. Growth brings assurance because it ratifies your election -- the shape and condition of the foundation becomes evident as you build on it.
Posted by Valerie (Kyriosity) at 8:46 PM • Permalink
• • 0 comments
Geekiest Post Ever

Probably no one out there will find this anywhere near as fascinating as I do, but a type designer has put together this chart showing the relative frequencies with which various letters appear adjacent to one another in the English language. Here's his explanation of how the chart works

I have a dream of trying my hand at type design someday, so I was excited to find Typophile today and have been delving into its forums. The chart would be helpful for a designer to know which letter pairs are more common and make design decisions appropriately -- who cares if your

xe

joins great if your

th

looks dreadful?
Posted by Valerie (Kyriosity) at 3:29 PM • Permalink
• • 4 comments
Saturday, September 13, 2008 AD
This Fortnight's Purse

As little as I've been blogging lately, if I post a link to Bekah Merkle's giveaway every two weeks, half my page will be filled with ads for her. Well...I can live with that!
Posted by Valerie (Kyriosity) at 7:42 AM • Permalink
• • 0 comments
Friday, September 12, 2008 AD
Two Weeks Late

I'm two weeks late for my annual bio update. Besides the early gift from my mom, my birthday brought this loot: a new Eileen Goudge book (thanks, Angie!), a Wilton cake turntable (which will get its first workout tomorrow), and a periwinkle shawl (I need to see if I can hunt down a second one from Kohl's). Since it was my interim supervisor's last day (the biggest gift of my natal anniversary), we went out to lunch at Thai Arroy in her honor, but since it's my favorite lunch place, that was more than fine by me! Dessert was a special group-size dish of my favorite mango and sweet sticky rice with candles. Yumm!

And then things got interesting. My new housemate and I had planned to go out to dinner, but she called me that morning to ask if I had a thermometer, and when I called to check in on her after lunch, she was on her way to the hospital. She was there for eight nights, poor thing, with a severe (though entirely treatable) infection. I'm so glad she's better and back in the swing of things. And someday we'll get around to rescheduling my birthday dinner!
Posted by Valerie (Kyriosity) at 11:32 PM • Permalink
• • 0 comments
My Computer Shipped Yesterday!

It's due for delivery on Monday! Woo-hoo!!!
Posted by Valerie (Kyriosity) at 6:26 PM • Permalink
• • 0 comments
Saturday, September 6, 2008 AD
Reviews



Movies




Kind Hearts and Coronets

-- Very fun stuff.



The Karate Kid

-- Wax on, wax off. What more need be said?



The Karate Kid II

-- No waxing here, just waning.



The Karate Kid III

-- Turned it off after a few minutes once I remembered how bad it was.



Eight Men Out

-- I have no idea what possessed me to watch this (Hulu is a dangerous thing). I don't even like hockey. But it was historically interesting. Just very sad.

The Sand Pebbles -- I have no idea what possessed me to watch this, either. Way too violent for my tastes. And not only did I watch it, but the plot summary on IMDB was so poorly written that I felt compelled to go in and overhaul it. Someone appears not to be using her time very wisely.



TV


After being TV-free for quite some time, a few months ago I finally succumbed to Hulu's wiles in that medium, as well.



Monk

and

Psych

-- Continue to watch these with delight as new episodes become available online (OK, so it's not Hulu's fault, but mine).



House

-- Also watch this, but wish it didn't have to wander so far into sleaze territory all the time.



New Amsterdam

-- Enjoyed the concept for this short-lived show, but again, the sleaze factor was too high.



Books




Gilead

-- Beautiful.
Posted by Valerie (Kyriosity) at 3:30 PM • Permalink
• • 6 comments
Friday, September 5, 2008 AD
Phil and Fernando, Anyone?

If anyone's interested in going to see this concert gimme a holla.
Posted by Valerie (Kyriosity) at 11:43 PM • Permalink
• • 1 comments
Wednesday, September 3, 2008 AD
I Just Spent Lots of Money on a New Computer!

Vital statistics: It's pink!
Posted by Valerie (Kyriosity) at 6:14 PM • Permalink
• • 4 comments
---