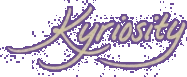 (KE'RE OS'I TE) N., A LONGING TO LOOK
INTO THE THINGS OF THE LORD [C.1996 < GK.
KYRIOS LORD + -ITY; IMIT. CURIOSITY]
Visit The Old Kyriosity Shop

Tuesday, October 19, 2004 AD
It's All Donna's Fault

Well, I guess Jo-ann has to bear part of the blame. But really, after seeing this and this, and then stumbling upon a 60 percent off store moving sale, I can hardly be held responsible for my own actions, can I?

And the First Lady of Encouragement inspired me not only to creativity, but to patience. When I'd gotten about two feet done, and wasn't real happy with it (I expect variegated yarn to produce patterns, but this was almost striped, and not attractively), I thought to myself, "Y'know, if Donna can cheerfully pull out four feet of work and start over, surely I can cheerfully pull out two feet of work and start over." So I did!

The yarn is Patons Cha Cha (Salsa). I used two balls (77 yds each) and the finished scarf is about five feet long.

I also picked up several pattern books for 70 percent off, and then went back last night and snagged some more yarn, including two balls of Bernat Boa (Doo Doo Bird) which is halfway toward becoming another scarf.

This...


...however, is pretty much the product of my own obsession. I crocheted almost constantly on my vacation -- in the car on the way up, in my mother's living room, in the car on the way to Hanover, in the waiting room at Dartmouth-Hitchcock, in my mother's dining room, in the train on the way back, in my bed the night I returned.

And there it's sat since then because I wanted to take a picture of exactly what I got done while vacating. Because of my 'puter problems, I put off posting. Since I still have 'puter problems, dear Anne has been kind enough to host these couple images for me. Now I'm going to rip out the last round and redo it so it will lie a little smoother.

Typically something this size (if you look in the lower right quadrant you can see a quarter for scale) would take me a month or two of fitting in a few minutes of crocheting here and there. But since it's for my mom, I wanted her to be able to see it in progress. She wanted matching doilies for her end tables and had picked out the pattern she wanted, and I was finally getting around to starting it. Unfortunately, because of some water damage on one of the tables, we're not sure if these are going to cover enough of the table, anyway.

Mom had also mentioned that she'd always wanted to make a popcorn stitch bedspread like one of her aunts had had. When I was visiting, she pulled out the one square she'd started years and years ago. It was so old the thread had started to turn yellow! She also had a 70-year-old pattern book (no, the square wasn't quite that old!) in which were three bedspread patterns, one of which particularly caught her fancy. I'll start on that sometime after my move.
Posted by Valerie (Kyriosity) at 10/19/2004 11:53:00 AM • • Permalink
---
Links to this post:
---
Home