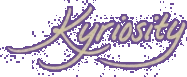 (KE'RE OS'I TE) N., A LONGING TO LOOK
INTO THE THINGS OF THE LORD [C.1996 < GK.
KYRIOS LORD + -ITY; IMIT. CURIOSITY]
Bio: Verily Valerie

Valerie is a 42-year-old, single, Reformed Christian lady who lives in Baltimore. She doesn't remember a time before she knew and loved Jesus, but she does remember accepting John Calvin into her heart in March of 2000. Valerie is a member of Christ Reformed Evangelical Church in Annapolis.

Though her career aspiration is to be a housewife, Valerie has not yet found anyone suitable who wishes to hire her for employment in that field (or, more properly, anyone suitable has not found her), so in the meantime she earns her daily bread working in communications -- editing, writing, print design and website management.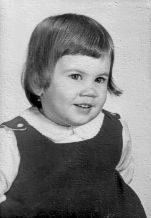 E-Mail
valerie [at] kyriosity [dot] com

AIM/YM
valkyriosity

My TTLB Ecosystem Details
Visit The Old Kyriosity Shop

Monday, October 29, 2007 AD
Note to Self

Need to add this to my quotes page:
The greatest analgesic, soporific, stimulant, tranquilizer, narcotic, and to some extent even antibiotic -- in short, the closest thing to a genuine panacea -- known to medical science is work.


Thomas Szasz, author, professor of psychiatry (b. 1920)
Posted by Valerie (Kyriosity) at 4:21 PM • Permalink
• • 2 comments
Thursday, October 25, 2007 AD
And Probably at Taxpayer Expense

Thank God for Dopamine | The Scriptorium Daily: Middlebrow: "Science has finally come along and 'proven' what Christians have known for thousands of years -- being thankful is a necessary condition for our human flourishing."
Posted by Valerie (Kyriosity) at 4:04 PM • Permalink
• • 0 comments
Just in Time for Re4mation Day

Theez r awesum.
Posted by Valerie (Kyriosity) at 3:29 PM • Permalink
• • 1 comments
Tuesday, October 23, 2007 AD
A Brave Boy and His Faithful Dad
Two More: Steps to Manhood
Posted by Valerie (Kyriosity) at 4:43 PM • Permalink
• • 12 comments
Thursday, October 18, 2007 AD
A: Smithereens

Q: Corelle plate + gravity + kitchen floor = ?
Posted by Valerie (Kyriosity) at 6:41 PM • Permalink
• • 15 comments
Saturday, October 13, 2007 AD
Even Better
I had enough of the white hangers to use for this closet, too, so I switched them. And pulled out four jackets for Goodwill. And tossed that striped umbrella because I realized it wouldn't open. And filled a 2-bushel laundry basket with hats, gloves, scarves, vacuum cleaner paraphernalia (I got rid of my vacuum cleaner about a decade ago when I ripped out my carpet, and some of those things were from my mom's old vacuum!) and other miscellaneous detritus from that shelf at the top. I sorted and matched and tossed and replaced what remained. I also moved up several rolls of wrapping paper that used to stand on end on the floor. My mom must have made those cubbies at least 30 years ago. They're covered with leftover wallpaper. The last tiny remnant of the old carpet is on the floor. I keep those vestiges of former decorating choices as a reminder of how much worse my house could look!

OK...now I have to get back to actually

doing

housework instead of just

blogging

about it!
Posted by Valerie (Kyriosity) at 11:55 AM • Permalink
• • 3 comments
Jesus Is Not a Polygamist

The notion that an individual spinster, widow or divorcee can look to Jesus to be her Husband is unbiblical. Jesus is the Husband of the church, and He is not a polygamist. Nor should a married woman look to Jesus as her own personal Husband. He doesn't call her to a multiplicity of marriages, either. And no individual man should think of Jesus as his Husband, either. Jesus is not a homosexual.

Jesus is the Bridegroom of the

church

, and He is a one-woman Man. The Bible simply doesn't teach us to think of Him as being individually married to each believer. Someone in my Bible study last week was sure there was a Bible verse that says that the Lord will be a Husband to the widow, but such a verse does not exist. The closest thing is Psalm 68:5, which says that he will be a defender, or protector, or judge (which, in the Hebrew mindset, would be understood as defender or protector) of widows. Surely the Holy Spirit could have prompted David to write "husband" there, if that's what He'd intended. Nor is Isaiah 54:4-5 addressing an individual widow, but Israel as a whole.

I think we could get a whole lot of sloppy, self-centered, sentimental, individualistic thinking (not to mention a whole lot of schlocky Jesus-is-my-boyfriend music) out of the church if we would insist on using biblical language about these matters. We would also transform our thinking about the body, grow in our ability to think corporately and in our capacity to love the brethren, and, best of all, drive me a little less crazy. ;-)
Posted by Valerie (Kyriosity) at 8:46 AM • Permalink
• • 13 comments
Katie's Birthday Cake

This photo's a bit blurry. I have a better one, but the birthday girl is in it, and her daddy would have my guts for garters if I posted her picture on the Web. It's a mess, as you can see -- the base icing wasn't stiff enough, so everything sort of slid down the cake. And then when I was replacing the carrier lid at one point, I managed to bash one edge of the top. But my piping's getting better, and I learned a few things doing this one that will help for the future, so I am by no means discontented. (-: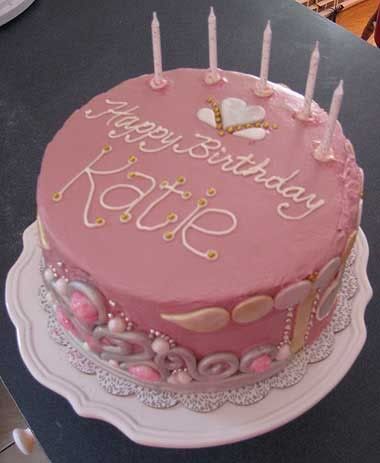 The cake itself was tres yummy, if I do say so myself. It was the same inside as Bran & Ash's cake -- raspberry and chocolate. That concoction was definitely a keeper!

Next up: Abra's birthday! We've settled on something rich and decadent in the chocolate-orange realm, and I am scheming the decorative end of things.
Posted by Valerie (Kyriosity) at 8:26 AM • Permalink
• • 7 comments
A Tale of Three Closets

A couple weeks ago I reorganized the closet in my room. I bought a couple packs of white hangers and replaced a multiplicity of hanger colors and styles, with the following results:



The closet's actually about twice that size, but with the sliding doors, I can only photograph half of it. Haven't replaced the skirt hangers yet, so those still look cluttery, but this is a big improvement over what was there.

Last night I did the coat closet in my living room. I used matching discarded store hangers there. You can also see my new gift bag organizer, which I filled a couple days ago with the contents of a rather messy box.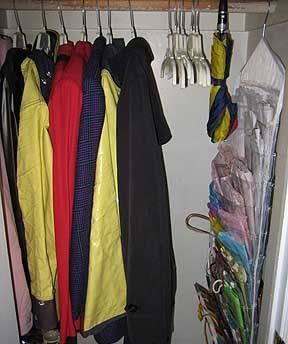 I may do more culling there, as I think only one of those coats actually fits me anymore.

Finally, this morning (completed by 7:30 a.m., a feat with which I was rather impressed, if I do say so myself), I did my overflow closet in one of the spare bedrooms. It was jam packed with clothes that don't fit me anymore. I culled them this morning, keeping only items my mom (or my friend Eileen) had made for me, and a very few items that are just one size down...just in case. Again, the same-color hangers help things look much tidier, and this closet is now actually usable for guests.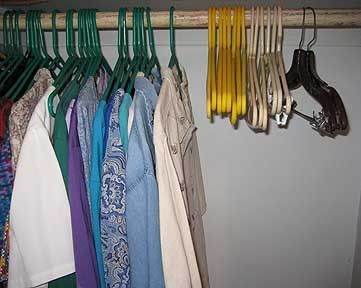 And here's what was left over from all three closets -- two piles of clothes and a box of hangers (there were actually a bunch more hangers that didn't fit in the box):



I kinda wish I'd taken "before" pictures, but when Domestia, the muse of homemaking, comes to call at 6 a.m., she doesn't waste time with such frivolities. Besides...I wouldn't want to frighten any small children who happen to catch a glimpse of this post.
Posted by Valerie (Kyriosity) at 8:10 AM • Permalink
• • 5 comments
Friday, October 12, 2007 AD
From the Department of Some People Have Too Much Time on Their Hands
Veni, Vidi, Wiki: Latin Isn't Dead On 'Vicipaedia' - WSJ.com
Posted by Valerie (Kyriosity) at 9:25 AM • Permalink
• • 3 comments
Thursday, October 11, 2007 AD
The Mom Song

In case anyone hasn't seen Anita Renfroe's amazing Mom Song video yet, I post it here for your viewing pleasure. Grab a hanky, 'cuz you'll laugh so hard you cry! I've posted the lyrics below the video (no, I did not transcribe them). By the way, this lady is a believer. Imagine that...a genuinely funny Christian comedian! And I'm glad she's letting that haircut grow out. ;-)





Get up now
Get up now
Get up out of bed
Wash your face
Brush your teeth
Comb your sleepyhead
Here's your clothes and your shoes
Hear the words I said
Get up now! Get up and make your bed
Are you hot? Are you cold?
Are you wearing that?
Where's your books and your lunch and your homework at?
Grab your coat and gloves and your scarf and hat
Don't forget! You gotta feed the cat
Eat your breakfast, the experts tell us it's the most important meal of all
Take your vitamins so you will grow up one day to be big and tall
Please remember the orthodontist will be seeing you at 3 today
Don't forget your piano lesson is this afternoon so you must play
Don't shovel
Chew slowly
But hurry
The bus is here
Be careful
Come back here
Did you wash behind your ears?
Play outside, don't play rough, will you just play fair?
Be polite, make a friend, don't forget to share
Work it out, wait your turn, never take a dare
Get along! Don't make me come down there
Clean your room, fold your clothes, put your stuff away
Make your bed, do it now, do we have all day?
Were you born in a barn? Would you like some hay?
Can you even hear a word I say?
Answer the phone! Get off the phone!
Don't sit so close, turn it down, no texting at the table
No more computer time tonight!
Your iPod's my iPod if you don't listen up
Where are you going and with whom and what time do you think you're coming home?
Saying thank you, please, excuse me makes you welcome everywhere you roam
You'll appreciate my wisdom someday when you're older and you're grown
Can't wait till you have a couple little children of your own
You'll thank me for the counsel I gave you so willingly
But right now I thank you not to roll your eyes at me
Close your mouth when you chew, would appreciate
Take a bite maybe two of the stuff you hate
Use your fork, do not burp or I'll set you straight
Eat the food I put upon your plate
Get an A, get the door, don't get smart with me
Get a grip, get in here, I'll count to three
Get a job, get a life, get a PHD
Get a dose of,
"I don't care who started it!
You're grounded until you're 36"
Get your story straight and tell the truth for once, for heaven's sake
And if all your friends jumped off a cliff would you jump, too?
If I've said it once, I've said at least a thousand times before
That you're too old to act this way
It must be your father's DNA
Look at me when I am talking
Stand up straighter when you walk
A place for everything and everything must be in place
Stop crying or I'll give you something real to cry about
Oh!
Brush your teeth, wash your face, put your PJs on
Get in bed, get up here, say a prayer with mom
Don't forget, I love you
And tomorrow we will do this all again because a mom's work never ends
You don't need the reason why
Because, because, because, because
I said so, I said so, I said so, I said so
I'm the mom, the mom, the mom, the mom, the mom!!
Ta da!!!
Posted by Valerie (Kyriosity) at 10:04 PM • Permalink
• • 4 comments
Snake-Handling and Holy Rolling

I was quite pleased with myself this week that I figured out all on my lonesome how to use the ancient plumbing snake I found in my basement last year. I removed the cover from the overflow and managed, on my final attempt, to feed in over 5' of the snake. Alas, after repeated attempts and quite an impressive pile of hair globs removed from both the tub and the sink, the tub still wasn't draining very well, so I called in a plumber. Well...if only I'd known that the stopper could be removed, I could have spent two minutes to remove the rest of the clog myself. I had him leave the stopper out, and I'm going to get a strainer to put in there to perhaps avoid a recurrence of the clogging problem. Since he was already here, I had him check out my dysfunctional garbage disposal, which turns out to have been suffering from a bad wall switch. A hundred bucks for pretty much nothing, but at least I'll know better for next time.

I think this would be the basis for a great personal ad: SWF ISO Mr. Right. I can do my own minor plumbing repairs, and if you prefer the toilet paper installed so it unrolls down the back, I'd be willing to do it your way even though you're wrong.
Posted by Valerie (Kyriosity) at 5:34 PM • Permalink
• • 0 comments
Backlinks

Why don't backlinks work on my blog? And why can't I ever make backlinks to others' blogs work?
Posted by Valerie (Kyriosity) at 5:23 AM • Permalink
• • 0 comments
Wednesday, October 10, 2007 AD
Why I Hate Burqas and Chadors

Ever since I posted this photo, I've been trying to put a finger on why it is that extreme Islamic veiling -- shrouding women under chadors and burqas -- makes my blood boil.

This Iranian Flickr user has a series of images, borrowed from Western media, that proclaim, "happy life everywhere .but iranian people (women) live in the hell." Some of the images are of average Western women in average western clothes. But others are of celebrities and other women "letting it all hang out." Sadly, she thinks

that

is happiness. But she's got the antithesis wrong: it's not chador v. immodesty, it's chador v. beauty.

It has often been said that Satan is not a creator -- he's never managed to come up with one original idea; he's only managed to pervert God's creation. In the realm of sexuality, he perverts the marriage bed into fornication, adultery, homosexuality and the like. He perverts the proper use of feminine sexual beauty, which is to stir up a husband's lawful desire, into immodesty in order to stir up unlawful desire in some random male. And he also perverts biblical feminine modesty, which protects a woman's sexual beauty, into chadors and burqas, which obliterate beauty altogether. Though they take it in opposite directions,

both immodesty and shrouding pervert beauty

.

I hate burqas and chadors because I love 1 Corinthians 11 and Hebrews 13:4. Those resentful of Christian standards of modesty think it's about the same thing as extreme Islamic veiling. But it's not. Shrouding has more in common with exhibitionism, namely a heart attitude that despises God's order and creation, than either has in common with biblical feminine modesty.
Posted by Valerie (Kyriosity) at 8:11 PM • Permalink
• • 10 comments
How Do You Choose Giving Opportunities?

If you do charitable donations above your tithe, how do you evaluate the ministries to which you give? In particular, what are your standards for organizations that serve the needy? I got a call from Compassion yesterday to say that my sponsored child was now independent, and to ask whether I'd like to sponsor someone else. I'm not sure I want to go that route, but I do still want to invest that money somewhere. So share some principles that govern your giving choices or make a pitch for your favorite charity!
Posted by Valerie (Kyriosity) at 8:14 AM • Permalink
• • 5 comments
Tuesday, October 9, 2007 AD
Sad

A fellow I've worked with for seven and a half years is no longer here. He was given more chances to get his act together than the vast majority of employers would have given. Another colleague went to his home this weekend and banged on the door for 20 minutes. He went back to his car and waited a while, and the former co-worker eventually came out, looking like he hadn't showered in a week. Whatever addiction got hold of him was more powerful than the good thing he had working here. The same thing happened to another colleague just a few months ago.

On the one hand, I think we're all relieved that we won't have to put up with his lack of dependability anymore, but we're also grieved that it came to this. I've sat next to or across from this guy day after day for all this time, and it's hard not to have a chance even to say goodbye.
Posted by Valerie (Kyriosity) at 4:55 PM • Permalink
• • 0 comments
Sunday, October 7, 2007 AD
I Hate the Word 'Plaque'

At work, to honor outgoing board or staff members, we have a piece of artwork or a photo framed along with a text inset bearing words of gratitude. I hate that we call these 'plaques.' A few months ago I did a couple pieces of calligraphy when we thanked our elders for their service during our congregation's interim between pastors. I cringed when they were presented as 'plaques.'

A plaque is one of those ugly engraved black slabs you can get at a trophy shop. Or its classier cousin the rectangle of brass or stone commemorating a donation or a historical event. Or the stuff you scrape off your teeth. It isn't a word that should be applied to a piece of artwork.

Why this popped urgently into my head at 7 o'clock on a Sunday morning is beyond my ken. My barbie doesn't know why, either.
Posted by Valerie (Kyriosity) at 7:16 AM • Permalink
• • 5 comments
Saturday, October 6, 2007 AD
'Cheer up! You're worse off than you think!'

I've been thinking about something the late Jack Miller used to say to people who were down on themselves: "Cheer up! You're worse off than you think!" We look at the sin we can see in ourselves, and we are overwhelmed by it, but we don't know the half of it. Our deceitful and desperately wicked hearts can't discern, as God can, all of the wrong motivations, thoughts, words and deeds we manage to produce on a daily basis. We can't get that good a perspective on ourselves and we can't see that clearly.

But the blood of Jesus covers it all -- what we see and what we don't see, what we consciously repent of and what we are reluctant to let go of, what we quickly forsake and what we struggle with for decades, what we know to be sin and what we falsely think to be righteousness. The Lord not only sees it all, He sees it all gone -- all washed away in that precious flow.

We need to stop bewailing how rotten we are. Our bewailing skills aren't equal to the task, anyway. And we need to cheer up in light of the knowledge that we are under perfect grace. When we get stuck looking at and being overwhelmed by all that needs to be repented of, we need first and foremost to repent of paying so much attention to it. It is not true, noble, just, pure, lovely, of good report, virtuous or praiseworthy. "My sin is always before me," said David (Ps. 51:3), but "I have set the Lord always before me" (Ps. 16:8). We need to quit rubbernecking at the car wrecks in our lives, and set our faces toward the Lord's glory. It's really a much pleasanter sight. Makes you wonder why we're so reluctant to focus on it!
Posted by Valerie (Kyriosity) at 12:37 PM • Permalink
• • 8 comments
Friday, October 5, 2007 AD
Fondant for Eleanor

This site has info on making fondant, and will give you a decent idea of how it can be used. I've never made my own...just bought Wilton's, which isn't particularly tasty, but is much more efficient.



EDIT:

This is probably a better site for fondant info.
Posted by Valerie (Kyriosity) at 4:52 PM • Permalink
• • 4 comments
Thursday, October 4, 2007 AD
I'm Spoiled

I spend so much time -- both online and IRL -- with Christians who have a high view of the church that I forget how many Christians there are in our culture that have a low view of the church...a view, sadly, that they have often learned in the church. I'm also spoiled to spend much time with Christians who have a high view of marriage, of childbearing and childrearing, of education, of discipleship, that I forget the poverty of most of the American church's thinking on those matters, too.

The comments that appear on Debbie Maken's blog often remind me of this disparity of thinking. The following is a comment I wrote this evening in response to some other comments on this post. (My comment hasn't been published yet.)
Some responses to the last couple Anonymouses...Anonymi?...Anonymice? ;-)

1) Re preparing for a career: Spending tens of thousands of dollars, often including taxpayer money, oftener still incurring debt, just to have a "fallback" position seems silly. Our culture has a distorted view of education in that we see it primarily as a path to money-making rather than as a means to develop God-given interests and abilities. If the vast majority of women are called to be married (as I believe), and if their husbands are called to be the providers for their families (as I believe), then it's foolish for the vast majority of women to pursue career-oriented education. However, I don't see any problem with a woman pursuing education for the aforementioned purpose of developing her interests and abilities if they run along academic lines. Her education will be a genuine asset to herself, her husband, her children and her church.

2) Re marrying weak Christian men: No, this isn't forbidden by Scripture the way marrying an unbeliever is forbidden, but it is foolish. A husband should be the spiritual leader of his home, and a Christian woman who marries someone incapable of leading her is asking for marital challenges. If she thinks she can change him, then she's approaching marriage with the mindset that she will be the leader, and that is sinful.

3) Re looking outside the church for a husband: This betrays a low view of the church that is one of the hugest problems for professing Christians both inside and outside of the church. In the book of Hebrews, God commands everyone to submit to leaders in the church. Anyone, man or woman, who claims to be a Christian but refuses to submit to the leaders of a local congregation does not have a trustworthy testimony -- he is in rebellion against God -- and no Christian woman should seek out such a man for a husband.

4) Re "one advantage", a technical point: The first Anonymous didn't say it was the one advantage. "One advantage" = "an advantage."

5) Re anger at church leaders: Again, we are called to honor and submit to the leaders God has ordained to rule over us. Are they perfect men? Of course not. Are we never to disagree? Of course not. But when we do disagree, we should be respectful about it. This does not exclude speaking strongly and prophetically, but it does exclude speaking bitterly or contemptuously.

6) Re men "working things out": I agree that growing up is what's really called for. If that's what a man means by "working things out" -- if there's really a level of immaturity that would make him an unfit husband -- then yes, he should delay marriage until those issues are resolved. But he should diligently and tirelessly work toward that end rather than using his sin as an excuse for more sin. The church as a whole desperately needs to encourage maturity in both men and women by a serious approach to biblical discipleship. That would go a long way toward reversing the damages of a few generations of lax, permissive parenting. Sadly, highly qualified Titus 2 older men and women -- those who are able to teach and train younger men and women to live godly lives -- are few and far between. So even with a concerted effort, it might take us a few decades or generations to climb out of this pit of lazy, undisciplined self-centeredness, but I can think of few things more worth the investment than intentional personal discipleship.

7) Re long-term dating without a commitment: How 'bout we avoid such scenarios altogether? How 'bout men and women not getting themselves into the quagmire of amorphous attachments, but rather pursue exclusive relationships only if the clear intent of both parties is to determine whether they are well-suited for marriage or to amicably part ways if they are not.
Posted by Valerie (Kyriosity) at 10:27 PM • Permalink
• • 14 comments
Wednesday, October 3, 2007 AD
Congratulations, Brandon and Ashley!

He got permission to come home a couple days early so he could propose...right there in baggage claim. I was highly privileged to be in on the secret so this cake could be waiting for them back at his parents' house for them to celebrate with their families.


Posted by Valerie (Kyriosity) at 8:30 PM • Permalink
• • 6 comments
Tuesday, October 2, 2007 AD
What Angie Wants for Christmas

The Whirlpool fridge with built-in Espresso maker won't be available 'til January '08, but I'm sure Angie won't mind waiting an extra month to receive it. Should I start dropping hints to your husband? (HT Right Mind)
Posted by Valerie (Kyriosity) at 2:14 PM • Permalink
• • 2 comments
Monday, October 1, 2007 AD
Meme for an Insomniac

1. MY ROCK STAR NAME: (first pet & current car)
Ginger Cavalier (or Sugar Cavalier...or Spice Cavalier...can't remember which hamster came first)

2. MY GANGSTA NAME: (fave ice cream flavor, favorite cookie)
Chunky Monkey Ginger Snap

3. MY "FLY Guy/Girl" NAME: (first initial of first name, first three letters of your last name)
[Decline to answer as it would reveal too much of my last name]

4. MY DETECTIVE NAME: (favorite color, favorite animal)
[Decline to answer as I don't really have either a favorite color or a favorite animal]

5. MY SOAP OPERA NAME: (middle name, city where you were born)
Anne Baltimore

6. MY STAR WARS NAME: (the first 3 letters of your last name, first 2 letters of your first)
[Decline to answer as it would reveal too much of my last name]

7. MY SUPERHERO NAME: ("The" + 2nd favorite color, favorite drink)
[Again with the favorite colors....]

8. MY NASCAR NAME: (the first names of your grandfathers)
Thomas Floyd (or Floyd Thomas...but I like Thomas Floyd better)

9. MY WITNESS PROTECTION NAME: (mother's & father's middle names)
Etta Webb

10. MY TV WEATHER ANCHOR NAME: (Your 5th grade teacher's last name, a city that starts with the same letter)
Kautz Kalamazoo

11. MY SPY NAME: (your favorite season/holiday, flower)
Autumn Sunflower

12. MY CARTOON NAME: (favorite fruit, article of clothing you're wearing right now + "ie" or "y")
Banana Jammies (Don't think that needs an extra -ie)

13. MY HIPPY NAME: (What you ate for breakfast, your favorite tree)
Banana Willow

14. MY ROCKSTAR TOUR NAME: ("The" + Your fave hobby/craft, fave weather element + "Tour")
The Blogging Zephyr Tour

I think this meme should have a few more revealing questions, such as "MY SOMETHING-OR-OTHER NAME: (Your mother's maiden name + Your SSN)." I got this from Angie, and really only did it because "Kautz Kalamazoo" amused me. And then my post title amused me, too. (Some people think it's tacky to laugh at one's own jokes. To them I say, "Sure, Miz Manners. I'll stop laughing at myself just as soon as you amuse me half so much.") I tag any other insomniacs who can't think of (or are just too lazy to do) anything better with their wakeful hours.
Posted by Valerie (Kyriosity) at 3:10 AM • Permalink
• • 9 comments
---