Saturday, October 13, 2007 AD
Katie's Birthday Cake

This photo's a bit blurry. I have a better one, but the birthday girl is in it, and her daddy would have my guts for garters if I posted her picture on the Web. It's a mess, as you can see -- the base icing wasn't stiff enough, so everything sort of slid down the cake. And then when I was replacing the carrier lid at one point, I managed to bash one edge of the top. But my piping's getting better, and I learned a few things doing this one that will help for the future, so I am by no means discontented. (-: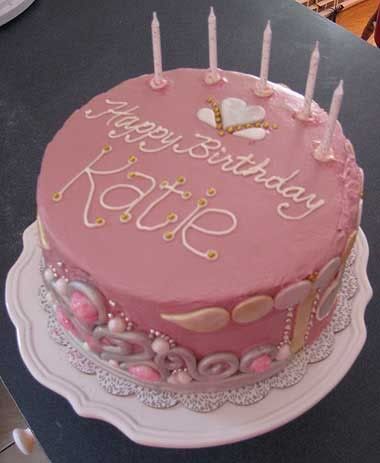 The cake itself was tres yummy, if I do say so myself. It was the same inside as Bran & Ash's cake -- raspberry and chocolate. That concoction was definitely a keeper!

Next up: Abra's birthday! We've settled on something rich and decadent in the chocolate-orange realm, and I am scheming the decorative end of things.
Posted by Valerie (Kyriosity) at 8:26 AM • Permalink
• • 7 comments
---
7 Comments:
On October 13, 2007 9:30 AM

The Clinging Vine wrote...
That cake is gorgeous, Valerie! I've several granddaughters and nieces who would flip were they to have that at their parties. Did you work from a pattern or was that freehand?

On October 13, 2007 9:38 AM

Angie wrote...
I wish my handwriting was that good on paper, much less on the top of a cake!

On October 13, 2007 9:11 PM

Anonymous wrote...
You've got to be kidding - you call that cake a mess?! If I'd ever made a cake that looked like that, I'd have opened a bakery a long time ago! C'mon Valerie, you have to wear the title of Expert Cake Maker; you can't get out of it, after posting (and first making) that.
Gilda

On October 13, 2007 9:32 PM

Valerie (Kyriosity) wrote...
Yep...when icing slides off a cake, I call that messy. I of course took the photo at the angle that revealed as little of the mess as possible, but trust me it was much worse than what you can see there!

On October 14, 2007 4:24 AM

Anonymous wrote...
The writing's fantastic anyway, I forgot to say. And the whole thing too, let me reiterate, at least what can be seen from this angle! And what's more, if it was very yummy too as you say, then I'd call it an unadulterated success - a veritable work of art. Is it fondant icing?
G

On October 14, 2007 7:33 AM

Valerie (Kyriosity) wrote...
Speaking of being nice and sweet...there you have a perfect example! ;-)

The base icing is from Betty Crocker to which I neglected to add more powdered sugar. The decorations are fondant.

On October 29, 2007 9:34 AM

Annette M. Heidmann wrote...
Hi Valerie! I haven't commented before, but I've been to visit several times so I thought I should say hello. :-) Also admiring your decorative handiwork, I was completely baffled as to how you were able to incorporate your signature paisley into both the frosting and the plate........ I finally figured out that you make your photos transparent. Your cleverness is almost more than I can handle at this time of the morning! :-D Anyway, great looking cake (even if it doesn't REALLY have paisley frosting).
:)
~Nettie~

---