Saturday, October 13, 2007 AD
A Tale of Three Closets

A couple weeks ago I reorganized the closet in my room. I bought a couple packs of white hangers and replaced a multiplicity of hanger colors and styles, with the following results:



The closet's actually about twice that size, but with the sliding doors, I can only photograph half of it. Haven't replaced the skirt hangers yet, so those still look cluttery, but this is a big improvement over what was there.

Last night I did the coat closet in my living room. I used matching discarded store hangers there. You can also see my new gift bag organizer, which I filled a couple days ago with the contents of a rather messy box.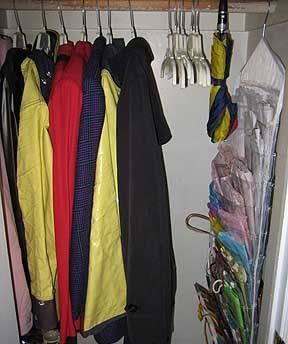 I may do more culling there, as I think only one of those coats actually fits me anymore.

Finally, this morning (completed by 7:30 a.m., a feat with which I was rather impressed, if I do say so myself), I did my overflow closet in one of the spare bedrooms. It was jam packed with clothes that don't fit me anymore. I culled them this morning, keeping only items my mom (or my friend Eileen) had made for me, and a very few items that are just one size down...just in case. Again, the same-color hangers help things look much tidier, and this closet is now actually usable for guests.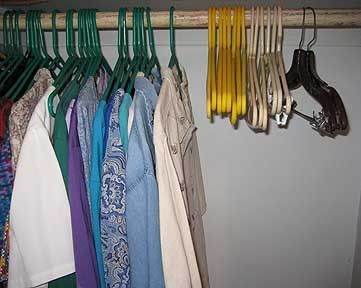 And here's what was left over from all three closets -- two piles of clothes and a box of hangers (there were actually a bunch more hangers that didn't fit in the box):



I kinda wish I'd taken "before" pictures, but when Domestia, the muse of homemaking, comes to call at 6 a.m., she doesn't waste time with such frivolities. Besides...I wouldn't want to frighten any small children who happen to catch a glimpse of this post.
Posted by Valerie (Kyriosity) at 8:10 AM • Permalink
• • 5 comments
---
5 Comments:
On October 13, 2007 9:36 AM

Angie wrote...
You go, girl!

On October 13, 2007 11:07 AM

Carol in Oregon wrote...
Pretty, pretty...

My middle son gave me the idea of same colored hangers (he chose black) a few years back. I was amazed how lovely it made the closet look and did the same thing.

I don't know about you, but finishing a project like this energizes me something fierce. Except for the time I just stand and look at it....

On October 18, 2007 8:41 PM

Deborah wrote...
Wow! Nice job!

Do those hangers breed in the closets?

On November 15, 2007 9:26 PM

Big army men wrote...
This post has been removed by a blog administrator.

On November 15, 2007 9:26 PM

Big army men wrote...
This post has been removed by a blog administrator.

---