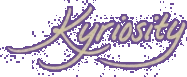 (KE'RE OS'I TE) N., A LONGING TO LOOK
INTO THE THINGS OF THE LORD [C.1996 < GK.
KYRIOS LORD + -ITY; IMIT. CURIOSITY]
Visit The Old Kyriosity Shop

Monday, April 30, 2007 AD



Free Psalm MP3s!


Crown and Covenant is giving away a free Psalm MP3 each month. Get this month's and last month's here.
Posted by Valerie (Kyriosity) at 4/30/2007 06:02:00 PM • • Permalink
Links to This Post



With an Achan Heart and a Worried Mind


Sometimes I wish I could fix things in other people's lives...things I'm heartsore over, too. I get frustrated because I can only pray. This is a dumb frustration for two reasons: 1) It disparages prayer, and thereby reveals my sinful distrust in God. 2) It's not the only thing I can do.

If Achan's disobedience led to the deaths of 36 of his countrymen (plus his entire household), and if my disobedience similarly brings discipline on those to whom I am covenantally connected, then surely the flip side is true: Surely obedience brings blessing.

I've found myself distracted for several work days by a difficult situation that I can't fix. As a result of my worrying, my work has suffered. If I really loved the people involved in the situation, I would be serving them by working

more

diligently, not by indulging myself in ineffective, inefficient, unproductive worry.

Salvation belongs to our God...salvation not only in the Big Eternal Sense, but in the little everyday trials and troubles from which we need deliverance. Worry is self-idolatry because it attempts to wrest that role from God. My Achan heart hasn't stolen any Babylonian garments or precious metals this week, but it has stolen time from my employer, glory from my God, blessing from my friends, and peace from myself.

I'm so glad I get to repent and get back to my work!
Posted by Valerie (Kyriosity) at 4/30/2007 01:51:00 PM • • Permalink
Links to This Post
Saturday, April 28, 2007 AD

Cough Medicine
Anybody know if it's a Really Bad Thing to take more than the recommended dosage of Dextromethorphan? I'm finding I need to take more, or take it more often, to have any effect. How about taking DM and Tessalon Pearls? Any other cough remedies I don't know about? This is for allergy symptoms, by the way. I'm also taking Guaifenesin. I don't want to do antihistamines 'cuz they all put me to sleep, and I want to stay semi-functional!
Posted by Valerie (Kyriosity) at 4/28/2007 01:58:00 PM • • Permalink
Links to This Post
Friday, April 27, 2007 AD



What a Tangled Web We Weave


"Almost all our faults are more pardonable than the methods we resort to to hide them."

~Francois de La Rochefoucauld, writer (1613-1680)



Sin begets sin. Lie begets lie. Idol begets idol. Pride leads us to layer upon layer of deceit and dissembling. But God is merciful to His foolish children, and in His love He does not spare us the sactifying pain of peeling off the dragonish layers to get to the boy underneath. But it's so much easier not to hide in the first place!
Posted by Valerie (Kyriosity) at 4/27/2007 03:36:00 PM • • Permalink
Links to This Post
Wednesday, April 25, 2007 AD



Perspectives on Three


Mark Balthrop tells the following story in a comment on Tim Bailey's blog:
On my recent trip to Israel, our bus driver was a Palestinian Christian. He is a inspiring believer, living on little means. He showed me true kindness and enjoyed talking with me when he found out I was a pastor.

After a few days on the trip he asked me how many children I had. I told him, "three." He suddenly looked sad and said (in more broken English than my quote here), "I'm so sorry; I will pray that the Lord will bless you without delay."

On the plane home I was sitting next to a guy from NYC who said he was a believer. He asked how many children I had. I told him, "three." He suddenly looked shocked and said, "Ouch! I bet that third one hurt, huh?"
Posted by Valerie (Kyriosity) at 4/25/2007 11:48:00 PM • • Permalink
Links to This Post



Joy...


...is an intense, deep, and abiding satisfaction in the sovereignty and goodness of God. (Nancy Wilson)
Posted by Valerie (Kyriosity) at 4/25/2007 12:32:00 AM • • Permalink
Links to This Post
Tuesday, April 24, 2007 AD



Here's Wishing Aaron the Need for Much Shampoo


Behold, how good and how pleasant it is
For brethren to dwell together in unity!

It is like the precious oil upon the head,
Running down on the beard,
The beard of Aaron,
Running down on the edge of his garments.
It is like the dew of Hermon,
Descending upon the mountains of Zion;
For there the LORD commanded the blessing—
Life forevermore.

(Psalm 133, NKJV)
Posted by Valerie (Kyriosity) at 4/24/2007 06:54:00 PM • • Permalink
Links to This Post
Monday, April 23, 2007 AD



Bardish Birthday


Carmon reminded me that I wanted to repost this from three years ago today:
Following is the text of Psalm 46. Skipping the Selahs, count 46 words from the top, and then count 46 words from the bottom and guess who was 46 years old in 1611 when ye olde KJV first saw the light of day.

God is our refuge and strength, a very present help in trouble.
Therefore will not we fear, though the earth be removed, and though the mountains be carried into the midst of the sea;
Though the waters thereof roar and be troubled, though the mountains shake with the swelling thereof.

Selah.


There is a river, the streams whereof shall make glad the city of God, the holy place of the tabernacles of the most High.
God is in the midst of her; she shall not be moved: God shall help her, and that right early.
The heathen raged, the kingdoms were moved: he uttered his voice, the earth melted.
The LORD of hosts is with us; the God of Jacob is our refuge.

Selah.


Come, behold the works of the LORD, what desolations he hath made in the earth.
He maketh wars to cease unto the end of the earth; he breaketh the bow, and cutteth the spear in sunder; he burneth the chariot in the fire.
Be still, and know that I am God: I will be exalted among the heathen, I will be exalted in the earth.
The LORD of hosts is with us; the God of Jacob is our refuge.

Selah.



Pretty nifty, huh?
Posted by Valerie (Kyriosity) at 4/23/2007 02:55:00 PM • • Permalink
Links to This Post



Proposed Bumper Sticker: "Think Corporately, Act Individually"


Wayne Larson (HT Barb) has written a fabulous post on corporate confession, making the point that in corporate confession,

we

confess

our

sins.

When Achan took the forbidden things, God brought defeat not just to Achan, but to all Israel. Thirty-six men died horrific deaths in battle all because one man thought he had to have himself some new clothes and free cash. The Lord's anger burned against all the people, and was not removed until their sin was dealt with.

Thanks be to the Lord of mercy that we don't have to stone one another when a member of Christ's body transgresses, but we still need to recognize the corporate nature of that sin (even sins we don't know anything about!), and deal with it corporately. When we gather together to worship on the Lord's Day, we are not just a collection of individuals, we are one body. We should come before God in a first-person-plural frame of mind:

We

praise You, Lord; forgive

us

, Lord; thank you for blessing

us

, Lord; give

us

this day

our

daily bread; etc. And when we go about our daily lives, we should carry that corporate mindset with us: the communion of saints is not something that happens just for seven minutes near the end of the service when we share bread and wine. The

we

obeys when the I obeys. The

we

sins when the I sins. The

we

suffers when the I suffers. The

we

rejoices when the I is honored (1 Cor. 12).

Back to corporate confession, I believe it should comprise three things:

1) I confess my sins. In doing so I seek mercy for the whole body, which has sinned in my sinning and will suffer for it. If we think this way, love for the brethren will become a powerful deterrent to sin. This is where the bumper sticker comes in: "Think corporately, act individually" means "Love the church and pursue her purity and peace through personal obedience."

2) I confess your sins. I may or may not know your sins, but that needn't stop me. I am seeking mercy for you and for the body that has sinned in your sinning. Again, this corporate thinking should prompt us to love and encourage one another. But we must be careful not to use it as an excuse for being busybodies.

3) We confess our corporate sins. What a guard this would be against complaining about weaknesses and deficiencies in our local bodies and even in our denominations and in Christ's body throughout the world! Don't whine...take sober, personal responsibility: own the Church, own the sins of the Church, own the redemption of the Church, own the Christ of the Church.

Now I'd better finish this and get out of here, or the whole body of Christ is going to be late for work!
Posted by Valerie (Kyriosity) at 4/23/2007 08:11:00 AM • • Permalink
Sunday, April 22, 2007 AD



Baby Afghan


My great-nephew turns three months old tomorrow, so I suppose it's about time I finished his baby gift, eh? Does being so late demote me from great-aunt to mediocre aunt?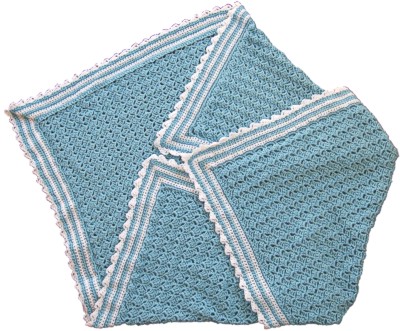 Posted by Valerie (Kyriosity) at 4/22/2007 05:51:00 PM • • Permalink
Links to This Post
Saturday, April 21, 2007 AD



"My" Kids


Here's a pic of the progeny of two of my favorite families. The family with eight kids was staying with the family with ten kids. Since it was absolutely ridiculous to have 22 people living in a 3-bedroom house, the only sensible thing was to invite Miss Valerie over for the weekend, too!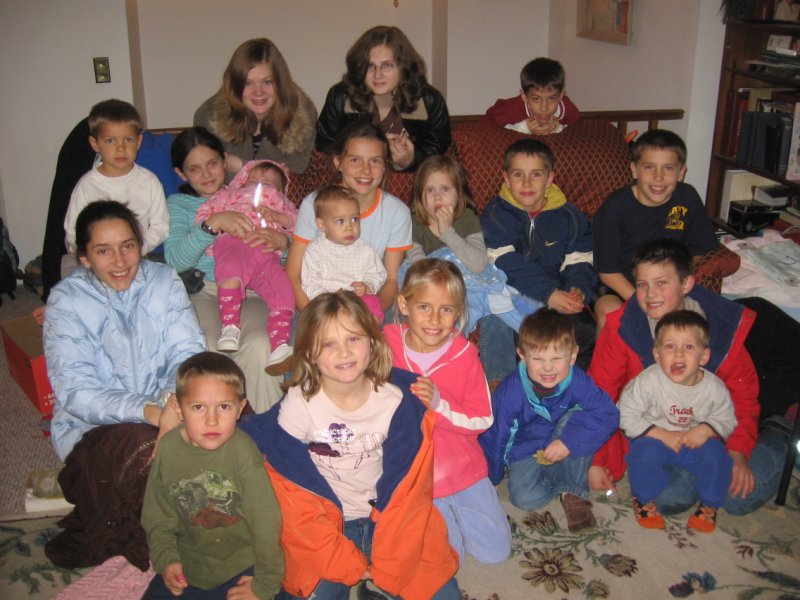 And if you're wondering what I've been doing with myself in the past 18 months, that photo about sums it up. I was first adopted by the smaller family, with whom my chief job was mending. Then when they got transferred to Europe, the larger family adopted me, and I've been, among other things, matching socks for them. Lemme tellya...a dozen people, most of whom play sports, can go through some socks! My first forray into that task involved a 2-bushel laundry basket and resulted in 259 pairs plus at least a hundred odd socks. Took eight or nine hours over four sessions on two days. We were telling the tale at a party later, and one friend caught the words "mated" and "259" and gave me a funny look. I told her it was a very soxy occasion!

I have been blown away this past year and a half to find so many to love and be loved by. There are few things sweeter than being able to look around on a Sunday morning at "my" kids and their parents and a hundred or so other brothers and sisters while we share the covenant meal. This is the life Christ purchased for me. This is the bride He purchased for Himself. This is discerning the body.
Posted by Valerie (Kyriosity) at 4/21/2007 07:49:00 AM • • Permalink
Links to This Post
Friday, April 20, 2007 AD



Sudoku Paper


I'd rather watch paint dry than do a Sudoku puzzle, but my mom loves 'em. She's been drawing her own grids, which seemed like a hassle to me, so I Googled and found this site. Mom found the extra numbers distracting, though, so I made her a nice, plain version, which I hereby share with the rest of cyberspace. Now if you'll excuse me, there's a nice wall of freshly applied eggshell white just crying for my attention.
Posted by Valerie (Kyriosity) at 4/20/2007 07:00:00 PM • • Permalink
Links to This Post



Sabbath Feasting


Nancy Wilson has been blogging a series on Sabbath feasting, and her latest entry prompts me to write about my first Sabbath feast.

I've hosted dinners before, but on the night before Easter I did my first official feast. The Lord provided abundantly! We crammed nine seats around a table built for six (hooray for skinny kids and babies who don't need their own chairs yet!). The two families who came asked what they could bring, so that saved me prep time (one family brought a salad), guesswork (the other family brought wine), and a couple errands (one brought a bag of ice and the other loaned some wine glasses). I had lots of leftovers to take to another gathering on Easter Sunday, plus enough to feed me for a few days.

To top it off, my guests were a great combination of people. There was never any awkwardness or lag in conversation, and I enjoyed getting to know them all better. I also got to enjoy one of my favorite pastimes -- watching godly parents bless their children with faithful instruction. Sure it cost a few pennies, but the balance sheet was definitely in the positive!
Posted by Valerie (Kyriosity) at 4/20/2007 06:39:00 PM • • Permalink
Links to This Post
Thursday, April 19, 2007 AD



Family Pix



Me holding my great-nephew at his parents' wedding: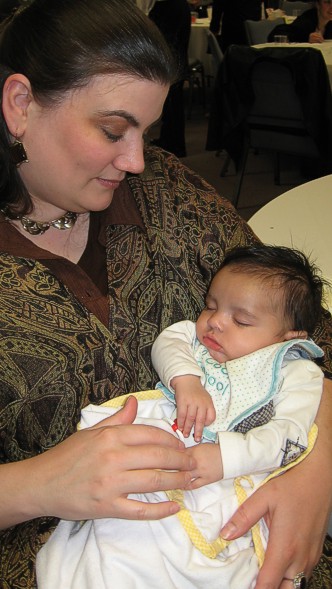 My family -- Becky (gorgeous 22-y-o single neice), Mom, David (bro), Lauren (neice-in-law), Chip (nephew), D.J. (bro & father of the groom), Sondra (sis-in-law & mother of the groom):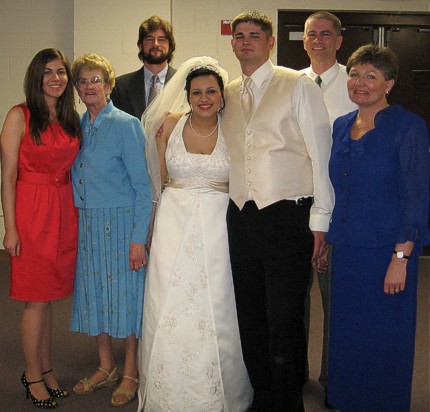 Posted by Valerie (Kyriosity) at 4/19/2007 05:56:00 PM • • Permalink
Links to This Post
Tuesday, April 17, 2007 AD



Well...That's Different


I suppose I shouldn't be surprised to find some changes in the Blogger software in the past year and a half, but this one's kind of funny: I was used to using the Blogger button on the Google toolbar to write posts, but now when I do that, it names my post after the page I'm on. So in case anyone's wondering why my last two posts are titled "Barlow Farms" and "Freezing Lasagna," now you know! (And for the record, Cindy said to cook the lasagna before freezing it.)
Posted by Valerie (Kyriosity) at 4/17/2007 06:11:00 AM • • Permalink
Links to This Post
Saturday, April 14, 2007 AD



Critique Welcome


I think I've finally got the last of my song lyrics posted. At least all the ones I'm willing to put in the public eye, and probably a few more than I

ought

to have been willing to put in the public eye! I would love some feedback on them -- the theology, the poetry, whatever. I'd particularly like to know if there are any that are so bad I should obliterate them. I only have a few recordings posted, and they're not exactly professional, but you're welcome to comment on the tunes, too. Thanks!

P.S. You don't have to comment on

all

of them, of course, but I'd love to read some thoughts on

some

of them...especially some constructively critical thoughts. Thanks!
Posted by Valerie (Kyriosity) at 4/14/2007 02:36:00 PM • • Permalink
Links to This Post
Friday, April 13, 2007 AD



Blogging Rules


Here are some new rules for my renewed blog:



1) Real life trumps blogging.


Real life includes, among other things, work, housework, worship, fellowship, service and sleep. If I cannot keep my blog in balance with those things, then it goes bye-bye.



2) Let no corrupt word proceed out of your mouth, but what is good for necessary edification, that it may impart grace to the hearers. (Ephesians 4:29, NKJV)


Edifying speech excludes, among other things, self-pity, whining, morbid introspection, immodest self-revelation and foolishness. If I cannot keep those things out of my blog, then it goes bye-bye.
Posted by Valerie (Kyriosity) at 4/13/2007 11:33:00 PM • • Permalink
Links to This Post
Thursday, April 12, 2007 AD



How to Yell at People


"Yelling" is my euphemism for any sort of exhortation. I'm frequently asking my friends to yell at me or thanking them for doing so. What I really want is encouragement, but by calling it "yelling" I'm trying to convey that I'm open to rebuke, as well, if that's what's called for. In a recent e-mail, I explained to a friend what I meant by "yelling." The following is adapted therefrom.
As for "yelling," what I mean by that is something along the lines of "We urge you, brethren, admonish the unruly, encourage the fainthearted, help the weak, be patient with everyone" (1 Thessalonians 5:14, NASB) -- different kinds of yelling for different kinds of people. The following is my take on those types, based on various translations and commentaries:

The unruly

are those who are way out of line -- stubborn, rebellious, idle, disorderly, dissolute, slackers, not even trying to live any kind of Christian life. They need tough talk -- warning, scolding, reproving, correcting, sternly getting on their case.

The fainthearted

(KJV says "feebleminded"!) are those who are of a broken and afflicted spirit -- timid, fearful, trembling, melancholy. They need gentle but firm talk -- cheerleading, comforting, consoling, reminding of the Gospel blessings they have received, nudging, prodding, hugging (verbal and actual).

The weak

are those who are trying, but aren't very good at living obediently -- stumbling often, getting things wrong, perhaps immature or ignorant like a baby learning to walk. They need support, instruction, someone to come alongside, a steadying hand, extra attention.

And to be patient toward all we need to understand that the various types of yelling work (with the Spirit's enablement, of course), but not necessarily instantaneously. The unruly don't get as much time to shape up as the others do, but it's still a good idea to move slowly toward more extreme and severe disciplinary measures. For the fainthearted and weak, the yelling will work through the cumulative effect of daily encouragement (Hebrews 3:13).
The tricky part, of course, is discerning what category someone (perhaps even oneself) is in. You don't want to err on the side of heavyhandedness à la "The beatings will continue until morale improves." God doesn't break bruised reeds or snuff out smoldering wicks. He binds, bandages, breathes on, builds up, blesses. Nor do you want to be too timid about giving a firm rebuke when one is needed. It isn't grace to pat a grievous sinner on the head and say it's no big deal.

Some things to consider when weighing your approach: How much authority do you have? How close are you to the person in question? How big is the beam in your own eye? Is your attitude genuinely loving, or are you just venting? Are you being courageous or are you being a bully? Are you being gracious or are you being a people-pleaser? What is your overall pattern of applying this verse...do you find yourself too often the heavy, too often the softy, or fairly well balanced? If you find yourself in over your head, whose help will you seek? What Scripture can you bring to bear on the situation? Have you prayed about it, or are you flying solo? Are you in it for the long haul of encouragement (Hebrews 3:13 again), or are you only willing to take a pot shot of criticism?

Those are all questions about yourself; here are some about the other person: How serious is the issue in question? How clear is the issue in question? Does the other person show signs of genuine humility, genuine sorrow for his sin and genuine repentance -- not just in this instance, but as a life pattern? Is this a one-shot sin, or a pattern of sin? Is there a real weakness involved, or just whining? Does he believe the gospel for both eternal salvation and everyday sustenance?

Of course there's not always time to do a thorough inventory every time the need arises to speak words of counsel, comfort, correction or cheer, but it's wise to consider how well you love and what kind of love your brethren need.
Posted by Valerie (Kyriosity) at 4/12/2007 07:38:00 PM • • Permalink
Links to This Post



Hello Again


This post is a portent of things to come...
After all the laundry's done,
The dishes scrubbed and put away,
And errands run.

Then

I'll come play!
Posted by Valerie (Kyriosity) at 4/12/2007 03:17:00 PM • • Permalink
Links to This Post