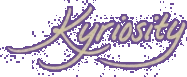 (KE'RE OS'I TE) N., A LONGING TO LOOK
INTO THE THINGS OF THE LORD [C.1996 < GK.
KYRIOS LORD + -ITY; IMIT. CURIOSITY]
Visit The Old Kyriosity Shop

Saturday, April 14, 2007 AD



Critique Welcome


I think I've finally got the last of my song lyrics posted. At least all the ones I'm willing to put in the public eye, and probably a few more than I

ought

to have been willing to put in the public eye! I would love some feedback on them -- the theology, the poetry, whatever. I'd particularly like to know if there are any that are so bad I should obliterate them. I only have a few recordings posted, and they're not exactly professional, but you're welcome to comment on the tunes, too. Thanks!

P.S. You don't have to comment on

all

of them, of course, but I'd love to read some thoughts on

some

of them...especially some constructively critical thoughts. Thanks!
Posted by Valerie (Kyriosity) at 4/14/2007 02:36:00 PM • • Permalink
---
Links to this post:
---
Home