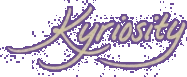 (KE'RE OS'I TE) N., A LONGING TO LOOK
INTO THE THINGS OF THE LORD [C.1996 < GK.
KYRIOS LORD + -ITY; IMIT. CURIOSITY]
Visit The Old Kyriosity Shop

Friday, December 31, 2004 AD

Fun!
On the sidewalk on my street a daddy is teaching his little girl to ride a purple bicycle I'd bet she got for Christmas. They look like they're really enjoying themselves...and I'm enjoying watching them as they go back and forth in front of my house!
Posted by Valerie (Kyriosity) at 12/31/2004 11:23:00 AM • • Permalink
Links to This Post

Referral Stats
While I have both Sitemeter and Extreme Tracking installed, I almost never look at the latter. Occasionally, though, it's fun to check because it lists keywords people have used to find me through search engines. Taken out of context, the top-100 list is pretty funny:

valerie, blog, voss, kyriosity, snarky, him, know, the, may, that, definition, and, wav, schlapfer, rob, for, desk, lap, sproul, reformation, polka, lyrics, tattoos, rock, miracle, pca, free, christian, gospel, cnn, blade, what, poem, jesus, schoolhouse, jingle, beanbag, meaning, you, etymology, picture, circumcision, church, robert, kyrios, headcovering, sermon, art, spurs, valrie, luther, song, mass, word, origin, resting, paisley, who, thou, where, music, files, they, corelle, cat, danskos, recording, how, supercalifragilisticexpialidocious, nde, sarah, gifs, hymnals, ray, post, invitational, barb, valeries, jangle, zoe, tong, jaqueline, 2003, wilson, doug, style, best, snark, with, movie, does, bible, all, sermons, lucy, baskin, ecleo, grace, quotes, car

Whatever y'all come here in search of, thanks for visiting!
Posted by Valerie (Kyriosity) at 12/31/2004 11:07:00 AM • • Permalink
Links to This Post
Thursday, December 30, 2004 AD

Thankful Thursday
Since Kelly has abandoned us this week, I thought I'd pick up the Thankful Thursday mantle for the day. For those not familiar with Kelly's meme, the idea is to leave a comment listing three items for which you are thankful. Since this is the last Thursday of the year, let's pick three things for which we have been especially thankful in 2004.

Here are three of mine:

1) Faith Christian Fellowship -- It was a very hard decision to leave, and I do not regret it in the least, but I am very grateful for FCF's pastors for listening to my concerns and trying to find a way to work things out (especially Pastor Craig), and finally giving me permission to go (especially Pastor Wy). I am grateful for the friends there who have loved me, and will continue to love me, especially Joan and Arlette.

2) Christ Reformed Evangelical Church -- CREC has been a wonderful place for me to sojourn. The rich worship, solid preaching, and warm fellowship of the congregation have been God's most visibly powerful means of sustaining me throughout the past 10 months. I am especially grateful for Karen and Jeff, who have been wonderful friends, and have shown me hospitality on so many occasions I've lost count.

3) Saint Peter Presbyterian Church and the Highlands Study Center -- On the first Sunday of 2004 I was on my way back home after spending a week with friends in Alabama. I had spent that "retreat" week thinking and wrestling and praying about leaving FCF, and had pretty much decided not to. The resolve didn't last 'til I made it home. I had scheduled the return trip so I could stop at St. Peter that day, and after morning worship and lunch withy the Sprouls, I knew I wanted to be there as much as I ever had. So I spent a couple more months thinking and wrestling and praying and talking things over until it seemed I had "clearance" from all quarters to leave FCF and begin planning to move to St. Peter. I'm grateful for the HSC teaching resources that have helped me captured my thoughts throughout the past year. I'm grateful for R.C. and Denise and Laurence and Rick and all my other friends and future church family there. And I'm grateful that St. Peter Church is there and that God has opened up doors for me to move.
Posted by Valerie (Kyriosity) at 12/30/2004 04:32:00 PM • • Permalink
Links to This Post

Well, I've Gone and Done It Now!
The painter just came and did a walk-through. He thinks he can start the job around January 17. That gives me less than three weeks to get most everything out of the house. But I needed a deadline like that, or I'd go on sitting here on my backside interminably!
Posted by Valerie (Kyriosity) at 12/30/2004 12:18:00 PM • • Permalink
Links to This Post

Scared of Santa
A photo gallery of terrified tots. Perhaps they were all Arian children who had heard about the supposedly jolly old elf's reputation.
Posted by Valerie (Kyriosity) at 12/30/2004 01:13:00 AM • • Permalink
Links to This Post
Wednesday, December 29, 2004 AD

Suffering from Withdrawal
My silly ISP won't let me access Carmon's blog. They say the problem's with Windows or my security settings or something like that, but I don't believe a word of it. They've buried buriedtreasurebooks.com and have hidden the map with the X! I haven't been able to read it since December 17. If anyone would like to help feed my addiction by mailing me some entries, that'd be cool. Leave a comment, and I'll let you know what address to send them to. Thanks!
Posted by Valerie (Kyriosity) at 12/29/2004 09:33:00 PM • • Permalink
Links to This Post
What I Learned About Using Time Wisely by Not Having a Computer at Home for Three Months
Posted by Valerie (Kyriosity) at 12/29/2004 12:07:00 AM • • Permalink
Links to This Post
Monday, December 27, 2004 AD

Wondering What to Do With All That Leftover Christmas Cash?
It all started when Margaret said she wanted "Don't get mad, get imprecatory!" on a T-Shirt. Well, now she can have it...and so can you! "Don't get mad..." T-Shirts, and other fine products are now available at The Old Kyriosity Shop. I expect to make millions, millions I tell you, from this enterprise!
Posted by Valerie (Kyriosity) at 12/27/2004 10:02:00 AM • • Permalink
Links to This Post
Sunday, December 26, 2004 AD

Oops.
I think this may well qualify as another classic blunder. I do hope this doesn't cause problems for anyone who was planning to attend...especially not anyone I know who was planning to attend...and doubly especially not the Cumbees. I'm hoping to add quite a few more notches in April!
Posted by Valerie (Kyriosity) at 12/26/2004 11:11:00 PM • • Permalink
Links to This Post

I Think That May Be My First-Ever Interational Phone Call
Certainly my first-ever trans-Pacific phone call. Paulo just rang me from the Philippines. He is a very silly man. I made him hang up and I IM'd him.
Posted by Valerie (Kyriosity) at 12/26/2004 10:14:00 PM • • Permalink
Links to This Post

Another Couple Notches on My 'Online Acquaintances I've Met in Real Life' Belt
Actually, I can't really count the first one, but I saw former blogger Bill Gabbard (a.k.a. Elder Bill) Christmas Eve at the late service at EP Annapolis. I spotted him in the choir, but there was too big a crowd to try to track him down and introduce myself afterward. Today former EPer Sarah Garner and her hubby, Duane, also both former bloggers, showed up for worship at CREC. I'd met Sarah before, but not Duane, so I get an official notch for him.
Posted by Valerie (Kyriosity) at 12/26/2004 03:14:00 PM • • Permalink
Links to This Post

'I Just Sat Down and Listened to a Minister Preach, and...My Goodness.'
Grab a tissue (no...better make it a box of tissues) and read the mistitled "A series of fortunate events". It should, of course, be "A series of providential events." Thanks to Anne Ivy for passing along the link. I'd already heard the whole story from Anne, but I'm not above blubbering over it again!
Posted by Valerie (Kyriosity) at 12/26/2004 02:22:00 PM • • Permalink
Links to This Post
Saturday, December 25, 2004 AD

And One More Wilson Family Series Reflection
In The Fruit of Her Hands, Nancy Wilson addresses the phenomenon of wives who come to her for counsel. She always asks them first if they've asked their husbands, and second if they've asked their husbands if it's OK for them to seek counsel from her. Those are questions wives would probably be wise to ask themselves, and which women would be wise to ask one another as we tend to counsel one another informally quite a bit in our interactions, particularly online. From time to time, for instance, I see wives asking one another online about whether or not they should wear headcoverings. The answer I always give is, "Go ask your husband. That's rather the point of the issue." A few months ago when RC wrote his "The Other L-Word" squib, women hither and yon were all aflutter with queries about whether they should start calling their husbands "lord." Again, whatareya askin' us for? Send him the squib and ask him what he makes of it. And I can think of quite a few more examples -- some with wives bringing up specific personal marital issues. Not only does Mrs. Wilson's advice make things simpler for the wife with questions ("Oh! I don't have to weigh the various opinions of 23 cybersisters, I can just ask Fred."), it's also a simplifier for those of us who like to give everyone in the world a piece of our minds ("Oh! I don't have to contribute my two cents regarding Susie's problem that's none of my business, I can just encourage her to go ask Fred!"). Of course if Susie has asked Fred, and he's given the green light to seeking the counsel from a given source, then carry on. For instance, one friend responded that she had talked to her husband about the headcovering thing, and he told her to go ahead and do some research on it, so a constructive discussion ensued.
Posted by Valerie (Kyriosity) at 12/25/2004 11:52:00 PM • • Permalink
Links to This Post

'St. Nicholas Probably Would Have Slugged Somebody'
Doug Wilson posts some tidbits about Santa Claus, a few of which I'd never heard. Slapped Arius in the face, did he? Well, we don't know for sure, Virginia, but the mere rumor gives the old guy a higher credibility rating in my book!
Posted by Valerie (Kyriosity) at 12/25/2004 04:11:00 PM • • Permalink
Links to This Post
Friday, December 17, 2004 AD

Catch You on the Flip Side
I'm getting ready to head out of the office soon, and won't be back 'til January. Don't know if I'll be online between now and then or not. I have my third hard drive on order, which should arrive Monday. I'll take it to a shop to have it installed, in which case I might actually be back online at home next week. But I'm learning not to count my chickens before they hatch when it comes to getting this thing back in working order. So if I don't see y'all before then, have a very blessed Christmas!
Posted by Valerie (Kyriosity) at 12/17/2004 05:57:00 PM • • Permalink
Links to This Post

Another Wilson Family Series Reflection
Deborah asked in a comment on a post below whether I had any more thoughts on Doug and Nancy Wilson's series of books on the family ["...eight, count them eight..." OK...one, two, three, four, five, six, seven, eight...nine. Oh well, at least they've got the ninth one up there now instead of surprising you with it when you go to check out!] I think the only one I've finished but haven't yet commented on is Her Hand in Marriage. Again, this isn't a full review, just a reflection on what stood out to me about the book. Since I'm reading each one pretty quickly -- more to get a quick overview than to really study them -- I can't attempt to offer anything more thoughtfully thourough.

In this case one thing that stood out was Mr. Wilson's treatment of the subject of virginity throughout the book. It's just so rare to see/hear anyone even mention virginity, much less so openly place such a high value on it. The exception was the ad campaign with the billboards that exhorted, "VIRGIN [scrawled grafitti-like in red spray paint]: Teach your kids it's not a dirty word." I don't think the church in general cares much about virginity, and I think single men looking for wives in general care about it even less. I haven't done a scientific study, of course, but here's my anecdotal evidence:

1) I knew a young woman some years ago whose marriage had split up because of multiple adulteries on both sides before she came to Christ. Granted, she didn't go around advertising this to all and sundry. But she was pretty and vivacious and men would flutter around her like moths while plainer, purer girls got little or no attention.

2) [True confessions time] Six or seven years ago in my pre-Reformed days, I joined an online Christian matchmaking thing for a few months. It was the sort of thing where you post a profile and read other peoples' profiles and perhaps make connections. I looked at hundreds of men's profiles in the time I was a member, and I would guesstimate that more than half of them made it very clear that fat chicks need not apply. How many made it clear that nonvirgins need not apply? Exactly one.

Now before anybody starts screaming, let me make it perfectly clear that a) premarital sex is not the unforgiveable sin and it doesn't disqualify anyone from marriage, and b) a man is not necessarily sinning either if he decides he wouldn't rule out a nonvirgin as a potential wife or if he places a high value on certain physical characteristics such as physical fitness. But I think there's a glaring problem in our Christian culture when thinness is valued so much more than virginity --when Christian men have more trouble getting over extra poundage on a woman's frame than they have getting over the extra notches on her bedpost.

So I appreciated Mr. Wilson's high valuation of virginity, his pointing to the Bible's high valuation of virginity, and his defense of men (since there are evidently others besides the one I saw on that matchmaking site) who set virginity as a necessary requirement for a potential wife. This high valuation of premarital chastity is an important factor for the author in his case for biblical courtship, particularly the father's role in protecting his daughter's purity.
Posted by Valerie (Kyriosity) at 12/17/2004 12:44:00 AM • • Permalink
Links to This Post
Thursday, December 16, 2004 AD

Happy 229th!
Today is Jane Austen's birthday. Thank to Semicolon for the remider of the festive occasion. For those who don't read Semicolon, you're missing out on practically daily causes for celebration (a.k.a. excuses for eating chocolate!)
Posted by Valerie (Kyriosity) at 12/16/2004 08:15:00 PM • • Permalink
Links to This Post
Wednesday, December 15, 2004 AD

Google Searching for Old Friends
Every once in a while a name I haven't thought of in years will pop into my head and I'll wonder "What ever happened to...?" Google comes through a good percentage of the time. Tonight's episode of "Where is he now?" yeilded two possibilities: neo-Nazi leader in Indiana or physics professor in West Virginia. Happily, I knew him when he was a physics major, and his worst social crime was geekiness, so I'm gonna assume he's the WV professor. But ya gotta feel sorry for a guy whose namesake is a neo-Nazi!

Posted by Valerie (Kyriosity) at 12/15/2004 11:28:00 PM • • Permalink
Links to This Post

Faith and Feeling
Recent entries at the HSC Squiblog and Barlow Farms touched on the same subject -- how we are to pray when things, from a natural, earthly, scientific, human standpoint seem hopeless...when the answer we'd like would be on the order of the miraculous...when, to put it bluntly, the cancer's really, really bad. Both R.C. and Jon come down on the side of praying with bold faith, which is of course the right side to come down on. But why do we find it so hard to do that?

I wonder if it's because we have a wrong understanding of the relationship between faith and emotions. Now this isn't something I've thought out particularly well, so I'm not sure I can even articulate it very well, but I'm just going to toss it out there and see if resonnates with anyone else: Sometimes I pray as if faith means having to feel that God will do thus and such. And I'm not sure that's entirely wrong. I should feel that God will be gracious and merciful, that He will act for the glory of His name and the good of His children. That should cheer and comfort us. It should spur us to heartfelt adoration of His goodness and mercy and kindness. But I don't think we need to work ourselves up into such confidence in the desired outcome that we book a nonrefundable plane ticket for Fred for next November when the doctor has told us Fred isn't likely to make it to February.

Maybe that's more the issue -- not faith and emotion, but faith and its object. We aren't to believe in a cure, we're to believe in the Lord Your Healer.

And speaking of emotion, we need to be careful not to look at this issue too coldly and clinically. It's not just a matter of academic curiosity, it's a matter of Earl and Matt and Antonia and every other "hard case" we know. So let's not be distracted from the real task at hand -- interceding with whatever amount of faith God has granted to us.

And a leper came to Jesus, beseeching Him and falling on his knees before Him, and saying, "If You are willing, You can make me clean."

Moved with compassion, Jesus stretched out His hand and touched him, and said to him, "I am willing; be cleansed."

Immediately the leprosy left him and he was cleansed. (Mark 1:40-42, NASB)
Posted by Valerie (Kyriosity) at 12/15/2004 10:29:00 PM • • Permalink
Links to This Post

THUNK(rattle)THUNK(rattle)THUNK(rattle)
That's the sound of me beating my head against the wall. I just picked up my still-dead computer. I'm probably going to end up shipping the whole shebang to the BadgerDadLord for him to figure it out, which will probably take another month between shipping, getting replacement parts, reassembling, and shipping back. I'm considering renting a computer for a month, since I'll be off work for two weeks and would really rather not be totally disconnected from the world for that long!
Posted by Valerie (Kyriosity) at 12/15/2004 04:59:00 PM • • Permalink
Links to This Post
Monday, December 13, 2004 AD

Sex Education and Miseducation
I won't repeat the nasty details here, but The Dawn Patrol has reported yet another tale from The Planned Barrenhood Horror Files.

The vast majority of American kids are learning about sex these days in government schools. Sometimes, as in the item Dawn quotes, classroom instruction is supplemented by government-sanctioned, taxpayer-funded extracurricular activities provided by groups like Banned Parenthood. And of course this is supplemented by ignorant peers, prurient media, and a host of users and abusers. The end result is that generations of Americans, including the vast majority of children from Christian homes, are growing up relentlessly barraged by heinous misinformation about human sexuality. (Of course the exception is those poor kids whose backward parents do that horrible, repressive sheltering thing and keep them the heck away from such influences.)

My sex education was pretty much left up to the folks at Baltimore City Public Schools #235, 233 and 407. I also recall one youth group event at which the topic was rather lamely adressed. And there was a range of other, unintended influences. The result of this is knowing, in a sense, both more and less than I ought to know about things.

So as I'm working my way through the Canon Press family series I went ahead and read Fidelity. Although it's written for men, I think many Christian women who didn't grow up with the aforementioned repressive, backward parents would find, as I did, that it is a useful corrective to the misinformation they've been assaulted with all their lives. It's not that I learned anything new or surprising about sex; it was more that, especially in the last chapter, Mr. Wilson creates a picture of godly sexuality that puts all the old information into the right context and in the right proportions -- like reassembling a Picasso into a Rembrandt.

I wasn't sure if I should read this book -- it might as well have a "No Girls Allowed" sign on it -- but I am glad I did. Someone needs to write a version that women aren't afraid to buy or read. (Yes, I've read Elisabeth Elliot's books, but they aren't quite on the same level.) Ironically, it may be the very desire to protect the purity of Christian women that tends to keep such a purifying book out of the hands of those whom it might benefit. The sheltered ones probably don't need it, so Fidelity might do them more harm than good. But for women to whom the harm has already been done -- by their own sin or others', by misinformation or abuse, by media or "education" -- it should be considered as a possible curative. For me, reading Fidelity was like giving my soul a long-needed bath.
Posted by Valerie (Kyriosity) at 12/13/2004 07:11:00 PM • • Permalink
Links to This Post

Why Can't I Ever Think of Good Comebacks in Time?
Had my first-ever abusive telemarketer Friday night. Nasty, nasty fellow. I was so taken off guard that I confess I let him get to me. At one point he asked to speak to my husband. If I'd had any sense whatsoever, I'd not have told him I hadn't got one. He, of course, said something obnoxious about why I didn't have one, and I finally hung up on him. Here's what I wished I'd had the presence of mind to say: "The Lord my Maker is my husband, and He's gonna smite your a-- for all eternity!"

And the moral of the story is, Don't get mad, get imprecatory.

(And before anyone yells at me, I did also pray for his repentance...eventually.)

P.S. Does anyone know where to report such things, or if it's worth the bother?
Posted by Valerie (Kyriosity) at 12/13/2004 05:25:00 PM • • Permalink
Links to This Post
Beautimous
Random Thoughts and Other Fun Things: Happy Birthday Shoshanna Grace
And a related post.
Posted by Valerie (Kyriosity) at 12/13/2004 05:09:00 PM • • Permalink
Links to This Post
Saturday, December 11, 2004 AD
Oh Yeah...Elianna Has a Daddy, Too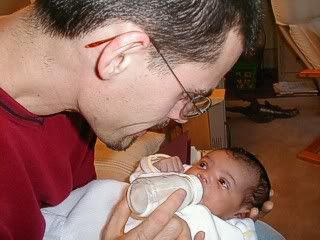 She's looking at him very attentively, isn't she? You just keep that up for the next 18-20 years or so, girl!

Funniest bit of conversation yesterday:

"Did Edward and Stacey ever return Her Hand in Marriage?"

"No."

"We need to get a new copy right away!"
Posted by Valerie (Kyriosity) at 12/11/2004 01:36:00 AM • • Permalink
Links to This Post
Friday, December 10, 2004 AD

My Computer Is Finally in the Shop
After three months of being without a computer at home (and still paying for DSL...ouch!) and valiant attempts by several folks (especially the BadgerDad) to get the thing to work again, I have finally given up and taken the thing to a shop to see what they can do for me. Soooo...if all goes well, I may be back in business next week. Yay!
Posted by Valerie (Kyriosity) at 12/10/2004 05:58:00 PM • • Permalink
Links to This Post

Progress Report
Met with the realtor this morning. If I sold the house as-is, she thinks I could get as much for it as I could only have dreamed of getting for it three years ago fully repaired -- house prices have gone up that much! If I do the work she suggests (which is pretty much what I expected her to suggest), the price goes up about $25K. Since it won't cost nearly that much to get the work done, I think it's worth the effort. So here's my plan:

I have off work December 18-January 3. During that time I will cart stuff to Goodwill, put all my keeper boxes in the basement, advertise my furniture in the Pennysaver, set up an appointment with the painter (and see if he can do some other small jobs, too), get someone to look at the roof and let me know if that's in good shape, and clean! Then, assuming I can get the necessary work done in the first half of January, we'll get it on the market by the end of January. Things seem to be selling pretty quickly in the neighborhood, so a February or March moving date seems within the realm of possibility!
Posted by Valerie (Kyriosity) at 12/10/2004 01:59:00 PM • • Permalink
Links to This Post
Guess Who I Got to Meet Yesterday!

I took Shannon and Elianna to lunch yesterday. Shannon told me the whole adoption story and also the meaning of Elianna's name while I dabbed at my eyes. What a dumb day to wear mascara! The short version is that they decided this summer to try to adopt, and included mention of that in a prayer letter. Friends Don and Karen read the prayer letter. Don's mother happened to mention in a phone call that a co-worker's daughter was expecting and wanted to give the baby for adoption. Don told Brad and Shannon, who sent their profile, waited, finally heard back, and flew to Maryland in October to meet with the birth parents and their families. The baby was born November 23. Elianna means "God has heard." Halley means "unexpected gift." That about sums it up, eh? :-)
Posted by Valerie (Kyriosity) at 12/10/2004 11:16:00 AM • • Permalink
Links to This Post
Wednesday, December 08, 2004 AD

'Then I Shall Really Be Able to Play for You!'
I find that line, spoken by Marianne in "Sense and Sensibility," very striking every time I watch the film because it's delivered without a trace of conceit. Marianne knew a) that she had an exceptional talent, and b) that those around her also knew that she had an exceptional talent, and appreciated it. You see the same sort of thing in Pride and Prejudice when Jane gets engaged and speaks artlessly of the pleasure she knows it will give her friends and family. Again, not a hint of self-centeredness. (Of course there are counterexamples in Austen -- Emma's Mrs. Elton, full of false humility, and P&P's Mary, empty of true talent, but let's leave them out of it for the moment.)

Why is it I can't imagine saying the same sorts of things? Why would it sound so arrogantly presumptuous in this day and age to assume that others would want to hear my musicianship?

First, we've lost any sense of the objectivity of beauty or talent, so I don't even really know if my singing is worth hearing. When people say it is, I don't know whether to trust them...what do they know? One might say, "But you blog, doesn't that indicate an assumption that what you write is worth hearing?" Maybe, but not in the same way. Blogging is non-intrusive. Nobody has to come read this. Nobody who reads it has to pretend they like it. Y'all aren't a captive audience. It's not the same as saying, "Oh, wouldn't it be great if y'all were stuck in a room with me and I pulled out my guitar?" (That said, I did promise to sing Sora's "Mom of Constant Laundry" for Karen, and there's a fellowship dinner at her house on Sunday, so I may do just that!)

Second, in our hyper-egalitarianized society, we've lost any sense that someone can be better than anyone at anything, so to think that you might be must automatically mean you're egocentric.

Third, because we've gotten rid of objectivity, we don't really care about ability, but we haven't really been able to rid ourselves of inequality, so we've replaced talent with celebrity in our system of social virtues. As a result, we've gotten a whole lot of celebrities without real talent, yet we go on adoring them in their vapidity.

While I've been composing this post in my head for a few days, a fourth point didn't occur to me 'til I read this this morning. Marianne's talent might not have allowed her to be her era's equivalent of an international pop star, but in a small community without the 21st century's multitude of multimedia technology, it was something to be highly valued. Even moreso, perhaps, than a pop star, because she was theirs. God gives us gifts -- whether natural or spiritual -- so we can in turn be gifts to our neighbors. The self-esteem movement has it wrong in part because it tells us to feel good about ourselves in a vaccuum. "It's a Wonderful Life" has it right in part because it shows us how being a part of a community is a key aspect of what makes a man's life one that's worth living.
Posted by Valerie (Kyriosity) at 12/08/2004 09:52:00 PM • • Permalink
Links to This Post
Shannon and Elianna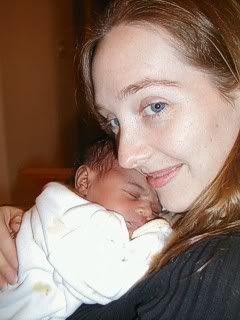 "God sets the lonely in families" and "He gives the barren woman a home, making her the joyous mother of children. Praise the LORD!" Amen! (And somebody hand me a hanky....)
Posted by Valerie (Kyriosity) at 12/08/2004 06:52:00 PM • • Permalink
Links to This Post

'Not Quite,' Indeed
Sherry of Semicolon links to a NY Times article about "natalists" -- the author's term for those shocking people who have "three, four or more kids." I just skimmed the article, and it's not entirely negative, but it does contain at least one very silly statement: "People who have enough kids for a basketball team are too busy to fight a culture war." Whoosh! That was the sound of the truth whizzing past the author's head. As Sherry says, "Not quite." The author has clearly never read this:
Behold, children are a heritage from the LORD,
the fruit of the womb a reward.
Like arrows in the hand of a warrior
are the children of one's youth.
Blessed is the man
who fills his quiver with them!
He shall not be put to shame
when he speaks with his enemies in the gate.
Godly families raising godly children are not only fighting a culture war, they're building a kingdom!
Posted by Valerie (Kyriosity) at 12/08/2004 05:26:00 PM • • Permalink
Links to This Post

My Paradoxical Worldview
How is it that I can simultaneously a) greatly desire that everyone in the world think well of me, and b) deeply believe that the vast majority of everyone in the world are blithering idiots?
Posted by Valerie (Kyriosity) at 12/08/2004 11:53:00 AM • • Permalink
Links to This Post
Monday, December 06, 2004 AD

Advent Concert
It was fun to be back at Faith for the Advent concert last night. It's still emotionally challenging, since I'm officially still a member of that body yet no longer attending, but it's getting less difficult as the months pass. I don't miss being there on a regular basis. So I got a chance to catch up with folks, give and receive lots of hugs, marvel over how much little ones can change in nine months, and enjoy some good performances.

Here's the one that really stood out, though. They did selections from Messiah (I admit, I missed being involved with that!), bringing in some ringers for the solo parts. The mezzo was so...um...gifted she was falling out of her dress. You couldn't possibly look at her while she was singing -- you wouldn't have seen anything but her overflowing voluminousness. What made it even more ironic is that she was singing "And He is like a refiner's fire." Lady, I thought, some day you are going to come face to face with that Refining Fire of whom you are singing with such technical correctness and so little reverent feeling and too little apparel, and you are going to be really sorry.

In contrast was one of the sopranos in the chorus, Lori -- a gracious, godly and chaste lady whose face radiates her joyful love for Christ. (There are certainly other godly women in that choir, but Lori's the one I really noticed last night.) She may not have a voice to rival the mezzo's but I suspect that her singing rose in much lovelier strains before the throne of God last night.
Posted by Valerie (Kyriosity) at 12/06/2004 03:29:00 PM • • Permalink
Links to This Post

Babies, Babies Everywhere!
Expectant folks include John and Moriah, Joffre and Kimberly, Mike and Shona, and Billy Joe Jim Bob and Mrs. Billy Joe Jim Bob.

In addition (and this will be of interest probably only to Thomas and Roz), Brad and Shannon just adopted a baby girl -- Elianna Halley. If y'all'd like more info, leave me a message and I'll forward an e-mail including photos. Since the baby was adopted in Maryland, Brad and Shannon are still in town awaiting for the red tape to be cleared up before they return to Chicago. I was hoping to see them last night at FCF's Advent concert, but if they were there, I missed them.

In conclusion, as someone I know is wont to say, Yay! Babies! Yay!
Posted by Valerie (Kyriosity) at 12/06/2004 01:09:00 PM • • Permalink
Links to This Post
Friday, December 03, 2004 AD

Attention Mrs. Ivy!
There is an expression at this link which you absolutely must go see. Trust me -- it's an Anne-ism if there ever was one. I can hear it clear as day in your dear Texan alto tones!

By the way, the author of that blog (though not of the comment in which the the expression appears) goes to Robert's church, so you're practically related. Well...in a cyberish sort of way....
Posted by Valerie (Kyriosity) at 12/03/2004 08:29:00 PM • • Permalink
Links to This Post

Prayer Request
I've got an appointment with a Realtor next Friday. My house is a bit of a wreck at the moment, so please pray for diligence to get it into some kind of order in time.

Also, I was hoping my mom would come for Christmas and help by her presence, if not with much activity, as I pack, but she's not feeling up to traveling at all. This is a bit of a bummer, since, as recently noted, I'm not very good at self-motivation. My favorite line so far in Nancy Wilson's The Fruit of Her Hands is when she tells the story of someone asking her, when her kids were small, how she kept her house so clean. "I work really hard -- all the time," was her brilliant reply. Please pray that I'll be suddenly filled with that kind of spirit!
Posted by Valerie (Kyriosity) at 12/03/2004 04:27:00 PM • • Permalink
Links to This Post

The Blogosphere Loses a Bright Star
Well, a green star, at any rate.
Posted by Valerie (Kyriosity) at 12/03/2004 10:49:00 AM • • Permalink
Links to This Post
Thursday, December 02, 2004 AD

Reforming Valerie
I didn't expect Doug Wilson's Reforming Marriage to contain much that I could apply immediately. I was sort of reading it for possible future reference, but was surprised to find it so helpful now.

Mr. Wilson talks about all marriages being a picture of Christ and the Church, and describes how some are good, accurate pictures and others are lies. Since my personal history has not included a lot of close-up views of the good, accurate kind of pictures, the lies are pretty deeply ingrained. While I didn't intentionally read the rest of the book thinking, "This is how Jesus treats me as a member of His Bride, and this is how I'm supposed to respond to Him," I've found myself checking my thoughts about Him as well as my own attitudes against that standard for the past couple days. It's been helpful. I find I can believe, at least a little, that I have a strong but gentle, holy but kind Lord after all.

I've also had this bit from Stepping Heavenward on my mind:
Feb. 7 [1834] -- After writing that, I do not know what made me go to see Dr. Cabot. He received me in that cheerful way of his that seems to promise the taking one's burden right off one's back.

"I am very glad to see you, my dear child," he said.

I intended to be very dignified and cold. As if I was going to have any Dr. Cabot's undertaking to sympathize with me! But those few kind words just upset me, and I began to cry.

"You would not speak so kindly," I got out at last, "if you knew what a dreadful creature I am. I am angry with myself, and angry with everybody, and angry with God. I can't be good two minutes at a time. I do everything I do not want to do, and do nothing I try and pray to do. Everybody plagues me and tempts me. And God does not answer any of my prayers, and I am just desperate."

"Poor child!" he said, in a low voice, as if to himself. "Poor, heart-sick, tired child, that cannot see what I can see, that its Father's loving arms are all about it!"

I stopped crying, to strain my ears and listen. He went on.

"Katy, all that you say may be true. I dare say it is. But God loves you. He loves you."

"He loves me," I repeated to myself. "He loves me! Oh, Dr. Cabot, if I could believe that! If I could believe that, after all the promises I have broken, all the foolish, wrong things I have done and shall always be doing, God perhaps still loves me!"

"You may be sure of it," he said, solemnly. "I, minister, bring the gospel to you to-day. Go home and say over and over to yourself, 'I am a wayward, foolish child. But He loves me! I have disobeyed and grieved Him ten thousand times. But He loves me! I have lost faith in some of my dearest friends and am very desolate. But He loves me! I do not love Him, I am even angry with Him! But He loves me!'"

I came away, and all the way home I fought this battle with myself, saying, "He loves me!" I knelt down to pray, and all my wasted, childish, wicked life came and stared me in the face. I looked at it, and said with tears of joy, "But He loves me!" Never in my life did I feel so rested, so quieted, so sorrowful, and yet so satisfied.
Most of my favorite parts of that book, i.e., the ones with which I most strongly identify, are in the beginning, when Katherine is most immature, because I am still so immature. But He loves me. :-)
Posted by Valerie (Kyriosity) at 12/02/2004 07:28:00 PM • • Permalink
Links to This Post
Wednesday, December 01, 2004 AD

A Trivial Pursuit
See a list of people I was smarter than in November. Since I don't have a computer at home, I had to get creative on the weekends (thanks, Karen!).

Kristin was really impressive, though. She came into the contest...what...almost halfway through the month?...and racked up some big scores to come in third place.

I didn't do as well on the Daily High Post quiz, partly because I missed too many days.
Posted by Valerie (Kyriosity) at 12/01/2004 01:41:00 AM • • Permalink
Links to This Post