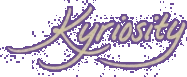 (KE'RE OS'I TE) N., A LONGING TO LOOK
INTO THE THINGS OF THE LORD [C.1996 < GK.
KYRIOS LORD + -ITY; IMIT. CURIOSITY]
Visit The Old Kyriosity Shop

Monday, December 13, 2004 AD

Why Can't I Ever Think of Good Comebacks in Time?
Had my first-ever abusive telemarketer Friday night. Nasty, nasty fellow. I was so taken off guard that I confess I let him get to me. At one point he asked to speak to my husband. If I'd had any sense whatsoever, I'd not have told him I hadn't got one. He, of course, said something obnoxious about why I didn't have one, and I finally hung up on him. Here's what I wished I'd had the presence of mind to say: "The Lord my Maker is my husband, and He's gonna smite your a-- for all eternity!"

And the moral of the story is, Don't get mad, get imprecatory.

(And before anyone yells at me, I did also pray for his repentance...eventually.)

P.S. Does anyone know where to report such things, or if it's worth the bother?
Posted by Valerie (Kyriosity) at 12/13/2004 05:25:00 PM • • Permalink
---
Links to this post:
---
Home