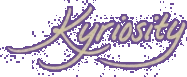 (KE'RE OS'I TE) N., A LONGING TO LOOK
INTO THE THINGS OF THE LORD [C.1996 < GK.
KYRIOS LORD + -ITY; IMIT. CURIOSITY]
Visit The Old Kyriosity Shop

Wednesday, December 01, 2004 AD

A Trivial Pursuit
See a list of people I was smarter than in November. Since I don't have a computer at home, I had to get creative on the weekends (thanks, Karen!).

Kristin was really impressive, though. She came into the contest...what...almost halfway through the month?...and racked up some big scores to come in third place.

I didn't do as well on the Daily High Post quiz, partly because I missed too many days.
Posted by Valerie (Kyriosity) at 12/01/2004 01:41:00 AM • • Permalink
---
Links to this post:
---
Home