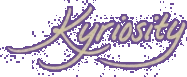 (KE'RE OS'I TE) N., A LONGING TO LOOK
INTO THE THINGS OF THE LORD [C.1996 < GK.
KYRIOS LORD + -ITY; IMIT. CURIOSITY]
Visit The Old Kyriosity Shop

Wednesday, December 08, 2004 AD

'Not Quite,' Indeed
Sherry of Semicolon links to a NY Times article about "natalists" -- the author's term for those shocking people who have "three, four or more kids." I just skimmed the article, and it's not entirely negative, but it does contain at least one very silly statement: "People who have enough kids for a basketball team are too busy to fight a culture war." Whoosh! That was the sound of the truth whizzing past the author's head. As Sherry says, "Not quite." The author has clearly never read this:
Behold, children are a heritage from the LORD,
the fruit of the womb a reward.
Like arrows in the hand of a warrior
are the children of one's youth.
Blessed is the man
who fills his quiver with them!
He shall not be put to shame
when he speaks with his enemies in the gate.
Godly families raising godly children are not only fighting a culture war, they're building a kingdom!
Posted by Valerie (Kyriosity) at 12/08/2004 05:26:00 PM • • Permalink
---
Links to this post:
---
Home