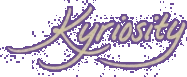 (KE'RE OS'I TE) N., A LONGING TO LOOK
INTO THE THINGS OF THE LORD [C.1996 < GK.
KYRIOS LORD + -ITY; IMIT. CURIOSITY]
Bio: Verily Valerie

Valerie is a 42-year-old, single, Reformed Christian lady who lives in Baltimore. She doesn't remember a time before she knew and loved Jesus, but she does remember accepting John Calvin into her heart in March of 2000. Valerie is a member of Christ Reformed Evangelical Church in Annapolis.

Though her career aspiration is to be a housewife, Valerie has not yet found anyone suitable who wishes to hire her for employment in that field (or, more properly, anyone suitable has not found her), so in the meantime she earns her daily bread working in communications -- editing, writing, print design and website management.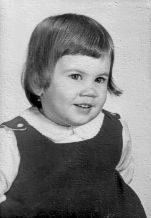 E-Mail
valerie [at] kyriosity [dot] com

AIM/YM
valkyriosity

My TTLB Ecosystem Details
Visit The Old Kyriosity Shop

Monday, July 28, 2008 AD
Deliverance

I've recently come out of a long, dark season of the kind of doubt I described in my last post. A couple weeks ago, July 12, to be exact, the darkness lifted, and I began to believe again as I haven't in a long time that God's love is really for me. The relief is indescribable. But I've also been feeling rather tentative -- as if I'm learning to walk again after a serious trauma. Is the ground really going to stay firm under my feet, or is it going to give way and leave me to slide back into horror? Again and again it has stayed firm as I have sinned and confessed and been able to believe that I really am forgiven -- that I have instant and complete freedom from the burden of my sin. I don't remember a time before I knew Christ, but there have been a few turning points in my life that have been significant enough to be called conversions. This one has been a conversion of "repentance without regret" that has brought a peace and a joy that I've never known before. It's been a conversion from believing ugly lies to believing the beautiful truth of a heavenly Father who really does love me.
The pangs of death surrounded me,
And the floods of ungodliness made me afraid.
The sorrows of Sheol surrounded me;
The snares of death confronted me.
In my distress I called upon the LORD,
And cried out to my God;
He heard my voice from His temple,
And my cry came before Him, even to His ears.

....

He sent from above, He took me;
He drew me out of many waters.
He delivered me from my strong enemy,
From those who hated me,
For they were too strong for me.
They confronted me in the day of my calamity,
But the LORD was my support.
He also brought me out into a broad place;
He delivered me because He delighted in me.

Psalm 18:4-6, 16-19, NKJV
Posted by Valerie (Kyriosity) at 8:19 PM • Permalink
• • 0 comments
Don't Worry. It's Only Sin.
Ye who think of sin but lightly,
Nor suppose the evil great,
Here may view its nature rightly,
Here its guilt may estimate.
Mark the Sacrifice appointed!
See Who bears the awful load!
'Tis the Word, the Lord's Anointed,
Son of Man, and Son of God.
Think not, dear reader, that I intend to contradict the sentiment of that stanza from the lovely hymn "Stricken, Smitten and Afflicted." If you are thinking of sin too lightly, then you indeed require whacking upside the head with something heavy and wooden and cruciform.

But there's an equal and opposite danger in give sin too much weight -- to view it as the immovable object. Happily, the same prescription cures this malady of misunderstanding. Looking at the cross, seeing that the Lord Jesus really has borne the awful load fully and effectively, we can understand that the burden is no longer ours. We can stop panicking that the world will come to an end because we've done

that

or because we've done that

again

. More importantly, when we see at the cross what He willingly suffered

for us

, we can stop panicking that He's somehow now going to get fed up and change His disposition to one other than extraordinary love and grace.

Compared to the trifle we want to excuse it as, sin is a dark and heavy and dreadful thing. But compared to the abundant strength of God's grace, it is indeed a trifle.
"And all the wickedness in the world that man might work or think is no more to the mercy of God than a live coal in the sea." (William Langland, c. 1400)
Posted by Valerie (Kyriosity) at 5:33 PM • Permalink
• • 0 comments
Great Reminder from Mark Horne
How to be spiritual according to the Bible.
Posted by Valerie (Kyriosity) at 12:54 PM • Permalink
• • 1 comments
Sunday, July 27, 2008 AD
A Lovely Communion Meditation from Doug Wilson
Stones for Bread?
Posted by Valerie (Kyriosity) at 12:14 AM • Permalink
• • 1 comments
Saturday, July 26, 2008 AD
Hail, Valerie, Full of Grace

So today I managed to trip on the sidewalk in front my my friends' house and do a faceplant. Quite the graceful move if I do say so myself. Actually, I thought it was quite clever of me to manage to smack my head into the lawn rather than on the concrete. I sort of lay there for a moment, partly from shock and partly running a mental check to ensure that all systems were go -- ankle, check; wrist, check; back, check. I got a tiny little scrape on my left hand, and I'm going to take some Ibuprofen tonight to ward off the any latent aches and pains that might sneak up on me while I sleep. I was grateful it wasn't worse, which it certainly could have been. So I'm glad God is full of grace, even if I seem to have a shortage thereof!
Posted by Valerie (Kyriosity) at 10:46 PM • Permalink
• • 0 comments
Well, At Least My Tax Money Isn't Being Wasted on Editors

We wouldn't want City notices to be going out looking as if someone literate wrote them, now would we? Ergo, they are sent to "all residence" rather than "all residents."
Posted by Valerie (Kyriosity) at 8:56 PM • Permalink
• • 0 comments
Tuesday, July 22, 2008 AD
And I Don't Think We Ever Grow Out of It

From Chronicles of the Schönberg-Cotta Family by Elizabeth Rundle Charles, quoting Martin Luther:


Posted by Valerie (Kyriosity) at 3:07 PM • Permalink
• • 2 comments
Saturday, July 19, 2008 AD
The Nanny City

The Baltimore City mayor's office is evidently calling everyone in the city today with a recorded message to tell them there's a heat advisory. My ridiculously high tax dollars at work.
Posted by Valerie (Kyriosity) at 1:04 PM • Permalink
• • 1 comments
Friday, July 18, 2008 AD
Enjoyable Free Movie
Captain from Castille
Posted by Valerie (Kyriosity) at 10:40 PM • Permalink
• • 0 comments
Why Do People Find This Comforting?

I have been to three funerals within seven weeks. I'd like to say, for the record, that I consider that Quite Enough, thankyouverymuch. In conjunction with each of these deaths, someone or multiple someones has/have said at some point or at multiple points, "He/she is looking down on us." Ugh! Creeps me the heck out every time. I've got no problem with God looking down on me. In fact I'd be pretty unhappy to learn that He wasn't. But the notion of my dead friends and relatives peering from on high makes me want to draw the blinds. Happily, I don't think voyeurism by the dead is supported in Scripture, so I can just put on my fake smile and not respond to the speaker. Some people really seem to find the concept comforting, though. I just don't get that perspective. Do you?
Posted by Valerie (Kyriosity) at 10:05 PM • Permalink
• • 5 comments
Thursday, July 17, 2008 AD
Just Overheard

She: "Throw 'em my way."

He: "Throw 'em away?"

She: "No! Give 'em to me!"
Posted by Valerie (Kyriosity) at 1:55 PM • Permalink
• • 0 comments
Is There Any Hope for My Moral Character?

As most of my readers will know, I crochet.

Crochet

is the French word for

hook

, which makes me a hooker. Yesterday I began learning Flash, so when I start using it, I suppose I will become a flasher. What's next? Will I start removing paint or varnish and become a stripper? Maybe I should...because at least then I could repaint and thin no more!
Posted by Valerie (Kyriosity) at 10:07 AM • Permalink
• • 3 comments
Wednesday, July 16, 2008 AD
The Princess and the Pea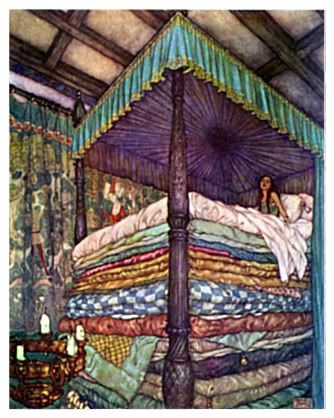 I'm watching a software training video wherein the instructor has used the phrase "is comprised of" four or five times in two minutes. He means, of course, "is composed of." "Is comprised of" is nonsensical. It's parallel to saying, "is encompassed of." And though it is the sort of modern parlance to which I should probably have learned to inure myself long ago, it leaves my aural sensitivities as bruised and battered as the bottom of the princess who could feel the pea 'neath the twenty mattresses and twenty feather beds. One might even call it a royal pain. Sadly, the metaphorical bedding of my life lies atop a veritable legion of legumes -- poor grammar, usage, pronunciation, punctuation, logic, etc. ceaselessly assault me.

All of which serves to remind me of how my real, actual

sins

must batter the spirits of those who observe them. My vegetative vexations are akin to what a man with perfect pitch endures when dwelling amidst the off-key. Yes, it's a real irritation, but it shouldn't be a big, dramatic trial to endure it. I know I've gotten spiritually out of whack when I allow such irritations to rise to the level of anger. Perhaps it'll be a sign of spiritual maturity if I ever learn to stop hearing and seeing the errors, but in the meantime, since I earn my daily bread in part by the sweat of my editorial brow, I guess I'd better not let my senses grow so dull!
Posted by Valerie (Kyriosity) at 2:27 PM • Permalink
• • 1 comments
Tuesday, July 15, 2008 AD
Bella
Muy bella.
Posted by Valerie (Kyriosity) at 10:39 PM • Permalink
• • 2 comments
Monday, July 7, 2008 AD
Flashback!

When I was a kid, I would often skip worship to go sit in the church library and read Spire Christian comic books. They were way better than anything coming out of the pulpit of that church. I'm not kiddin', man...these things were actually formative in my spiritual life. The biographical ones were better than the Archie ones, but I read all the ones we had over and over again. Anybody else have memories of Spire comics?
Posted by Valerie (Kyriosity) at 1:47 AM • Permalink
• • 4 comments
Sunday, July 6, 2008 AD
Crocheting Update

Started the year with 52 squares left to go. On July 4 I completed number 26 of those 52 (106 of the total 132), so I'm pretty much on track for the year.
Posted by Valerie (Kyriosity) at 9:27 PM • Permalink
• • 0 comments
What Does This Mean?
Then He said to them, "Take heed what you hear. With the same measure you use, it will be measured to you; and to you who hear, more will be given. For whoever has, to him more will be given; but whoever does not have, even what he has will be taken away from him." (Mark 4:24-25)
I know what it feels like it means, and that feeling isn't very nice.
Posted by Valerie (Kyriosity) at 7:29 PM • Permalink
• • 0 comments
Thursday, July 3, 2008 AD
Netflix So Far

I joined Netflix and made a queue based largely on y'all's recommendations. Here's what I've seen so far:

"North and South" -- Good story.
"Sweet Land" -- Made me cranky.
"Dear Frankie" -- Me like.

Haven't been crocheting while I watch, though...just veggin'.

Sorry for the dearth of anything sensible 'round these parts. Someday my brain might start working again and come up with something worth saying.
Posted by Valerie (Kyriosity) at 10:41 PM • Permalink
• • 0 comments
---