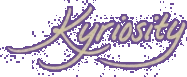 (KE'RE OS'I TE) N., A LONGING TO LOOK
INTO THE THINGS OF THE LORD [C.1996 < GK.
KYRIOS LORD + -ITY; IMIT. CURIOSITY]
Bio: Verily Valerie

Valerie is a 42-year-old, single, Reformed Christian lady who lives in Baltimore. She doesn't remember a time before she knew and loved Jesus, but she does remember accepting John Calvin into her heart in March of 2000. Valerie is a member of Christ Reformed Evangelical Church in Annapolis.

Though her career aspiration is to be a housewife, Valerie has not yet found anyone suitable who wishes to hire her for employment in that field (or, more properly, anyone suitable has not found her), so in the meantime she earns her daily bread working in communications -- editing, writing, print design and website management.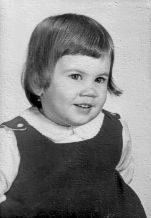 E-Mail
valerie [at] kyriosity [dot] com

AIM/YM
valkyriosity

My TTLB Ecosystem Details
Visit The Old Kyriosity Shop

Monday, July 28, 2008 AD
Deliverance

I've recently come out of a long, dark season of the kind of doubt I described in my last post. A couple weeks ago, July 12, to be exact, the darkness lifted, and I began to believe again as I haven't in a long time that God's love is really for me. The relief is indescribable. But I've also been feeling rather tentative -- as if I'm learning to walk again after a serious trauma. Is the ground really going to stay firm under my feet, or is it going to give way and leave me to slide back into horror? Again and again it has stayed firm as I have sinned and confessed and been able to believe that I really am forgiven -- that I have instant and complete freedom from the burden of my sin. I don't remember a time before I knew Christ, but there have been a few turning points in my life that have been significant enough to be called conversions. This one has been a conversion of "repentance without regret" that has brought a peace and a joy that I've never known before. It's been a conversion from believing ugly lies to believing the beautiful truth of a heavenly Father who really does love me.
The pangs of death surrounded me,
And the floods of ungodliness made me afraid.
The sorrows of Sheol surrounded me;
The snares of death confronted me.
In my distress I called upon the LORD,
And cried out to my God;
He heard my voice from His temple,
And my cry came before Him, even to His ears.

....

He sent from above, He took me;
He drew me out of many waters.
He delivered me from my strong enemy,
From those who hated me,
For they were too strong for me.
They confronted me in the day of my calamity,
But the LORD was my support.
He also brought me out into a broad place;
He delivered me because He delighted in me.

Psalm 18:4-6, 16-19, NKJV
Posted by Valerie (Kyriosity) at 8:19 PM • Permalink
• • 0 comments
---
0 Comments:
---
---