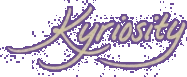 (KE'RE OS'I TE) N., A LONGING TO LOOK
INTO THE THINGS OF THE LORD [C.1996 < GK.
KYRIOS LORD + -ITY; IMIT. CURIOSITY]
Bio: Verily Valerie

Valerie is a 42-year-old, single, Reformed Christian lady who lives in Baltimore. She doesn't remember a time before she knew and loved Jesus, but she does remember accepting John Calvin into her heart in March of 2000. Valerie is a member of Christ Reformed Evangelical Church in Annapolis.

Though her career aspiration is to be a housewife, Valerie has not yet found anyone suitable who wishes to hire her for employment in that field (or, more properly, anyone suitable has not found her), so in the meantime she earns her daily bread working in communications -- editing, writing, print design and website management.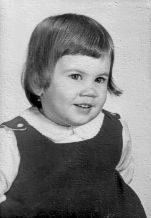 E-Mail
valerie [at] kyriosity [dot] com

AIM/YM
valkyriosity

My TTLB Ecosystem Details
Visit The Old Kyriosity Shop

Friday, February 29, 2008 AD
Leap Day

Someone mentioned this morning that Leap Day is supposed to be the day that women propose to men. This fellow's wife did so 32 years ago.

So...whom should I ask? ;-)
Posted by Valerie (Kyriosity) at 1:55 PM • Permalink
• • 3 comments
'You Can't Have Everything. Where would you put it?'

A friend once asked me to do a calligraphy of that quote for her parents. I never got around to it, but the quote stuck with me. I just Googled it, and Steven Wright gets the credit.

And now I'm the one who needs to hear it. I think I'm dangerously close to having everything, and I'm getting more and more flummoxed as to where to put all of it. My new cake pans arrived today (my cake co-conspirator agreed that we should do square layers, but she didn't have square pans, so it seemed like a good excuse to me for spending money) and there simply isn't a suitable spot for them.

Happily, I have just the right spot to put one even larger item -- my tired body. Good nighzzzzzzzzzzzz!
Posted by Valerie (Kyriosity) at 12:22 AM • Permalink
• • 2 comments
Wednesday, February 27, 2008 AD
Loving Little Ones...and Big Ones

Doug Wilson is in the midst of a sermon series on child-rearing. I always listen to his (and others') family teaching with two things in mind: How can I, as a familyless person, extrapolate and apply this to other relationships? and How does this help me understand myself and my own family better? Pastor Wilson's most recent message addressed breaking the will without breaking the spirit, and what it looks like when the wrong parts are broken or left unbroken: both spirit and will are broken, neither is broken, or the spirit is broken and the will is left unbroken. The message addressed how to avoid those problems, and of course parents could also apply it by correcting their course if they see things going the wrong direction, but didn't go into how to repair the mess if things have gone really awry. I asked this question on Pastor Wilson's blog, but I thought I'd put it here, too, in case anyone had any thoughts on the matter:
I'd be interested in a follow-up on what happens when the wrong parts are broken or left unbroken...not just in children, but in adults who weren't properly disciplined when they were children, and the damage shows. How do we do "remedial parenting" -- in our families, in ourselves, in our churches, in our society? How do we apply the principles of child discipline (we clearly can't apply the means!) to grown-up discipleship?
Posted by Valerie (Kyriosity) at 8:37 AM • Permalink
• • 0 comments
Tuesday, February 26, 2008 AD
I Wish I Were As Cooperative As Satan

Resist the devil, and he will flee from you. Resist the flesh, and it will generally ratchet up its attack a notch or twelve.
Posted by Valerie (Kyriosity) at 9:08 AM • Permalink
• • 0 comments
Monday, February 25, 2008 AD
There Are Few Things Pleasanter in My World...

...than being told by a 5-year-old that she likes it when I come over "because you're our best friend." I don't put much stock in the superlative, of course, but the enthusiastic, if momentary, affection is very much appreciated. She and her 8-year-old sister and I assembled a 100-piece puzzle (the sister counted the pieces by twos when it was completed) and I was enjoying them so much that I hardly minded that the puzzle image was a Precious Moments picture. They sang selections from Oliver most of the evening, with their Bill Sykes renditions evoking particular amusement. We read a few stories (I need to keep a stash of books in my car so I can always have something new and different to share with them). I attempted to mediate their perpetual bickering ("If you cannot cooperate, the guitar will go away" produced the desired shock and awe, and whispered encouragement toward kindness met with some success, but I mostly felt rather at a loss in this department). And I had my first experience of the near-impossible task of putting sheets on a bottom bunk bed (this is not the stuff of which contortionists are made). The only real problem, as always, was having to go home. If I can't have my own family, living with somebody else's would be second best. Then I wouldn't have to give myself away in such little bits and pieces that can't possibly add up to much.
Posted by Valerie (Kyriosity) at 9:21 PM • Permalink
• • 3 comments
Saturday, February 23, 2008 AD
Highly Recommended Listening

The following quote is from "The Spirit-Filled Life," a sermon preached by K.C. Rumrey at Christ Church, Moscow, Idaho, on February 10. It should remain available for download for about 7 or 8 weeks from now.
As we come to verses 14-26 [of 1 Corinthians 12], Paul's point here is that God has put the body together

exactly

the way he wants it. In verse 18 he says, "God arranged the members in the body, each one of them, as He chose." Paul's speaking to the church at a local level here, and he's saying that God has put this body together

exactly

the way He wants it. This statement by Paul would have dismissed any complaints that the Corinthians may have had about the fellow brothers and sisters that they were worshiping with. This statement, the fact that God has put this body together exactly the way He wants it, needs to have an effect on

us

. It needs to have an impact on

your

understanding of the brothers and sisters around you. The fact that God has given the gifts that we have as a church -- He's given us the

exact

gifts that He wants us to have -- every single member, from the bottom up, and the gifts that they have are exactly what God wants. And the gifts that we don't have? The gifts that we're lacking? We're not to be all that concerned about that. And we're certainly not to complain about that. We're to have

no

complaints about God's work. What we are to be concerned about is using the gifts that He has given us, being responsible for those gifts so that we may reflect Him in this community and amongst one another.
I love the local church. Although it doesn't explicitly mention it, this message is one of the best arguments I've ever heard in favor of membership and commitment to a local congregation of Christ's body. The gifts aren't just a collection of enablements, the gifts are

people

. Without committed membership, how would we even know what gifts we had in our body, much less count on them? So here's to membership vows, and the keeping of them, and the refusal to take them lightly by walking away without sufficient cause. Most importantly, here's to brotherly affection and love. Here's to seeing one another as gifts, and being grateful for those gifts. Here's to seeing ourselves as gifts, giving ourselves away by yielding to the Spirit's bestowal of us on one another. Here's to greater zeal in service, greater fervor in prayer, greater generosity in hospitality, greater courage in encouragement, greater self-abandonment in humility. Here's to repentance for all the ways in which we've failed one another, greater willingness to forgive and to seek forgiveness from one another. Here's to seeing and delighting in one another with gracious eyes that behold every brother and sister as a glorious light shining in a crooked and perverse world. Here's to being clearly recognizable (and deeply enviable) as Christ's disciples because we have love one for another.

Mr. Rumrey goes on to note two things that we need to learn in order to care rightly for one another and to avoid divisions in the body:
In verse 26 he says that we need to learn to suffer. We need to learn to suffer, and we need to learn to rejoice. ... If you want to live as the body of Christ in such a way that would glorify Him and reflect Him, you need to learn to suffer and you need to learn to rejoice like Him. Yet, like the Trinity, it's learning to suffer for others, and it's learning to rejoice for others. For it's not all that difficult to learn to suffer when the pain is welling up in your own body. And it's not all that difficult to rejoice when

you

are the one that's being honored. But we need to understand that this is

exactly

what Paul's point was -- that when a member of the body of Christ suffers, the most natural thing to do is to suffer with them. And when a member of the body of Christ is honored, the most natural thing to do is to rejoice with them. And in Paul calling the Corinthians and calling us to live in such a way, he's calling us to be the most intimate and unified of families.

Think about it: as parents, when we see our children suffering, we go through mental agony. Why? Because we want to take that pain, we want to take that suffering upon ourselves more than anything. ... And when our children are honored and blessed, we seem to rejoice, and we seem to experience more joy than they do, or anybody else. And this is the way that Paul wanted the Corinthians to conduct themselves with one another. And this is how

we

are to treat one another. And this is how we are to live with one another, as well. ... One thing we must understand is that, just like parenting, suffering with one another is never going to be convenient. ... Suffering with one another is never going to be easy, yet it's in this sacrifice, it's in this

death

that we learn what it means to be truly a parent. ... And it's [not] until we are willing to learn to sacrifice ourselves for one another and suffer for one another -- it's not until we learn to do that [that] we learn what it means to be a Christian, [that] we learn what it means to be like Christ.

Being able to rejoice with others is a different challenge than suffering with others, but it involves the same death you must go through when you suffer with one another. To rejoice with one another, we must be humble, and therefore we must cut off our pride. ... Just like suffering, when we're called to rejoice with one another, it's always going to come at the wrong time. ... It's in the midst of our trials when God will be calling us to rejoice with one another.

Paul, throughout this letter, has set him[self] forth to the Corinthians as a model, as a picture for them to imitate. He tells them, "Imitate me! Imitate me as I imitate Christ." How did Paul imitate Christ? In chapter 9, verse 19, Paul said that though he was free, he made himself a servant of all. Sounds a lot like Christ, the most free of all beings, the most glorious, most powerful, yet He relinquished that freedom and became a servant, a servant to the point of death. Paul, in chapter 9, verse 22, said [that] to the weak he became weak. Paul, in some sense, becomes what he's not. Jesus becomes what He's not. Though He's God, though He's all-powerful, all-knowing, perfectly free, He becomes a slave, He becomes weak, He becomes a servant to the point of death. And this is what Paul's calling

us

to do here when he tells us to suffer with one another and to rejoice with one another. Even though we may not be suffering, even though we may not be pained, he says, suffer. That's radical! That takes the incarnation. That's the only way that that can happen -- that type of radical change. And if you want to be Emmanuel, God with us, it can happen through the Spirit of God. But that takes place when we're willing to suffer for those who are suffering and rejoice with others when we're not necessarily being blessed right now -- at least it doesn't appear that way; at least it doesn't feel that way. We're to relinquish our freedoms and become enslaved to one another.

I'm going to end with this quote. C.S. Lewis in

The Weight of Glory

captures this great calling and responsibility of ours to be other-oriented, to be focused on serving those around us. He says,

It may be possible for each to think too much of his own potential glory hereafter; it is hardly possible to think too often or too deeply about that of his neighbor. The load, or weight, or burden of my neighbour's glory should be laid daily on my back, a load so heavy that only humility can carry it, and the backs of the proud will be broken. It is a serious thing to live in a society of possible gods and goddesses, to remember that the dullest and most uninteresting person you talk to may one day be a creature which, if you saw it now, you would be strongly tempted to worship, or else a horror and a corruption such as you now meet, if at all, only in a nightmare. All day long we are, in some degree, helping each other to one or other of these destinations. It is in the light of these overwhelming possibilities, it is with the awe and the circumspection proper to them, that we should conduct all our dealings with one another, all friendships, all loves, all play, all politics.

It is in the light of the potential glory of the church of God, it is in the light of the potential glory of your fellow brothers and sisters in Christ that you are called to do all that you do.

The Spirit-filled life is a life that is filled with suffering and rejoicing. We are not to be all that concerned with the suffering we are going through, or even the honor that we are receiving. We are to be more concerned with the suffering and rejoicing of those around us, and finding ways that we can share in it. It is in the suffering and joy of those around us where life is taking place, and if we are not willing to share with them in that suffering and joy, then we will be out of step with the Spirit, and life will pass us by.
Amen and amen and amen! Lord, grant that this message would sink deep into my stubborn, selfish bones...and into the stubborn, selfish bones of everyone in my beloved church, that we might truly live with the life of Christ!
Posted by Valerie (Kyriosity) at 10:28 AM • Permalink
• • 2 comments
Tax Collectors

I wonder if those of us conservative types who recognize and hate the idolatry that looks to the state as messiah should, when we hear the phrase "tax collectors" in Scripture, train ourselves to think of those who orchestrate the mass theft through taxation for the sake of their own power and affluence. Could we stomach the thought that left-wing politicians might get into heaven before their decent, hard-working victims? But idolaters and thieves need to repent, we squirmishly object. OK. So then let's embrace the idea that Jesus might actually want to save such folks, and think of them accordingly...with compassion, hope, and fervent prayer for an abundant harvest.
Posted by Valerie (Kyriosity) at 9:19 AM • Permalink
• • 1 comments
Friday, February 22, 2008 AD
People Who Live in Glass Houses Become Good Glaziers

I'm amused when people think that because I am an editor, I must be a perfect typist, speller, and grammarian myself. Quite the contrary. I'm a mess! But since I do want my work to be perfect, and do attempt not to blunder too ridiculously too often, I tend to assume that other writers have the same goals in mind, and am therefore ever so generously helpful with bestowing corrections!
Posted by Valerie (Kyriosity) at 9:07 PM • Permalink
• • 0 comments
Insert Happy Dance Here

Sometimes I love living in Maryland. We got a snow day today, so I don't have to go into the office. I have my laptop at home, so I will get some work accomplished, but I'm also going to have free housework time that I very much need. I'm going to start with the very exciting task of replacing my toilet seat...woo-hooooo!
Posted by Valerie (Kyriosity) at 9:06 AM • Permalink
• • 4 comments
Monday, February 18, 2008 AD
Repentance Is Sweet

One wouldn't expect it to be, but that betrays one's worldly mindset -- a mindset that is more familiar with the bitterness of getting caught and having to face one's wrongdoing. But for the believer, repentance is sweet, not only because it is the path to the grace of forgiveness and restoration, but because it is itself a grace. How kind of God to grant this turning, this relinquishing, this bowing. How completely undeserved. And what a blessed, blessed relief!
Posted by Valerie (Kyriosity) at 9:24 PM • Permalink
• • 0 comments
Sunday, February 17, 2008 AD
Fondant Cutters

I've been window shopping for fondant/gumpaste cutters and made myself a wish list (alas, I can't link to it in my sidebar because I'm the only one who can see it) of about 55 items. Considering the average price of those items is (I'm guessing) about $15-20, I don't suppose I'll ever own them all, but at least when I feel the itch to add one or two to my collection now and then, I'll already have the possibilities narrowed down. Oh, and these, too.

Or I could go this route (or this alternate route), and make my own. Which just goes to show you that crafts are like bunnies...they breed prolifically after their own kind. But the supply list isn't too terribly long and wouldn't take up too terribly much space and the basic kit wouldn't cost too terribly much money, so it might be worth the investment.

In related news, I made two more cakes yesterday -- four in one week! -- and will post photos sometime soon.
Posted by Valerie (Kyriosity) at 5:26 PM • Permalink
• • 0 comments
Thursday, February 14, 2008 AD
'Nuther One
Posted by Valerie (Kyriosity) at 1:47 PM • Permalink
• • 6 comments
Wednesday, February 13, 2008 AD
Huh. How Have I Missed That for So Long?



More so

is two words, not one. As you can see, I'm very accustomed to using it incorrectly. I repent in sackcloth and ashes!
Posted by Valerie (Kyriosity) at 3:05 PM • Permalink
• • 3 comments
Latest Challies Giveaway

Enter by clicking the banner below, and I get an extra chance to win!


Posted by Valerie (Kyriosity) at 10:11 AM • Permalink
• • 0 comments
iFound

It's all Margaret's fault. She's the one who made me the lovely apron with the deep pockets, perfect for porting a 'Pod while puttering. The realization of this fact finally wended its way up to my consciousness through one of those slow, lazy, circuitous routes my thoughts like to travel, and behold, there it was. What once was lost is now found, and there will momentarily be a small party in my ears to celebrate the occasion.
Posted by Valerie (Kyriosity) at 9:05 AM • Permalink
• • 2 comments
Monday, February 11, 2008 AD
BTQ Missionary

Paulo has a sideline site whose purpose it is to educate the world on the true meaning of begging the question. It appears that for Reformation Day (I'm

sure

that's what the man was celebrating), a friend of Pau's fan of Pau's site dressed up as a BTQ missionary. Linguistically obsessive semantic prescriptivists everywhere salute this brave witness, and we wish to know how to subscribe to his prayer letter and where to send support checks!
Posted by Valerie (Kyriosity) at 11:30 PM • Permalink
• • 2 comments
Whaddaya Think? Should I Do It?

Mid-Atlantic Cake Show and Wedding Cake Competition

It would be a great way (and great timing) to practice the wedding cake -- I could do it with dummies -- and it would be jolly good fun! I could enter in the beginner class, so I won't have to be too intimidated by the really good folks. It'd be a little pricey for the supplies, considering the "cake" won't really be

for

anything, but I think it would be a reasonable investment if I'm going to keep going with this hobby. I'm so timid about "wasting" money and time on something like this, but this post keeps coming to mind....
Posted by Valerie (Kyriosity) at 10:00 PM • Permalink
• • 5 comments
Damned If You Do, Damned If You Don't

Could this post be any clearer in saying so? Pastor Wilkins and AAPC "bolted" from the PCA, but Duane Garner wants to stay, and the writer "can't imagine why he wouldn't flee." I, too, am surprised that Duane wants to stay, but bully for him, sez I.
Posted by Valerie (Kyriosity) at 3:11 PM • Permalink
• • 6 comments
Valentine's Cake 2008

Angie kindly snapped this cellphone image of the Valentine's cake I made for yesterday's fellowship dinner. I used some of the same cutters I'm planning to use for the wedding cake. I think I'm going to have to try gumpaste next. It can be rolled thinner than fondant, from what I understand, and I think will work better with small, delicate cutouts.

Happily, my wedding cake co-conspirator has the skill (which I obviously lack!) of getting buttercream really, really smooth. She also possesses actual baking talent. In other words, she's the substantive one...I'm just superficial! ;-)

Hey...didn't think it had turned out, but here's a shot I took the night before (well, ~2:30 Sunday morning):


Posted by Valerie (Kyriosity) at 4:57 AM • Permalink
• • 3 comments
Saturday, February 9, 2008 AD
What a Difference a Knife Makes

For Christmas, my Secret Santa from a Secret Forum sent me this knife from my Amazon wish list. I have never owned a decent knife in my entire life, and had no idea that they could do such wonderful things. I can now score communion bread without fearing I'm going to ruin the loaf, and, wondrousness of wondrousnesses, I just diced a big, fat onion into teeny-tiny pieces without having to stop, wash my eyes out, use every ounce of willpower not to scream in agony, and vow never to use real onions in anything I cook for the rest of my life. I didn't know it was possible to cut an onion without worrying I'd go blind in the process. Definitely in my top ten favorite Christmas presents ever!
Posted by Valerie (Kyriosity) at 7:03 PM • Permalink
• • 3 comments
iSad

My iPod's gone AWOL. My computer speakers are dead. This means no playing music in my house. :-(
Posted by Valerie (Kyriosity) at 4:49 PM • Permalink
• • 0 comments
Harold Camping Was Right! We Should Give Up on the Church!

"For God so loved the world that He gave His only begotten Son that whosoever believeth in Him

should not parish!

"

(I wonder if this should be a corollary to The Nancy Rule: No puns before six a.m.?")
Posted by Valerie (Kyriosity) at 5:48 AM • Permalink
• • 3 comments
Friday, February 8, 2008 AD
Dress for Success

And don't forget the missing piece!
Posted by Valerie (Kyriosity) at 8:41 PM • Permalink
• • 1 comments
Wedding Cake Sketch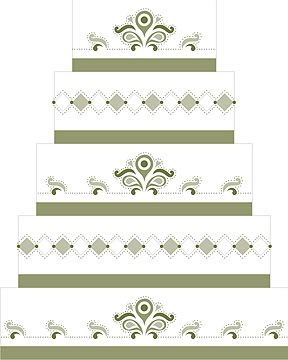 White buttercream, 3/4" green ribbon (picked it up at Jo-Ann's the other night), fondant cutouts (indulged myself in some cutters a few months ago...it was hard not to buy them all!), piped dots (that's the skill I feel shakiest about...and shakiness doesn't go well with delicate piping!). Wedding's May 31. I think I need some practice in the meantime. I'm thinking something Valentiney for Sunday's fellowship dinner, and...hmmm...I wonder if anyone's got a birthday coming up next week and wants a snickerdoodle cake...hmmm....
Posted by Valerie (Kyriosity) at 7:30 PM • Permalink
• • 10 comments
Shame and Grace

Christians can live one of two ways: They can live in shame, defining themselves by their sin or others sin against them, or they can live in grace, the anti-shame, defining themselves by Christ's righteousness. The objective reality for those in Christ is that they

are

defined by His righteousness, but too often their self-understanding is based in something else. (Of course those who aren't in Christ really are defined by their sin, but let's leave them out of the picture for now.)

I don't mean to say, of course, that Christians aren't still sinful. Of course we are, and if you think otherwise, let me help you name your first clear sin: self-delusion. But in the stark black-and-white reality of sheep and goats, God looks at us and sees holiness.

If you are in Christ, it is unbelief to define yourself by your sin or others' sin against you and it is sin to act on that unbelief.

Here's the sort of picture that started me thinking along these paths: If someone has been abused, abandoned, neglected, or in some other way treated unjustly, it is very, very easy for his self-identity to be wrapped up in those things. They are powerful, so he thinks they are gods, and he worships them and lets them define him. It's spiritual Stockholm syndrome. He says, consciously or unconsciously,

I am worthless, unlovable, powerless, etc. I have nothing, and therefore I have nothing to give, so I will go bury my one nothing talent in the dirt where it belongs...where I belong. I will not reach out to others, because they won't want me; I would just be a nuisance to them; they would just reject me, too. Nothing I do is of worth, so it doesn't matter if I do nothing...in fact, it's probably better that way. When God said, "Thou shalt love," He clearly couldn't have talking to me.

And so the thoughts go on and on in a suicidal spiral of self-pity, morbid introspection, and all manner of other sin.

Again the answer is in glorifying and thanking God. It is in believing Him -- whatever He says. It is in believing the implications of every command -- that they are for each of us and that He wouldn't ask anyone to do anything He hasn't empowered him to do.

The psychobabblers want us to think the answer is in self-esteem, self-confidence, and the like. But the answer is in esteeming God, in trusting His esteem -- His estimate -- of us, and in living with confidence in Him (which is what faith is) shaping every thought, word and deed.
Posted by Valerie (Kyriosity) at 5:40 PM • Permalink
• • 2 comments
Thursday, February 7, 2008 AD
Now There's a Thought

It's impossible to work heartily for others as unto the Lord if you don't really work heartily for the Lord to begin with. It's impossible to obey the second greatest commandment in any of its permutations if you don't obey the first. And vice-versa, of course: You can't say you love God, whom you've not seen, if you don't love your brother, whom you have.

When I was 12 I "went forward" one night at music camp and told the counselor, "I want to love Jesus better." (It wasn't my conversion, I was already a believer, though a former Baptyterian pastor who heard my story assumed it was so.) I need to keep praying that, and keep measuring the answer by how well I love others around me.

Remembering mercy seems key to this endeavor. It's not just the one who's been forgiven much who loves much, it's the one who

grasps

that she's been forgiven much. Simon, had he sought and found mercy, might have needed more than the foot-washing whore of whom he was so contemptuous. Paul, who did seek and find it, knew that he needed more -- he was the chief of sinners. Anyone who really knows himself knows that he is the chief of sinners -- knows more of his own unworthiness than of Hitler's or Judas's. What do I know of their wrongdoings? A few pages in a history book? A few lines of Scripture? But of myself I know 40 years of rebellious thoughts, words and deeds. How well do I really know the corresponding 40 years of grace? And how much greater do I consider His mercy than I do my sin? If I don't get grace, I can't fight sin. Grace is my fencing instructor. Ingratitude is the path to insanity. Gratitude (for mercies of every sort) must be the other path, the one less traveled by, to sanity, maturity, wholeness, holiness, life.
Almighty God, Father of all mercies, we, thine unworthy servants, do give thee most humble and hearty thanks for all thy goodness and loving-kindness to us and to all men; We bless thee for our creation, preservation, and all the blessings of this life; but above all, for thine inestimable love in the redemption of the world by our Lord Jesus Christ; for the means of grace, and for the hope of glory. And, we beseech thee, give us that due sense of all thy mercies, that our hearts may he unfeignedly thankful; and that we show forth thy praise, not only with our lips, but in our lives, by giving up our selves to thy service, and by walking before thee in holiness and righteousness all our days; through Jesus Christ our Lord, to whom, with thee and the Holy Ghost, be all honour and glory, world without end. Amen. (Order for Daily Morning Prayer, BCP 1928)
Posted by Valerie (Kyriosity) at 5:59 PM • Permalink
• • 0 comments
Tuesday, February 5, 2008 AD
Jonesing for Some Good Reading?

Doug Jones was kind enough to e-mail me the excellent exhortation he delivered at Christ Church a few weeks ago. I requested it because I...uh...have a...uh...friend who could really use a closer perusal of it. I republish it here (only slightly edited...no one is safe from my proofreading propensities, mwahaha!) for your reading pleasure...or for your conviction, whichever the case may be:
The British author Douglas Adams once noted, "In the beginning the Universe was created. This has made a lot of people very angry and been widely regarded as a bad move."

In truth, anger is an art, a rare art. In Scripture, God shows us holy and frightening anger. In Jeremiah 7, the Lord says, "Do they not provoke Me to anger?....'Behold, My anger and My fury will be poured out on this place -- on man and on beast, on the trees of the field and on the fruit of the ground. And it will burn and not be quenched.'" Terrifying anger. We also see it in the life of Jesus, when he overthrows the moneychangers at the Temple.

But this sort of anger is an art. Righteous anger is very rare. Because we see it so much in Scripture we assume that just any amateur can do it. It is truly something that should most often not be tried at home.

What we call anger in our families, especially in fathers, is usually a covering, a mask. Usually a mask for some unspoken guilt in the angry person himself. The angry person has failed in some way, feels guilty, has failed to carry out some responsibility, has abdicated in some petty way, and when someone else, maybe accidentally highlights his abdication, he covers it with an explosion of wrath.

Anger makes you look holy. It seems to raise you up to God's level, where no one dare question you again. It sends everyone scattering so no one can point out your sin. It gives you the moral high ground from which you judge all other complaints. Anger most often, then, is a gross lie. When we see a loss of temper, the angry should be on notice that the first question we will ask is

What is he guilty of? What shame is he hiding? What failure does he wish to cover?

That's what anger means 99 percent of the time.

Even Nietzsche noticed, "No one lies as much as the indignant do." In contrast, in Ecclesiastes we read, "The patient in spirit is better than the proud in spirit. Do not hasten in your spirit to be angry, for anger rests in the bosom of fools" (7:8-10).
That fifth paragraph, in particular, knocked my socks off.

I also commend to you the blog of Pastor Jones

et alii

, Scribblative Agincourting, which looks to be chock full o' interesting political and economic commentary that I will likely discover to be quite over my head.
Posted by Valerie (Kyriosity) at 9:12 PM • Permalink
• • 2 comments
86,400

A couple Sundays ago, while sloshing out an explication of the qualities in 2 Peter 1:5-7, Pastor Knecht defined self-control as "immediate obedience to the promptings of God's Spirit." It was one of those aha! moments when something that surely ought to have been as plain as the nose on my face (and no small appendage, that) suddenly came into view for the first time. I realized that I need to live my life with the question "What do you want me to be doing right now, Lord?" ever on my lips, and whatever His response, the answer "Yes, Lord" ever in my heart.

I am just beginning to ask that question, and so far my follow-through record is pitiful as pitiful can be. We have met the enemy and boy howdy is he ever us. My flesh, large and in-charge, has no interest whatever in giving up its moment-to-moment rule. I'm too tired! too hungry! too angry! too lonely! too achy! too comfortable! to set aside self right this very second and submit to Christ. I'm too wise and too strong, knowing I can get it done later and get it done just fine when I get around to getting it done on my terms. Yeah...that approach has worked just peachy for me lo these forty trips around the sun.

Immediate obedience is the only path to everything I want: peace, joy, security, sanity, holiness, maturity. God grant me the ferocity of will to say yes to Him 86,400 seconds every day. Amen.
Posted by Valerie (Kyriosity) at 7:10 AM • Permalink
• • 0 comments
Monday, February 4, 2008 AD
Domestic News

I've spent a good bit of the evening excavating a portion of my dining room table, which has been buried for far too long. Now I'm at the point of having to do real work on it -- tackle the piles of papers that I moved over there when I switched desks. (We won't mention the new piles that have accumulated on the new desk....)

In other domestic news, my kitchen reorganization project is going successfully. I've put up new shelves -- boards and bricks, however immature that sounds -- so the out-in-the-open stuff is more eye-pleasingly arranged. I'm waiting for a shipment of organizational accessories to finish implementing my plan, which will, in the end, make the not-out-in-the-open stuff a little tidier, too. Having a tiny kitchen, finding a place for everything is a challenge. (We won't mention how having too little self-discipline makes

keeping

everything in its place a challenge....)

A tower shelf unit that formerly lived in the kitchen has provided a new and much-needed home for my cookbooks in the dining room. (We won't mention how seldom I actually cook anything from any of those books....)

I got my shipment of new curtains, and the girl I spoke with at Linens 'n' Things was incorrect -- they don't come in pairs. So I had only half of the panels I needed. I placed a second order, and in the meantime I've hung four panels in my front window, folding over and safety-pinning each of the too-long tabs. I think I rather like them, but it's weird to get used to how little light there is in the house when they're shut, and unfortunately they have to be shut because the couch is right up against them. (We won't mention the fact that I haven't even hung the curtain rods in the dining room yet....)

Speaking of the couch, it is green, and quite the eyesore in juxtaposition to the red and gold (red and purple when backlit by the sun) curtains. I have a white slipcover that will do for the nonce, but I think furniture shopping may have to commence at some point. I'm thinking a very comfy couch and chairs in some shade of warm tan. (We won't mention how unappealing the thought of having to shop for such things and actually spend money on them is....)

I think I'll move my desk back upstairs before attempting the living room revamp, though. Trying to fit two rooms' worth of furniture in one, however much warmer it is in the winter and cooler in the summer down here, is just a little too cramped. (We won't mention how much more excavating will have to take place on both floors to implement those plans....)

I had gotten pretty well on top of things last summer, and then it all sort of fell into disorder again in the autumn. We

will

mention how good the Lord is to be bringing me out of a months-long funk (by however painful means) to this place where I am once again finding motivation and strength to begin again to take dominion over the chaos!
Posted by Valerie (Kyriosity) at 10:29 PM • Permalink
• • 1 comments
Best Superbowl Ever

I played two games of checkers with one of my favorite 6-year-olds and a game of Sorry with him and one of his brothers. When they tired of sedentary pursuits, I joined the others in the living room, where I finished square #88 (the two-thirds mark...woo-hoo!), enjoyed watching a collection of boys of all ages, piled like puppies and wrassling on the floor, and held a baby 'til she needed her mama. I think there was a hockey game on the TV, too, but who cares?
Posted by Valerie (Kyriosity) at 7:13 PM • Permalink
• • 1 comments
Sunday, February 3, 2008 AD
Resolution Report: January

As reported last month, I made two resolutions this year: crochet 52 bedspread squares, and do a Bible reading plan. I thought I'd try to give a monthly report on how I'm keeping up with these things.

In January I finished seven squares, so I'm on track there. I haven't been as successful in regular Bible reading. I've read I think 36 chapters (Ezra 1-10, Nehemiah 1, Acts 1-25), which is about half of the chapters I should have read in January. But that's better than nothing, so I'm going to stick with it and keep aiming for reading something daily, even if it isn't a lot. I haven't skipped the assignment for the days I've missed -- just picked up where I've left off -- and that's what I intend to keep doing.

This has already been a year of growth in crucial areas, so I am quite content with my progress here, quite grateful for what the Lord is doing, and quite excited to see what else He will bring my way this year!
Posted by Valerie (Kyriosity) at 12:26 AM • Permalink
• • 2 comments
---