Friday, February 8, 2008 AD
Wedding Cake Sketch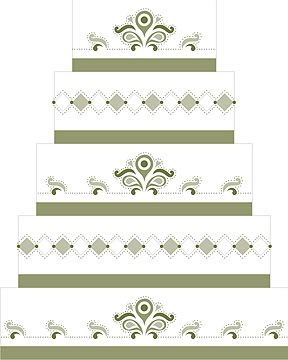 White buttercream, 3/4" green ribbon (picked it up at Jo-Ann's the other night), fondant cutouts (indulged myself in some cutters a few months ago...it was hard not to buy them all!), piped dots (that's the skill I feel shakiest about...and shakiness doesn't go well with delicate piping!). Wedding's May 31. I think I need some practice in the meantime. I'm thinking something Valentiney for Sunday's fellowship dinner, and...hmmm...I wonder if anyone's got a birthday coming up next week and wants a snickerdoodle cake...hmmm....
Posted by Valerie (Kyriosity) at 7:30 PM • Permalink
• • 10 comments
---
10 Comments:
On February 8, 2008 8:10 PM

The Clinging Vine wrote...
Wow, that's going to be gorgeous, Valerie!

What's a snickerdoodle cake? I've never heard of one of those.

On February 8, 2008 8:30 PM

Valerie (Kyriosity) wrote...
Buy The Cake Mix Doctor, and all will be revealed. Or Google "snickerdoodle cake" and some will be revealed. ;-)

On February 8, 2008 9:44 PM

lucyzoe wrote...
Oh my gosh! If you pull this thing off you're totally a "Rock Star." Take pictures and have fun!

On February 8, 2008 9:58 PM

Valerie (Kyriosity) wrote...
You had to go and use the i-word, didn'thca? Don't tempt me to doubt that this will work! I should find out in advance who's doing photography and beg for lots of cake pix, though. I know I'll be too distracted to remember to do so myself.

On February 9, 2008 1:33 PM

magistramater wrote...
Five layers! Wow! Valerie, this looks exquisite.

Glory!

On February 10, 2008 4:31 PM

pentamom wrote...
It's not fair. I'm already married. So you'll never make one of these for me. Boo hoo.

(Please, spare the obvious rebuke that 19.72 years of happy marriage -- not to mention the fruit(cakes) thereof -- are worth more than the prettiest cake ever. I want to enjoy a good whine.)

On February 10, 2008 4:38 PM

Valerie (Kyriosity) wrote...
How's this: When you make it to 25 years, Ray can spring for an all-expense-paid trip for me to Erie and I'll make you a silver anniversary cake. You'll just have to find a place in your house for me to sleep, and surrender the use of your kitchen for a few days!

On February 10, 2008 10:51 PM

Angie wrote...
I snapped a cell phone photo of the Valentiney cake before it was devoured. Well, not completely devoured...and I got to bring home the leftovers. Thanks, Valerie!

On February 10, 2008 11:08 PM

Margaret in VA wrote...
Very pretty. The ribbon will absorb the grease from the buttercream. I used ribbon roses on my sister's cake and they got darker in color because of the absorbtion.
Tha design is beautiful!

On February 11, 2008 8:05 AM

pentamom wrote...
Hmmm....5.28 years from now I might have the room for you! ;-)

---