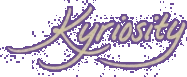 (KE'RE OS'I TE) N., A LONGING TO LOOK
INTO THE THINGS OF THE LORD [C.1996 < GK.
KYRIOS LORD + -ITY; IMIT. CURIOSITY]
Bio: Verily Valerie

Valerie is a 42-year-old, single, Reformed Christian lady who lives in Baltimore. She doesn't remember a time before she knew and loved Jesus, but she does remember accepting John Calvin into her heart in March of 2000. Valerie is a member of Christ Reformed Evangelical Church in Annapolis.

Though her career aspiration is to be a housewife, Valerie has not yet found anyone suitable who wishes to hire her for employment in that field (or, more properly, anyone suitable has not found her), so in the meantime she earns her daily bread working in communications -- editing, writing, print design and website management.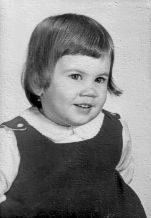 E-Mail
valerie [at] kyriosity [dot] com

AIM/YM
valkyriosity

My TTLB Ecosystem Details
Visit The Old Kyriosity Shop

Monday, February 4, 2008 AD
Domestic News

I've spent a good bit of the evening excavating a portion of my dining room table, which has been buried for far too long. Now I'm at the point of having to do real work on it -- tackle the piles of papers that I moved over there when I switched desks. (We won't mention the new piles that have accumulated on the new desk....)

In other domestic news, my kitchen reorganization project is going successfully. I've put up new shelves -- boards and bricks, however immature that sounds -- so the out-in-the-open stuff is more eye-pleasingly arranged. I'm waiting for a shipment of organizational accessories to finish implementing my plan, which will, in the end, make the not-out-in-the-open stuff a little tidier, too. Having a tiny kitchen, finding a place for everything is a challenge. (We won't mention how having too little self-discipline makes

keeping

everything in its place a challenge....)

A tower shelf unit that formerly lived in the kitchen has provided a new and much-needed home for my cookbooks in the dining room. (We won't mention how seldom I actually cook anything from any of those books....)

I got my shipment of new curtains, and the girl I spoke with at Linens 'n' Things was incorrect -- they don't come in pairs. So I had only half of the panels I needed. I placed a second order, and in the meantime I've hung four panels in my front window, folding over and safety-pinning each of the too-long tabs. I think I rather like them, but it's weird to get used to how little light there is in the house when they're shut, and unfortunately they have to be shut because the couch is right up against them. (We won't mention the fact that I haven't even hung the curtain rods in the dining room yet....)

Speaking of the couch, it is green, and quite the eyesore in juxtaposition to the red and gold (red and purple when backlit by the sun) curtains. I have a white slipcover that will do for the nonce, but I think furniture shopping may have to commence at some point. I'm thinking a very comfy couch and chairs in some shade of warm tan. (We won't mention how unappealing the thought of having to shop for such things and actually spend money on them is....)

I think I'll move my desk back upstairs before attempting the living room revamp, though. Trying to fit two rooms' worth of furniture in one, however much warmer it is in the winter and cooler in the summer down here, is just a little too cramped. (We won't mention how much more excavating will have to take place on both floors to implement those plans....)

I had gotten pretty well on top of things last summer, and then it all sort of fell into disorder again in the autumn. We

will

mention how good the Lord is to be bringing me out of a months-long funk (by however painful means) to this place where I am once again finding motivation and strength to begin again to take dominion over the chaos!
Posted by Valerie (Kyriosity) at 10:29 PM • Permalink
• • 1 comments
---
1 Comments:
On February 5, 2008 9:21 AM

Margaret in VA wrote...
Hurray! I'm proud of you. It also makes me thankful that God's mercies are new every morning. I have to say that I give thanks for that very aspect of His character constantly! Good girl! I know that with God's help you can keep up the good work!

---
---