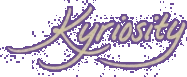 (KE'RE OS'I TE) N., A LONGING TO LOOK
INTO THE THINGS OF THE LORD [C.1996 < GK.
KYRIOS LORD + -ITY; IMIT. CURIOSITY]
Bio: Verily Valerie

Valerie is a 42-year-old, single, Reformed Christian lady who lives in Baltimore. She doesn't remember a time before she knew and loved Jesus, but she does remember accepting John Calvin into her heart in March of 2000. Valerie is a member of Christ Reformed Evangelical Church in Annapolis.

Though her career aspiration is to be a housewife, Valerie has not yet found anyone suitable who wishes to hire her for employment in that field (or, more properly, anyone suitable has not found her), so in the meantime she earns her daily bread working in communications -- editing, writing, print design and website management.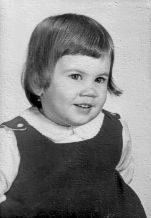 E-Mail
valerie [at] kyriosity [dot] com

AIM/YM
valkyriosity

My TTLB Ecosystem Details
Visit The Old Kyriosity Shop

Tuesday, January 29, 2008 AD
Did I Ever Mention the Time...

...I corrected a sign in a Goodwill with a Sharpie? It was in the electronics section and said, "Your being videotaped." I changed it to "You're," of course. Just wish I could get a copy of the tape.
Posted by Valerie (Kyriosity) at 7:35 PM • Permalink
• • 11 comments
Thursday, January 24, 2008 AD
Do Sweet the Small Stuff
If I cannot even believe that God can bring good out of my not finding a parking place, and being 5 minutes late for an appointment, then how on earth am I going to believe that He can bring good out of the Holocaust? And, it is on that level that the real test of life begins.

***

Life is made up of little things. Little things lead to bigger things. It is not stupid to learn to habitually thank God for all the little aches and pains of everyday life. God has promised to bring good out of every one of them. Do I believe that? The answer all too often is "No! I don't." That is the fallen heart of every sinner. But as a redeemed one, I am to grow in my belief in this.

~Rich Bledsoe (Read the whole post. HT: Angie)
Posted by Valerie (Kyriosity) at 7:45 PM • Permalink
• • 2 comments
Monday, January 21, 2008 AD
Domestic Hints of the Day

When blogging about curtains you're considering buying, don't depend on your blog post to be able to find them again if you link only to the image. If it's hosted on a remote site, you'll never find the storefront where you can actually purchase the curtains.
UPDATE, 9:20 p.m.: Eureka! Not only did I find the curtains, they're on sale at 40% off,

and

the price was per pair, not per panel, so I spent $126 rather than the expected $420,

and

I got free shipping. Is it just me, or does anybody else think I'm getting more than my fair share of shopping blessings in recent days? God is kind!
When you decide to rearrange your entire kitchen, consider first how you will manage to feed yourself (and your family) during the hours the stove, counters, microwave etc. are inaccessible.

Brought to you by the Department of Learning Things the Hard Way.
Posted by Valerie (Kyriosity) at 7:40 PM • Permalink
• • 3 comments
Saturday, January 19, 2008 AD
Back from Adventures in Williamsburg

Pair of Easy Spirit shoes that were mislabeled in the store so the clerk gave me that price: $14.99 (regular price: $49.99; actual sale price: $29.99)

Refurbished KitchenAid Professional 600 Series mixer in bronze pearl: $249.99 (list price new: $499)

Being perpetually puked upon by a petite pink person: Priceless!
Posted by Valerie (Kyriosity) at 7:53 PM • Permalink
• • 8 comments
Saturday, January 12, 2008 AD
NOT a Happy Camper

I thought I had up until six weeks before the primary to change my party affiliation. Turns out it's

twelve

weeks --

three months!

-- in Maryland, and of course I missed the deadline. So the first time in

forever

there's a candidate I actually want to vote for, I can't. Boo, hiss and boo-hoo.
Posted by Valerie (Kyriosity) at 2:54 PM • Permalink
• • 6 comments
Friday, January 11, 2008 AD
This Is Pretty Cool

I got an e-mail this evening from someone on a genealogy forum answering a question about the etymology of my surname. He's traced his lineage back past to a family of Spanish Huguenots who fled to Germany to escape persecution. If I were ambitious enough to confirm that my kin come from the same stock, I would so totally change my name to the pre-Germanicized version, which has a completely different, and much groovier meaning than that which I've long believed is attached to my last name.
Posted by Valerie (Kyriosity) at 9:46 PM • Permalink
• • 0 comments
Yes.

Carol asked in a comment on my last post, "Do you think *all* women are created to be this way?" My answer is such an emphatic

yes

that I wanted to give it its own post. In his essay "How Does a Woman Become Secure?" Jim Wilson recognizes this a little more prosaically than Mr. Trollope: "A woman was made by God to be loved, protected, provided for and to be made secure." The essay goes on to describe the troubles that arise when a woman is deprived of that security -- troubles resulting both from the failures of others and from her own sinful attempts at lookin' for security in all the wrong places.

For a feminist, the wrong place may be within herself:

We don't need no stinkin' men; we can be sufficient in and of ourselves

.

Some women might not make such bald-faced assertions, but you can tell that feminism has influenced them. I think of the friend who, in a Bible study on Ruth, was bothered by the question, "Whose young woman is this?" Why did Ruth need to be anybody's young woman but her own? It made me laugh, because I knew that my friend's daddy had walked her down the aisle and given her hand to her handsome young husband. She was oblivious to a woman's need for the security of belonging the way a fish is oblivious to water: she'd never known the lack of it.

Other women learn that their sexuality is a powerful tool, so they sell themselves cheap to get whatever man they can, and learn the hard way that unworthy men just bring whole new levels of insecurity. Some end up abused in various ways. At the other end of the spectrum, some just hold tight to whatever power they can glean from sexuality itself, becoming manipulators or abusers themselves.

And there are probably lots of other ways in which women can stumble in this area. My own personal downfall was developing one wild crush after another, hoping that this guy or that would be my "savior" from insecurity. Thanks be to God, I've left that habit in the past (though I wish it had receded even farther in the rear-view mirror...blech).

Jim Wilson's essay directs women to find their security ultimately in the Lord, of course, but proximately in the family and the church. If the family's failures (particularly the father's) have been the cause of the insecurity, she may not find much help there unless repentance has occurred all 'round. If the church is possessed by the spirit of the age and thinks women ought to be perfectly self-sufficient, it will just end up perpetuating the problem.

But when the church gets it right, it's a glorious thing. The Lord has blessed me in the last decade or so by bringing godly men into my life who have modeled His care for me in ways that have been completely appropriate to their relationship with me. I haven't always gotten all I've hoped for -- sometimes because I hope for too much and sometimes just because they're sinners, too -- but with enough consistency that I've been able to rely on them to a reasonable extent and draw a reasonable degree of security from my relationships with them. This has worked because each of these men has not tried to be a savior, but has pointed me faithfully to the Savior. He has worked through them because they weren't trying to usurp His place.

But there's still a need. Women are designed to need a head, not be a head. In an ideal world, every girl would have a daddy to love and protect her until he walks her down the aisle and relinquishes that responsibility to her bridegroom. If her father cannot fulfill the role of provider and protector, Scripture seems to place the responsibility on her brothers (consider, for instance, Lev. 21:3 and SS. 8:8-9).

If it's not good for man to be alone, then it's ridiculous to think that it's OK for woman to be alone. In this post Nancy Wilson does a marvelous job of affirming that a woman needs a man while making it clear that only her Creator "can really fill, satisfy, complete, and meet the needs of a woman's heart."

I don't have the balance down pat yet, but I'm closer than I used to be. Personally, I think marriage would be a great context in which to continue honing my understanding! ;-)
Posted by Valerie (Kyriosity) at 2:02 PM • Permalink
• • 8 comments
Scavenging

I've been browsing through Magistra Mater's archives for additions to my page of quotes on domesticity and diligence. The following doesn't fit there, but I liked it. It's from Anthony Trollope's

Rachel Ray

(no relation to this one) and it reminds me of me:
There are women who cannot grow alone as standard trees; -- for whom the support and warmth of some wall, some paling, some post, is absolutely necessary; -- who, in their growth, will bend and incline themselves towards some such prop for their life, creeping with their tendrils along the ground till they reach it when the circumstances of life have brought no such prop within their natural and immediate reach.
Posted by Valerie (Kyriosity) at 10:17 AM • Permalink
• • 1 comments
Thursday, January 10, 2008 AD
God Is Willing to Be Pleased

Sometimes I come across the most obvious thoughts that are like new revelations to me (or, considering the season, perhaps I should call them epiphanies). Yesterday's thought was that God is willing to be pleased with His children. A couple Sundays ago, Pastor Knecht mentioned in a sermon that sometimes, when he's obediently going about his daily work, he turns to the Lord and says, "Are You watching me? Do You see me making this call or preparing this message or counseling this person?"

It reminded me of how often I hear, "Miss Valerie (or Mrs. LaValerie, as the case may be), watch this!" while some small person or other performs some not particularly remarkable feat. How like a child's faith to speak to God in such a way. (And how like Glen Knecht to exemplify such a faith.)

Somehow I've managed to live 40 years and only ever think of God's watching over me as a negative, "you'd better watch out, you'd better not cry" sort of thing. I think that's because I've learned, and rightly so, that I cannot gain God's favor by my works. My righteousness is as filthy rags. So all this time it has seemed to me that all my obedience is worthless.

What I've missed in the equation is Jesus. In Him I have God's favor, and all my works done in Him -- by His power and to His glory -- also have God's favor. So if I were to say to the Lord, "Watch this!" while I do the equivalent of a lopsided somersault on the living room floor, He would say, "Wow! Good job!" just like I say to the small persons who perform such exploits for me. They haven't got all of Olga Korbut's moves down yet. I haven't got all of Jesus' moves down yet. But that doesn't stop my heavenly Father delighting in my attempts to imitate Him.

"[M]ake every effort to add to your faith goodness; and to goodness, knowledge; and to knowledge, self-control; and to self-control, perseverance; and to perseverance, godliness; and to godliness, brotherly kindness; and to brotherly kindness, love. For if you possess these qualities in increasing measure, they will keep you from being ineffective and unproductive in your knowledge of our Lord Jesus Christ" (2 Peter 1:5-8). The phrase "in increasing measure" is the one that always grabs me (and has since my NIV days, hence my use of that version here). God is pleased by our growth in grace -- He doesn't wait for absolute perfection before we can start bearing fruit. And if our toddling steps and lopsided somersaults weren't pleasing to Him, surely we could not be effective and productive at all.

When we feel as if our obedience is worthless, it leads inevitably to more sin. We don't bother to try, and we become like the servant who buried his talent. We call that servant faithless. If faith is belief, at what point did he fail to believe? He didn't believe that "He is a rewarder of those who diligently seek Him" (Hebrews 11:6, NKJV). And not a stingy rewarder, either, but a bountiful and generous one, who pours out kindness and encouragement and attention and acceptance and approval and affection and grace upon grace upon grace. When we don't see this, we don't thank Him for it, and ingratitude festers into bitterness and rebellion.

God is willing to be pleased with us because He is already pleased with us. It pleases Him when we understand this, and, whaddaya know, we find it pretty pleasant ourselves!
Posted by Valerie (Kyriosity) at 10:35 AM • Permalink
• • 3 comments
Saturday, January 5, 2008 AD
Just for Good Measure

Evidently, the beatings will continue for some time even after morale improves. I'm grateful it's the weekend. Anybody know where I can buy body armor in plus sizes before Monday?
Posted by Valerie (Kyriosity) at 6:55 AM • Permalink
• • 2 comments
Tuesday, January 1, 2008 AD
New Year's Resolutions

I finished bedspread square #80 of 132 last week. That leaves 52 squares. And 52 weeks in a year. If I can get in a few hours a week (each square takes about five and a half to six hours), and supplement with a couple vacations largely dedicated to the project (I made eight squares in eight days on my Thanksgiving vacation), I think I can average a square a week. Then I'll have from January through April of '09 to assemble the squares and crochet the border in time for my mom's 80th birthday.

In the realm of spiritual disciplines, I'm going to try a modified version of the M'Cheyne Bible reading pan. The family and private reading, it seems to me, could easily be split into two years. So I'm going to start with the schedule for private reading and try to do that this year. I'm always starting such plans, and never succeeding with them, so I thought it might be good to begin somewhere other than Genesis for a change.

And in general I'll continue my ongoing quest to acquire a level of self-discipline somewhat superior to that of the average spoiled 2-year-old brat. How 'bout you? Feeling resolute this January 1?
Posted by Valerie (Kyriosity) at 2:07 PM • Permalink
• • 7 comments
---