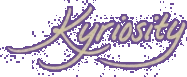 (KE'RE OS'I TE) N., A LONGING TO LOOK
INTO THE THINGS OF THE LORD [C.1996 < GK.
KYRIOS LORD + -ITY; IMIT. CURIOSITY]
Bio: Verily Valerie

Valerie is a 42-year-old, single, Reformed Christian lady who lives in Baltimore. She doesn't remember a time before she knew and loved Jesus, but she does remember accepting John Calvin into her heart in March of 2000. Valerie is a member of Christ Reformed Evangelical Church in Annapolis.

Though her career aspiration is to be a housewife, Valerie has not yet found anyone suitable who wishes to hire her for employment in that field (or, more properly, anyone suitable has not found her), so in the meantime she earns her daily bread working in communications -- editing, writing, print design and website management.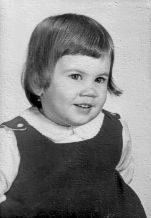 E-Mail
valerie [at] kyriosity [dot] com

AIM/YM
valkyriosity

My TTLB Ecosystem Details
Visit The Old Kyriosity Shop

Friday, January 11, 2008 AD
Scavenging

I've been browsing through Magistra Mater's archives for additions to my page of quotes on domesticity and diligence. The following doesn't fit there, but I liked it. It's from Anthony Trollope's

Rachel Ray

(no relation to this one) and it reminds me of me:
There are women who cannot grow alone as standard trees; -- for whom the support and warmth of some wall, some paling, some post, is absolutely necessary; -- who, in their growth, will bend and incline themselves towards some such prop for their life, creeping with their tendrils along the ground till they reach it when the circumstances of life have brought no such prop within their natural and immediate reach.
Posted by Valerie (Kyriosity) at 10:17 AM • Permalink
• • 1 comments
---
1 Comments:
On January 11, 2008 1:57 PM

Carol in Oregon wrote...
Valerie,

This quote really makes me think the more I read it. Do you think *all* women are created to be this way? Blasphemy! cry the feminists.

I think the quote is an accurate description of me.

---
---