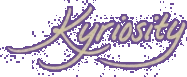 (KE'RE OS'I TE) N., A LONGING TO LOOK
INTO THE THINGS OF THE LORD [C.1996 < GK.
KYRIOS LORD + -ITY; IMIT. CURIOSITY]
Bio: Verily Valerie

Valerie is a 42-year-old, single, Reformed Christian lady who lives in Baltimore. She doesn't remember a time before she knew and loved Jesus, but she does remember accepting John Calvin into her heart in March of 2000. Valerie is a member of Christ Reformed Evangelical Church in Annapolis.

Though her career aspiration is to be a housewife, Valerie has not yet found anyone suitable who wishes to hire her for employment in that field (or, more properly, anyone suitable has not found her), so in the meantime she earns her daily bread working in communications -- editing, writing, print design and website management.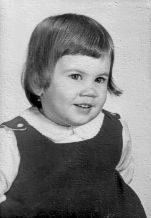 E-Mail
valerie [at] kyriosity [dot] com

AIM/YM
valkyriosity

My TTLB Ecosystem Details
Visit The Old Kyriosity Shop

Friday, January 11, 2008 AD
This Is Pretty Cool

I got an e-mail this evening from someone on a genealogy forum answering a question about the etymology of my surname. He's traced his lineage back past to a family of Spanish Huguenots who fled to Germany to escape persecution. If I were ambitious enough to confirm that my kin come from the same stock, I would so totally change my name to the pre-Germanicized version, which has a completely different, and much groovier meaning than that which I've long believed is attached to my last name.
Posted by Valerie (Kyriosity) at 9:46 PM • Permalink
• • 0 comments
---
0 Comments:
---
---