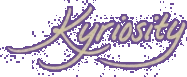 (KE'RE OS'I TE) N., A LONGING TO LOOK
INTO THE THINGS OF THE LORD [C.1996 < GK.
KYRIOS LORD + -ITY; IMIT. CURIOSITY]
Bio: Verily Valerie

Valerie is a 42-year-old, single, Reformed Christian lady who lives in Baltimore. She doesn't remember a time before she knew and loved Jesus, but she does remember accepting John Calvin into her heart in March of 2000. Valerie is a member of Christ Reformed Evangelical Church in Annapolis.

Though her career aspiration is to be a housewife, Valerie has not yet found anyone suitable who wishes to hire her for employment in that field (or, more properly, anyone suitable has not found her), so in the meantime she earns her daily bread working in communications -- editing, writing, print design and website management.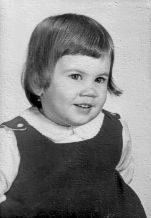 E-Mail
valerie [at] kyriosity [dot] com

AIM/YM
valkyriosity

My TTLB Ecosystem Details
Visit The Old Kyriosity Shop

Monday, September 21, 2009 AD
Milk and Honey Communion Bread

Reposted at the request of Eleanor and Linda. I last posted this in March, and have managed not to tweak the ingredients again since then, but I've refined the directions a bit.

1 c warm milk
1 stick butter, softened
2 eggs, beaten
1/3 c honey
4 1/2 c bread flour
1 1/2 tsp salt
2 1/2 tsp yeast

Place all ingredients in bread machine pan in the order suggested by the manufacturer. (I wouldn't recommend doing this by hand -- too much honey makes it too sticky.)
Run the dough cycle.
Let rise in machine ~60 minutes.
Remove dough to a floured pizza stone (or well-floured flat pan, or silicone baking mat on a flat pan), gently shape into a round, cover, and let rise ~20-30 minutes.
Score a cross on the top (use a really sharp, non-serrated knife and let the knife do the work -- don't hack at it).
Uncover and bake at 375 degrees ~20 minutes.
Remove from oven, brush with additional 1 T butter, and leave to cool on pan (helps ensure that it's completely done).
Posted by Valerie (Kyriosity) at 9:17 AM • Permalink
• • 4 comments
Saturday, September 19, 2009 AD
Oh. I Suppose I Should Get Around to Mentioning....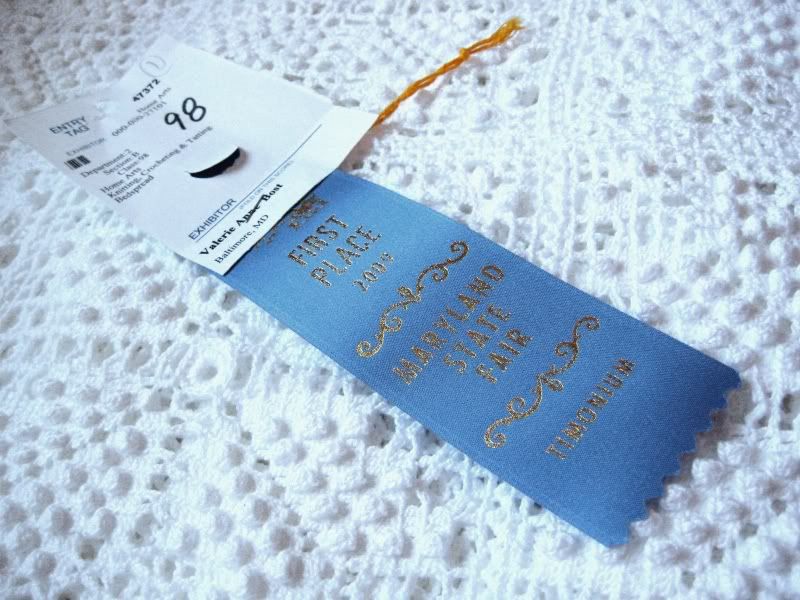 Posted by Valerie (Kyriosity) at 1:23 PM • Permalink
• • 8 comments
Tuesday, September 15, 2009 AD
Growing

I finally got around to looking up the context of one of my favorite Luther quotes:
This life, therefore, is not righteousness but growth in righteousness, not health but healing, not being but becoming, not rest but exercise; we are not yet what we shall be, but we are growing toward it; the process is not yet finished, but it is going on; this is not the end, but it is the road; all does not yet gleam with glory, but all is being purified.
It's from "An Argument -- In Defense of All the Articles of Dr. Martin Luther Wrongly Condemned in the Roman Bull Jesus" (The Second Article)

I've treasured that one for about two decades, and have just now bothered to ask what the "therefore" is there for.

Luther doesn't mention it, but I often connect that quote in my mind with 2 Peter 1:3-8 (one of my favorite passages, here in NIV):
His divine power has given us everything we need for life and godliness through our knowledge of him who called us by his own glory and goodness. Through these he has given us his very great and precious promises, so that through them you may participate in the divine nature and escape the corruption in the world caused by evil desires.

For this very reason, make every effort to add to your faith goodness; and to goodness, knowledge; and to knowledge, self-control; and to self-control, perseverance; and to perseverance, godliness; and to godliness, brotherly kindness; and to brotherly kindness, love. For if you possess these qualities in increasing measure, they will keep you from being ineffective and unproductive in your knowledge of our Lord Jesus Christ.
It's the "in increasing measure" of the NIV that I like and have clung to lo these many years. God's not demanding that I arrive, just that I keep moving.
Posted by Valerie (Kyriosity) at 7:30 PM • Permalink
• • 2 comments
Friday, September 11, 2009 AD
Funny Movie Line

From "For Roseanna":

A doctor is pleading his case with a patient, complaining that no one ever pays him. The man tells him to leave the back way and take a couple of eggs.

Doctor: You owe me ten thousand eggs!
Man: Then take the chicken and bring it back when we're even!

I haven't finished watching the film, so I don't know whether it's recommendable or not, but the first eight minutes are good so far.
Posted by Valerie (Kyriosity) at 11:20 PM • Permalink
• • 0 comments
Lord, Give Me Patience, and I Want It Right Now!

"Waiting is one of God's most powerful tools of grace. God doesn't just give us grace of for the wait. The wait itself is a gift of grace. You see, waiting is not only about what you will receive at the end of the wait. Waiting is about what you will become as you wait."

--Broken-Down House, Paul David Tripp, p. 117

(HT Mike L.)
Posted by Valerie (Kyriosity) at 2:38 PM • Permalink
• • 5 comments
Wednesday, September 9, 2009 AD
Need to Add This to My Quotes Page

(HT Humble Amy + a little Googling for more context) (And here's the quotes page, for those who were wondering.)

"What you do in your house is worth as much as if you did it up in heaven for our Lord God. We should accustom ourselves to think of our position and work as sacred and well-pleasing to God, not on account of the position and work, but on account of the word and faith from which the obedience and the work flow." --Martin Luther
Posted by Valerie (Kyriosity) at 6:13 AM • Permalink
• • 0 comments
Friday, September 4, 2009 AD
Nana's Sour Milk Doughnuts

(Posted by request of Jon Barlow.)



Beat


2 eggs



Add


2 c. sugar (or 1 c. sugar + 1 c. maple syrup)
a little nutmeg and salt
2 c. sour milk (or buttermilk)
1 Tbsp. cream (or melted butter)



Sift


1 tsp. baking soda
2 tsp. baking powder
enough four to roll out (about 6 1/2 c.)

[There's no instruction on how to mix the stuff together, but it kinda sorta hasta happen here!]



Roll Out


on floured board (about 3/8" thick) and cut



Fry


in hot fat (takes a 3 lb. can of shortening) in a large iron frying pan, turning only once

Makes about 4 dozen doughnuts.

(Man, I gotta find time, space and excuse to make these. Such intense childhood memories!)
Posted by Valerie (Kyriosity) at 9:55 PM • Permalink
• • 0 comments
Tuesday, September 1, 2009 AD
Peter Leithart Usually Writes over My Head...

...And this time he quotes over my head. But if I get the gist of Hart's point, then I'd add that completely disinterested love cannot suffer by a lack of reciprocation, and therefore cannot give of itself sacrificially, and therefore isn't really love at all...at least where there's any chance of an ungrateful beloved. In the Trinity there is no chance of ingratitude, just pure, complete, constant love and pure, complete, constant reciprocation. But His love for men He ordained to sin is real only because the Lamb was slain from the foundation of the World. His love for us was always a suffering, self-sacrificing love.
Posted by Valerie (Kyriosity) at 9:03 AM • Permalink
• • 15 comments
---