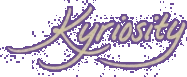 (KE'RE OS'I TE) N., A LONGING TO LOOK
INTO THE THINGS OF THE LORD [C.1996 < GK.
KYRIOS LORD + -ITY; IMIT. CURIOSITY]
Bio: Verily Valerie

Valerie is a 42-year-old, single, Reformed Christian lady who lives in Baltimore. She doesn't remember a time before she knew and loved Jesus, but she does remember accepting John Calvin into her heart in March of 2000. Valerie is a member of Christ Reformed Evangelical Church in Annapolis.

Though her career aspiration is to be a housewife, Valerie has not yet found anyone suitable who wishes to hire her for employment in that field (or, more properly, anyone suitable has not found her), so in the meantime she earns her daily bread working in communications -- editing, writing, print design and website management.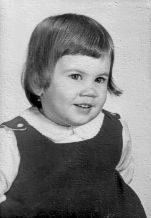 E-Mail
valerie [at] kyriosity [dot] com

AIM/YM
valkyriosity

My TTLB Ecosystem Details
Visit The Old Kyriosity Shop

Monday, June 29, 2009 AD
A Gem from Lewis

When I joined CREC four years ago (May 8, 2005, according to the inscription), the Antkoiwiaks gave me a copy of

A Year with C. S. Lewis

. I pick it up from time to time, and did so this morning, whereupon I read this entry, quoted from Mere Christianity:
Rats in the Cellar



We begin to notice, besides our particular sinful acts, our sinfulness; begin to be alarmed not only about what we do, but about what we are. This may sound rather difficult, so I will try to make it clear from my own case. When I come to my evening prayers and try to reckon up the sins of the day, nine times out of ten the most obvious one is some sin against charity; I have sulked or snapped or sneered or snubbed or stormed. And the excuse that immediately springs to my mind is that the provocation was so sudden and unexpected; I was caught off my guard, I had not time to collect myself. Now that may be an extenuating circumstance as regards those particular acts: they would obviously be worse if they had been deliberate and premeditated. On the other hand, surely what a man does when he is taken off his guard is the best evidence for what sort of a man he is? Surely what pops out before the man has time to put on a disguise is the truth? If there are rats in a cellar you are most likely to see them if you go in very suddenly. But the suddenness does not create the rats: it only prevents them from hiding. In the same way the suddenness of the provocation does not make me an ill-tempered man; it only shows me what an ill-tempered man I am. The rats are always there in the cellar, but if you go in shouting and noisily they will have taken cover before you switch on the light. Apparently the rats of resentment and vindictiveness are always there in the cellar of my soul. Now that cellar is out of reach of my conscious will. I can to some extent control my acts: I have no direct control over my temperament. And if (as I said before) what we are matters even more than what we do -- if, indeed, what we do matters chiefly as evidence of what we are -- then it follows that the change which I most need to undergo is a change that my own direct, voluntary efforts cannot bring about. And this applies to my good actions too. How many of them were done for the right motive? How many for fear of public opinion, or a desire to show off? How many from a sort of obstinacy or sense of superiority which, in different circumstances, might equally have led to some very bad act? But I cannot, by direct moral effort, give myself new motives. After the first few steps in the Christian life we realise that everything which really needs to be done in our souls can be done only by God.
Posted by Valerie (Kyriosity) at 9:07 AM • Permalink
• • 3 comments
Wednesday, June 24, 2009 AD
OK, OK...15 Books

This is the hottest meme on Facebook (or was a few weeks ago...it's probably the lukewarmest one now) but I'm going to post it first on my blog and let it feed into FB for more mileage.

The instructions: Don't take too long to think about it. Fifteen books you've read that will always stick with you. First fifteen you can recall in no more than 15 minutes. Tag 15 friends, including me because I'm interested in seeing what books my friends choose.

1. The Bible (If I don't mention it, y'all'll think I'm a heathen, but it always seems somewhat disrespectful to list it along with any other books)
2. The Chronicles of Narnia (I started to make these 2-8, but I was, surprisingly, able to think of enough others to total 15)
3. The Hiding Place (Corrie Ten Boom)
4. Are You My Mother?
5. Where the Wild Things Are ("The night Max wore his wolf suit and made mischief of one kind and another...." Had this one memorized and would recite it to Kate on long car trips.)
6. Green Eggs and Ham (First time I remember Kate reading a book out loud. I'd gotten suddenly ill, and was lying on the couch, and she read it to comfort me. So sweet!)
7. The Carrot Seed (Crockett Johnson -- had a record of this as a kid...with songs and everything. I think I still have it, AAMOF. Hmmm...should send it to PBC to convert for me.)
8. Sir Kevin of Devon (Mom borrowed this to read to my cousin Petey. I'm gonna have to steal it back. I think it originally belonged to one of my brothers, but since I was the youngest, I sort of appropriated all of their books along the way. They don't miss them.)
9. A Story About Me (Sweet little tale about a boy named "Me" who meets a shy bear named "Me" and brings him home for milk and cookies.)
10. Wise Words (Peter Leithart. I weep my way through it every time. Listened to it while decorating my mother's birthday cake. One shouldn't listen to blubbering-inducing things while messing about with food products. The only set of stories that comes close to Narnia in my affections.)
11. Stepping Heavenward (I have this on cassette and really need to get it transferred to CD)
12. Madeline (In an old house in Paris all covered with vines.... Never read this much as a child, but read it many times to other children, especially Kate.)
13. The Clown of God (Tomie de Paola. Was delighted to see this at the Trovatos' a few weeks ago.)
14. The Berenstains' B Book (Ah...the joys of alliteration!)
15. How to Be Free from Bitterness (Highest underlines-per-page count of any book I own.)

Yes, most of them are children's books that I've read them so many times they're "stickier" than most other books.
Posted by Valerie (Kyriosity) at 11:08 PM • Permalink
• • 1 comments
Tuesday, June 16, 2009 AD
Help Me Out with Some Decorating Decisions

Here's what I'm athinkin' (all photos are clickable for larger images).

These on the couch:




These on one chair:




These on the other chair:




The peacock theme is happifying. Should I try to find a little more contrast for the couch coices? I like the first chair pair together, but will they work with the couch ones? I like the second chair pair separately (especially digging that garden gate), but can I get away with them together...and with the rest of the choices? Should I give up on the orange/magenta peacock, and pair the red and white gate with one of the brown ones in the photo above it? Should I stop thinking I can make that bright red work with the darker reds of the couch pillows?

I await your comments with bated breath. ;-)
Posted by Valerie (Kyriosity) at 6:02 AM • Permalink
• • 4 comments
Monday, June 15, 2009 AD
Shushing Your Accusers, Inside and Out

Here's a double dose of the kind of medicine I'm always in need of.

From Doug Wilson:
If a misguided father, in the interests of preventing pride from taking root in his children, offered criticism after criticism, the results would not be what he anticipated. Instead of rearing humble children, he would bring up neurotic and jumpy children. "What is it now?" would be their constant internal question. But another father who praised, honored, accepted, delighted in, and rejoiced over his children would be bringing up secure children, children who are able to forget themselves in the interests of others.

Now we are at the Lord's dinner table, where many of these conversations take place. What kind of father do you think He is? Which father represents our heavenly Father best? Far too often we slander Him, as though He were like the first father in the illustration. We pretend that we are being severe with ourselves, when we are actually misrepresenting Him.

You are here, at His Table. Forgiveness has been declared over you. You have heard the Word proclaimed. You have sung psalms and hymns to Him, and all of it has been received in the Lord Jesus. You are seated here, and you are welcome here. You are seated in the company of the blessed, and you are not the odd man out. This is your home. This is your meal. These are your people. He is your God. Quiet your fears. Set them aside. My commission as a minister is to tell you to set them aside. Did God pay the price He paid in order to be able to bring you in here to snarl at you? Of course not. Come and welcome.
From Peter Leithart:
"With what disgust, contempt, and hatred Christ must look upon every second of our lives, the reviewing of which must be a long torture for us, were such a judgment in our future!"

These are the words of a Presbyterian minister, writing in a prominent evangelical magazine. He's trying to refute the belief that we'll be judged according to works at the last day. He's wrong on that point. Paul says clearly and repeatedly that everyone will be judged according to his works. But that's not my main interest this morning. My interest is the attitude this writer attributes to Jesus.

Do you think Jesus is filled with "disgust, contempt, and hatred...every second of our lives"? Many Christians do, and there are others who want to reinforce that view. Job's friends did. They posed as "comforters" but they were really little "satans," accusers more interested in convicting than comforting.

Job's response is not meekly to turn over and take it. His response is not, "Well, you've got a point there. I admit I'm totally depraved." His response is to deny their accusations and defend himself. That should be our response too. But how? We know how sinful we are, how often we fail and fall. How can we defend ourselves with the same confidence as Job?

The answer will come in a few moments, as it comes every week in the liturgy. As we enter the Lord's presence, we first need to be cleansed by confessing our sins. When we've confessed, the Father tells us how he regards us, and He doesn't express disgust, contempt, or hatred. What He expresses is free and absolute forgiveness, love, favor, brotherly kindness, mercy. Because you are in the Son, "He forgives you all your sins."

When the accusations come, don't grovel and don't let yourself be manipulated. Instead: Remember the words of absolution and realize that even more than Job you have grounds to protest your innocence. Remember the declaration of forgiveness, and believe that in Christ your sins are completely, utterly gone. Remember that you have been cleansed, silence the satans, and know that Jesus Christ by His Spirit is the true Comforter.

The next time some sophisticated theological accuser, some Confessional satan, wants to convict you of sin, you've got a choice: Believe the accuser, or believe God.
Posted by Valerie (Kyriosity) at 1:20 PM • Permalink
• • 0 comments
Tuesday, June 2, 2009 AD
One of My Favorite Poems

I posted this a couple years ago, but I was thinking of it again tonight as I arranged some seashells on some shelves...and as I thought about how much more room I would have in my life for others if self didn't take up so very much space.
"Indwelling," by T.E. Brown

If thou couldst empty all thy self of self,
Like to a shell disinhabited,
Then might He find thee on the Ocean shelf,
And say -- "This is not dead," --
And fill thee with Himself instead.

But thou art all replete with very thou,
And hast such shrewd activity,
That, when He comes, He says -- "This is enow
Unto itself -- 'Twere better let it be:
It is so small and full, there is no room for Me."
Posted by Valerie (Kyriosity) at 10:50 PM • Permalink
• • 0 comments
---