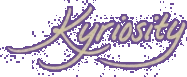 (KE'RE OS'I TE) N., A LONGING TO LOOK
INTO THE THINGS OF THE LORD [C.1996 < GK.
KYRIOS LORD + -ITY; IMIT. CURIOSITY]
Bio: Verily Valerie

Valerie is a 42-year-old, single, Reformed Christian lady who lives in Baltimore. She doesn't remember a time before she knew and loved Jesus, but she does remember accepting John Calvin into her heart in March of 2000. Valerie is a member of Christ Reformed Evangelical Church in Annapolis.

Though her career aspiration is to be a housewife, Valerie has not yet found anyone suitable who wishes to hire her for employment in that field (or, more properly, anyone suitable has not found her), so in the meantime she earns her daily bread working in communications -- editing, writing, print design and website management.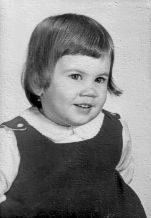 E-Mail
valerie [at] kyriosity [dot] com

AIM/YM
valkyriosity

My TTLB Ecosystem Details
Visit The Old Kyriosity Shop

Tuesday, May 26, 2009 AD
Two Communion Poems

I offer these in the spirit of "anything worth doing is worth doing badly." I spent the past couple days at the Trovatos' house (so much for my determined plans to do housework yesterday) and found Billy Collins's

Ballistics

, a remnant of Kristy's thesis, having fallen behind the bed where I slept. Reading led to writing, and there you have it. I have no idea what I'm about in this poetry business, so I covet your critiquing!




Beelzebub



Jesus is, in a sense,
the Lord of the flies.
There is not one small gnat
over which He does not cry,
Mine!

including the dead one
floating in my communion
wine on Sunday.

He ordained it
and ordained that I would catch it
and ordained that I would catch the elder
at the back row
to exchange the fly in the ointment
for fresh Balm of Gilead.

He ordained the buzzing
wee beasties my own soul
strains against
(and the dromedaries
in my throat),
claims them as His,

and catches me
in the back row
to offer His clean
blood in exchange.




Recognizing the Body of Christ



As the elements are passed
I look around
and always seek
a certain six-year-old
face.

Too undisciplined
to sit somberly
and stone-countenanced,

we swap
sister-sinner smiles.

Her gap-toothed grin,
His face,
His favor.
Posted by Valerie (Kyriosity) at 9:50 AM • Permalink
• • 4 comments
Thursday, May 21, 2009 AD
Liquor Store Adventures

Living as I do in the People's Republic of Maryland, I can't just pick up booze along with bread, butter and bananas at the local supermarket. No...I must go to that aesthetically challenged category of retail establishments known as The Liquor Store. And sometimes I have adventures there.

A few weeks ago I stopped to buy Cabernet at a place I've never been. And I still would never have been there except that it was Friday and Sunday was acomin' and I was out of communion wine and it was on the way home. This store was in a poorer area of town, as evidenced by the pitiful selection of the fruit of the vine. And then, on my way out, I was accosted by a panhandler at the very door of the shop. That, my friends, is what we call brazen.

Tonight I went to pick up a couple cases of Yellow Tail, which ought to spare me another liquor store trip for nearly two years. The sales clerk carted the boxes out to my car and deposited them in my trunk...wherein I promptly locked my keys. Liquor store parking lots are not the most savory places for loitering, but happily, the Magic Spare Key Fairy was at home, and came and rescued me within a few minutes. Thank you, Magic Spare Key Fairy!
Posted by Valerie (Kyriosity) at 9:21 PM • Permalink
• • 6 comments
Monday, May 11, 2009 AD
WLC on #5

We've been going through the Westminster Larger Cataclysm...er...Catechism as our confession of faith at CREC, and the past few weeks we've had a couple questions per Sunday from the section on the fifth commandment. Lots to chew on here:
Question 123: Which is the fifth commandment?

Answer: The fifth commandment is "Honor thy father and thy mother that thy days may be long upon the land which the Lord thy God gives thee."

Question 124: Who are meant by father and mother in the fifth commandment?

Answer: By father and mother in the fifth commandment are meant not only natural parents, but all superiors in age and gifts, and especially such as by God's ordinance are over us in place of authority, whether in family, church, or commonwealth.

Question 125: Why are superiors styled father and mother?

Answer: Superiors are styled father and mother both to teach them in all duties toward their inferiors like natural parents, to express love and tenderness to them according to their several relations, and to work inferiors to a greater willingness and cheerfulness in performing their duties to their superiors as to their parents.

Question 126: What is the general scope of the fifth commandment?

Answer: The general scope of the fifth commandment is the performance of those duties which we mutually owe in our several relations as inferiors, superiors, or equals.

Question 127: What is the honor that inferiors owe to their superiors?

Answer: The honor which inferiors owe to their superiors is all due reverence in heart, word, and behavior; prayer and thanksgiving for them; imitation of their virtues and graces; willing obedience to their lawful commands and counsels; due submission to their corrections; fidelity to, defense and maintenance of their persons and authority according to their several ranks and the nature of their places; bearing with their infirmities and covering them in love that so they may be an honor to them and to their government.

Question 128: What are the sins of inferiors against their superiors?

Answer: The sins of inferiors against their superiors are all neglect of the duties required toward them; envying at, contempt of, and rebellion against their persons and places in their lawful counsels, commands, and corrections; cursing, mocking, and all such refractory and scandalous carriage as proves a shame and dishonor to them and their government.

Question 129: What is required of superiors towards their inferiors?

Answer: It is required of superiors according to that power they receive from God and that relation wherein they stand to love, pray for, and bless their inferiors; to instruct, counsel, and admonish them -- countenancing, commending, and rewarding such as do well and discountenancing, reproving, and chastising such as do ill; to protect and provide for them all things necessary for soul and body; and by grave, wise, holy, and exemplary carriage to procure glory to God, honor to themselves, and so to preserve that authority which God has put upon them.

Question 130: What are the sins of superiors?

Answer: The sins of superiors are, besides the neglect of the duties required of them, an inordinate seeking of themselves, their own glory, ease, profit, or pleasure; commanding things unlawful or not in the power of inferiors to perform; counseling, encouraging, or favoring them in that which is evil; dissuading, discouraging, or discountenancing them in that which is good; correcting them unduly; carelessly exposing or leaving them to wrong, temptation, and danger; provoking them to wrath; or any way dishonoring themselves or lessening their authority by an unjust, indiscreet, rigorous, or remiss behavior.

Question 131: What are the duties of equals?

Answer: The duties of equals are to regard the dignity and worth of each other in giving honor to go one before another and to rejoice in each other's gifts and advancement as their own.

Question 132: What are the sins of equals?

Answer: The sins of equals are, besides the neglect of the duties required, the undervaluing of the worth, envying the gifts, or grieving at the advancement of prosperity one of another, and usurping preeminence one over another.

Question 133: What is the reason annexed to the fifth commandment, the more to enforce it?

Answer: The reason annexed to the fifth commandment in these words -- "That thy days may be long upon the land which the Lord thy God gives thee" -- is an express promise of long life and prosperity, as far as it shall serve for God's glory and their own good, to all such as keep this commandment.
(And I paused while writing this to call my dad....)

(And then I came back an edited the punctuation and some of the language. Hey, it's not Scripture, so as far as I'm concerned it's fair game!)

(OK, I admit I've wanted to tweak a few English Bible translations, too. We should all be grateful that I never learned enough Greek or Hebrew to want to fiddle with the original languages!)
Posted by Valerie (Kyriosity) at 8:36 PM • Permalink
• • 1 comments
Good Stuff

This post from Mike Lawyer is spot on: Law vs. Grace
Posted by Valerie (Kyriosity) at 8:21 PM • Permalink
• • 0 comments
Monday, May 4, 2009 AD
A Rainy Monday Poem for My Co-Workers

On a Monday gray and wet
Would anyone else like to get
Some Chinese food delivered here
-- Some yummy cheer amid the drear?
Orange chicken with steamed rice...
Doesn't that sound awfully nice?
Or perhaps some shrimp lo mein
Would help you to forget the rain.
Does mu shu pork sound good to you?
Don't worry! You won't get swine flu!
Or pick a tasty tofu dish
If vegetarian is your wish.
Want sushi? California rolls
Will warm the cockles of your souls.
Don't let this chance go down the tube --
Come see the menu in my cube!
Posted by Valerie (Kyriosity) at 10:45 AM • Permalink
• • 3 comments
---