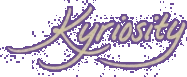 (KE'RE OS'I TE) N., A LONGING TO LOOK
INTO THE THINGS OF THE LORD [C.1996 < GK.
KYRIOS LORD + -ITY; IMIT. CURIOSITY]
Bio: Verily Valerie

Valerie is a 42-year-old, single, Reformed Christian lady who lives in Baltimore. She doesn't remember a time before she knew and loved Jesus, but she does remember accepting John Calvin into her heart in March of 2000. Valerie is a member of Christ Reformed Evangelical Church in Annapolis.

Though her career aspiration is to be a housewife, Valerie has not yet found anyone suitable who wishes to hire her for employment in that field (or, more properly, anyone suitable has not found her), so in the meantime she earns her daily bread working in communications -- editing, writing, print design and website management.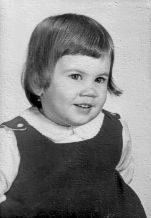 E-Mail
valerie [at] kyriosity [dot] com

AIM/YM
valkyriosity

My TTLB Ecosystem Details
Visit The Old Kyriosity Shop

Sunday, November 23, 2008 AD
SINGLE DIGITS, BABY!!!

See that countdown graphic at the top? (Click it if you don't know what it's about. Visit my blog and click it if you're reading this elsewhere.) There are just nine -- count 'em

nine

-- squares left unchecked. And I've got a 9-day vacation comin' up with nothin' to do but crochet and watch movies. And eat turkey, of course. And hang out with my mommy.

Speaking of whom, turns out my aunt is turning 80 a few weeks before Mom does, and my cousins have just decided to do a joint party for them, which is just spiffy with me and my brothers, who would have had a challenging time planning something long-distance. We'll keep it a surprise as long as we can -- it'll take a miracle to really pull one over on those two. I just keep thinking, though, that for as long as I've been imagining this surprise party in my head, having Miss Gloria there was always a part of the picture. And now she can't be. And I can't help but thinking that it can't be too long before Mom does get to see her again. And that makes it worse.

OK...how did a happy post get so maudlin, huh? Time to knock it off and hit the hay!
Posted by Valerie (Kyriosity) at 12:40 AM • Permalink
• • 5 comments
Thursday, November 20, 2008 AD
Prayers for the Persecuted Church

During the Episcopal Diocese of Pittsburgh's 140th Convention November 4-5, 2005, the Rev. Dr. Grant LeMarquand suggested the following prayers for the persecuted church:

Almighty and everlasting God, hear the cries of your people as we call to you for your suffering church throughout the world. As you heard the cries of your ancient people in bondage in Egypt and came down to deliver them, so now hearken to the suffering of the persecuted church in our time. Give bread to those who are hungry, comfort to the imprisoned, strength to the tortured and all for the sake of Jesus who lived and died for us, who now lives and reigns with you and the Holy Spirit, one God, forever and ever.

Heavenly Father, look with compassion on all who will suffer loss or persecution or martyrdom for your name this day. Give them courage to face the oppression that is before them and sustain them by your Holy Spirit, that having overcome by the blood of the Lamb they may receive the crown of life. We pray this in the name of Jesus Christ our Lord, who with you and the Holy Spirit ever reigns, one God, now and forever.

(Source, HT)
Posted by Valerie (Kyriosity) at 3:06 PM • Permalink
• • 2 comments
Tuesday, November 18, 2008 AD
On the Entertainment of 6-Year-Old Boys

So there's a new man in my life: a rather short, but devastatingly handsome one who's been riding to and from church with me on Sundays. (His mom, too.) First of all, am I going to get in deep doo-doo for not having a booster seat for him, and if so, where might I find such a beast, preferably of the cheap or free persuasion? Second of all, what can I do to bless him on that rather longish, boringish ride before he has to sit through a nearly 2-hour service? So far the best thing about Sundays for him has been trampoline access when we get invited to lunch with one family or another. I'd like to add at least one more blessing of the variety that's more readily comprehended by chronologically disadvantaged persons who haven't yet quite developed a profound appreciation for covenant renewal worship. ;-) I confess that while I am certainly a fan of 6-year-old boys, I am by no means and expert on them, so I call upon you, dear readers, for counsel on what treats, trinkets or diversions might be of use in expressing love to a young male of the species. I promise I will pay more heed than I did with the pumpkin pie issue!
Posted by Valerie (Kyriosity) at 8:51 PM • Permalink
• • 11 comments
Help! What Can I Do with Extra Pumpkin Pie Filling?

I must have bought the wrong size pie crusts, because I have about three cups or so more filling than will fit in the crusts. Could I just bake the extra in custard dishes?
Posted by Valerie (Kyriosity) at 6:43 PM • Permalink
• • 9 comments
Thinking Biblically About Facebook

I recommend this outline for your thoughtful consumption. Here's a condensed bit:
9 Potentially Negative Uses/Dangers of Facebook

The trend of using status updates to complain
Measuring your worth/identity by number of Facebook friends/Facebook interactions
Greater concern over forming Facebook (virtual) friends rather than real friends
Diminishment of face-to-face time with people/enjoying and working on real relationships
Dual identities
Hurting and excluding others (intentionally or unintentionally)
Facebook and online life can make you more distracted, changes how you think/attention span
Can tempt you away from your calling/work
Thinking about yourself more than you already do

6 Facebook Opportunities: 6 Ways to Love God and Love Others Through Facebook (Leveraging)

Can get back in touch with old, far-away friends in an easy way, showing them how you've been changed by Jesus
Can use Facebook as an extension of face-to-face relationships/can be used to enhance time with people
Can use Facebook to think about yourself less and others more
Can use Facebook to sharpen/discipline what you do with your time
Can use Facebook to quickly announce/make great things happen: events, face-to-face time
Can use Facebook to influence other people for Jesus. Create a new culture with your status updates: use to influence, love, encourage, teach, and challenge people towards greater love for God and other people.
Read the full article for fuller context, examples and explanations...and think of your own!
Posted by Valerie (Kyriosity) at 10:34 AM • Permalink
• • 4 comments
Dumb Question

I just replaced the glass in a picture frame, and I don't know what to do with the broken glass. How can I safely dispose of it?
Posted by Valerie (Kyriosity) at 12:09 AM • Permalink
• • 4 comments
Monday, November 17, 2008 AD
Love Bestows Loveliness

Today I attended the funeral of a beautiful woman I never met. Her body was wrecked by 31 years of multiple sclerosis, but every word spoken and every picture displayed told me she was beautiful. The phrase "love bestows loveliness," borrowed hence, was very much in my mind. Janet was loved -- by her parents (my pastor, Glen Knecht, and his wife, Betty Jane), her siblings, her husband and her son. And their love was the conduit for her heavenly Father's love, which gave her a radiant joy that transformed and transcended her physical brokenness. Even though I never knew her, I'm blessed to have been touched by her life!
Posted by Valerie (Kyriosity) at 10:18 PM • Permalink
• • 0 comments
Saturday, November 15, 2008 AD
Productive Insomnia

After going to sleep at 10 last night, I woke at about 1:30. When lying in bed weeping for an hour didn't prove to be much fun, I decided to get up and try to wear myself out with a little productivity. I did dishes; browned, bagged and froze three pounds of ground beef; attempted to replace the glass in a picture frame (need to ask the framers whether "This side faces" means out or in); shredded, bagged and froze 14 cups of chicken I cooked last night; sent an e-mail; crossed all this stuff off my to-do list; added twice as many new items; finally remembered to plug in my cell phone to charge; and of course wasted some time playing online. Now I think I'll go attempt to catch some more Zs, as three and a half hours just isn't going to get me through the rest of my day!
Posted by Valerie (Kyriosity) at 6:26 AM • Permalink
• • 1 comments
Wednesday, November 12, 2008 AD
I've Decided to Remodel My Kitchen

This one is way nicer than my current setup! Seriously...I wish I had an excuse to own that!
Posted by Valerie (Kyriosity) at 1:36 PM • Permalink
• • 6 comments
Tuesday, November 11, 2008 AD
My New Theory

I've decided that for women (most of us, at least) insecurity and discontentment are the same thing. Or are so closely connected that they might as well be the same thing. Or are cured by the same means. Or something like that. What do you think?
Posted by Valerie (Kyriosity) at 2:41 PM • Permalink
• • 6 comments
Monday, November 10, 2008 AD
Troth on a Tea Towel and a Tolkein Treasure
This fortnight's purse from Amoretti
Posted by Valerie (Kyriosity) at 3:00 PM • Permalink
• • 0 comments
Friday, November 7, 2008 AD
Can't Ask for a Much Clearer Answer Than That

I asked a couple weeks ago about what honor looks like, and guess who called last weekend? My father must have gotten his phone reconnected, and he wants me to come cut his toenails. Never knew that toenail clipping could be an answer to prayer, but it works for me! I've tried calling three times now, and he hasn't answered, so who knows when this particular twist on a footwashing ceremony might take place, but at least I know now what I'm called to do for him. Groovy.
Posted by Valerie (Kyriosity) at 5:06 PM • Permalink
• • 5 comments
Thursday, November 6, 2008 AD
No Responses to My Last Post?

What are you...some kind of bunch of heathens or something? ;-)
Posted by Valerie (Kyriosity) at 6:14 PM • Permalink
• • 8 comments
Tuesday, November 4, 2008 AD
What's Your Private Prayer Routine?

What time(s) of day do you pray? For how long, on average? How do you structure your prayers? What resources do you use? Do you use a journal of any sort? How do you keep track of intercessory prayer requests? What other pertinent questions am I forgetting to ask?
Posted by Valerie (Kyriosity) at 7:40 PM • Permalink
• • 2 comments
Ooooh...Lookit All Those Verses!

This is what I've got stuck in my head this election day. Only to "Truro," not to "Park Street" as we sang on Sunday.
Jesus shall reign where'er the sun
Does his successive journeys run;
His kingdom stretch from shore to shore,
Till moons shall wax and wane no more.

Behold the islands with their kings,
And Europe her best tribute brings;
From north to south the princes meet,
To pay their homage at His feet.

There Persia, glorious to behold,
There India shines in eastern gold;
And barb'rous nations at His word
Submit, and bow, and own their Lord.

To Him shall endless prayer be made,
And praises throng to crown His head;
His Name like sweet perfume shall rise
With every morning sacrifice.

People and realms of every tongue
Dwell on His love with sweetest song;
And infant voices shall proclaim
Their early blessings on His Name.

Blessings abound wherever He reigns;
The prisoner leaps to lose his chains;
The weary find eternal rest,
And all the sons of want are blessed.

Where He displays His healing power,
Death and the curse are known no more:
In Him the tribes of Adam boast
More blessings than their father lost.

Let every creature rise and bring
Peculiar honors to our King;
Angels descend with songs again,
And earth repeat the loud amen!

Great God, whose universal sway
The known and unknown worlds obey,
Now give the kingdom to Thy Son,
Extend His power, exalt His throne.

The scepter well becomes His hands;
All Heav'n submits to His commands;
His justice shall avenge the poor,
And pride and rage prevail no more.

With power He vindicates the just,
And treads th'oppressor in the dust:
His worship and His fear shall last
Till hours, and years, and time be past.

As rain on meadows newly mown,
So shall He send his influence down:
His grace on fainting souls distills,
Like heav'nly dew on thirsty hills.

The heathen lands, that lie beneath
The shades of overspreading death,
Revive at His first dawning light;
And deserts blossom at the sight.

The saints shall flourish in His days,
Dressed in the robes of joy and praise;
Peace, like a river, from His throne
Shall flow to nations yet unknown.
I'm praying that this barb'rous nation at His word would submit, and bow, and own her Lord.
Posted by Valerie (Kyriosity) at 11:55 AM • Permalink
• • 3 comments
Election Thoughts
How does one even find out any useful information about circuit or appeals court judges?
Would it be too cynical to vote for Maryland's Question 2, which would authorize slot machines to fund government education, on the grounds that it's better for idiots to pay for idiocy than for sensible people's taxes to go up?
No, no, no, no, no to all the bond issues.
Re The Big One, Lord, have mercy!
Posted by Valerie (Kyriosity) at 12:06 AM • Permalink
• • 0 comments
Sunday, November 2, 2008 AD
I Love This Even More Than the Wine Cork Corkboard!

Went to a lovely, lovely wedding this weekend (hooray for Gaelan and Emily!) and got to see and sign this beautiful piece of calligraphy. It's been a long time since I've found a new idea to add to my wedding idea wish list, but this one makes the cut. I'd have to think some more about exactly how I'd want it executed, but I really like the general concept of having guests sign a beautiful rendering of the wedding vows, as if to say, "Hey! We were there. We heard you say these things. We love you and rejoice with you, and it matters to us that you keep these vows!"
Posted by Valerie (Kyriosity) at 10:36 PM • Permalink
• • 2 comments
---