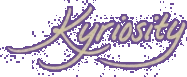 (KE'RE OS'I TE) N., A LONGING TO LOOK
INTO THE THINGS OF THE LORD [C.1996 < GK.
KYRIOS LORD + -ITY; IMIT. CURIOSITY]
Bio: Verily Valerie

Valerie is a 42-year-old, single, Reformed Christian lady who lives in Baltimore. She doesn't remember a time before she knew and loved Jesus, but she does remember accepting John Calvin into her heart in March of 2000. Valerie is a member of Christ Reformed Evangelical Church in Annapolis.

Though her career aspiration is to be a housewife, Valerie has not yet found anyone suitable who wishes to hire her for employment in that field (or, more properly, anyone suitable has not found her), so in the meantime she earns her daily bread working in communications -- editing, writing, print design and website management.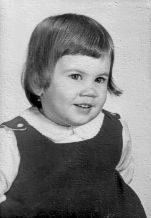 E-Mail
valerie [at] kyriosity [dot] com

AIM/YM
valkyriosity

My TTLB Ecosystem Details
Visit The Old Kyriosity Shop

Monday, November 17, 2008 AD
Love Bestows Loveliness

Today I attended the funeral of a beautiful woman I never met. Her body was wrecked by 31 years of multiple sclerosis, but every word spoken and every picture displayed told me she was beautiful. The phrase "love bestows loveliness," borrowed hence, was very much in my mind. Janet was loved -- by her parents (my pastor, Glen Knecht, and his wife, Betty Jane), her siblings, her husband and her son. And their love was the conduit for her heavenly Father's love, which gave her a radiant joy that transformed and transcended her physical brokenness. Even though I never knew her, I'm blessed to have been touched by her life!
Posted by Valerie (Kyriosity) at 10:18 PM • Permalink
• • 0 comments
---
0 Comments:
---
---